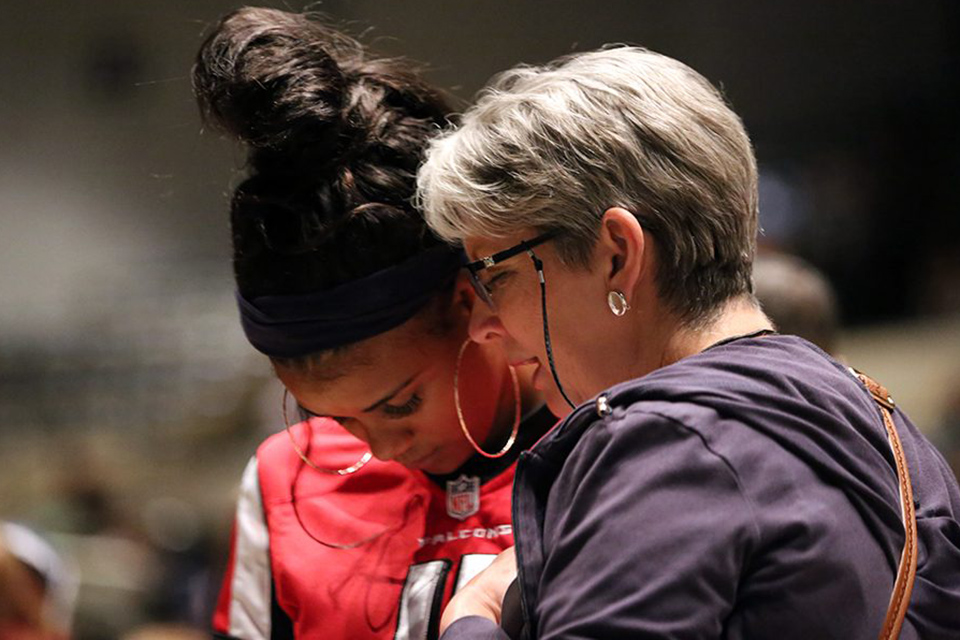 Cody Carletti's voice cracked with emotion as he reflected on the past two nights in his hometown of Dothan, Alabama.
Carletti has spent the past 18 months faithfully praying for youth in the Wiregrass area, which includes sections of southwestern Georgia, southeastern Alabama and the Florida panhandle. He signed up to serve as a volunteer counselor for the Wiregrass Area Celebration, and on Saturday, he struggled to find the words to sum up his experience watching and helping young people learn more about Jesus Christ.
"Words can't express what God does," Carletti said.
Saturday morning, the Celebration opened in powerful fashion at the Dothan Civic Center as more than 200 children made decisions for Christ during KidzFest. Later in the day, a teen-heavy crowd showed up for the Celebration. Maybe their goal was to jam out to Aaron Cole and The Afters, but many came forward to make decisions for Christ after hearing Will Graham share a message of God's love.
>>PHOTOS: The Afters, Aaron Cole Lead Super-charged Worship at Wiregrass Celebration
"God showed up," Carletti said. "That's the only way I can explain it. This whole weekend so far has just been answered prayers.
"I've counseled a 16-year-old Friday night, a six-year-old this morning and I counseled a 14-year-old this evening. It's just been answered prayers the whole time."
On Saturday night, the 25-year-old Carletti sat cross-legged on the floor of the Civic Center with 14-year-old Garrett. The teenager later said he felt prompted to rededicate his life to Jesus Christ after hearing Will Graham share about the Prodigal Son (Luke 15:11-32).
"I just opened up to God," said Garrett, who was invited to Saturday's Celebration by his friend Reace. "It's been a fun night, and all in all, it's just been great to understand more about God and meet more people who know about God."
The message of the Prodigal Son returning home also struck a chord for Sara-Kate Channels. Although she accepted Christ in her younger days, the 29-year-old admitted she had strayed over time. She first heard about the Wiregrass Area Celebration on Friday night when her friend Aline Mays-Easley sent her a text and actually started streaming the event live on her personal Facebook page. Sara-Kate tuned in for a bit. Then another friend sent her a text about it.
Sara-Kate, somewhat jokingly and somewhat seriously, said she received God's message. She decided to attend on Saturday with Aline, but not just for something to do. For her, it was "a way to change my life," she said.
"I've come into a lot of ways recently where I needed help with a new way, and two people reached out to me (about tonight). I've been trying to reconnect with Him, but then I've been going back to my old ways."
After coming forward to rededicate to her life, Sara-Kate returned to her seat with literature to deepen her relationship with Jesus Christ.
Aline sat next to her, smiling as she listened to Sara-Kate describe her decision. Aline, a volunteer counselor for the Celebration, said it is so important to her to see people make that life-changing decision to accept Jesus Christ.
"I believe only Christ can turn your life around," Aline said. "Jesus is the answer and people need Him. I know His love and forgiveness and I want people to know that they're loved and Jesus loves them and I love them."