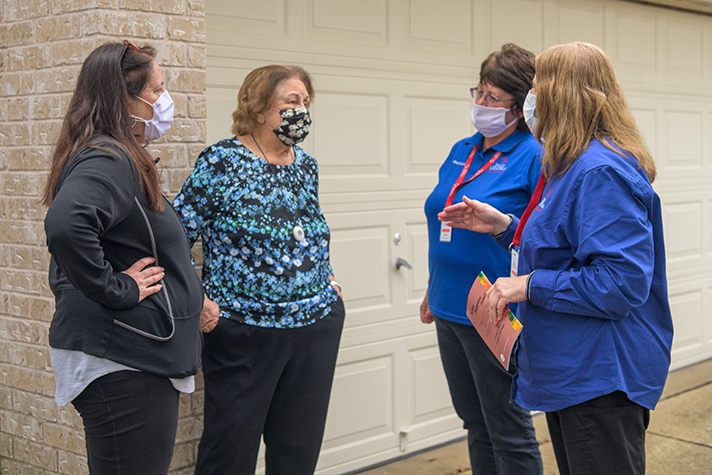 In the weeks since winter storms left residents without power for days in record-cold temperatures throughout Oregon and Texas, crisis-trained chaplains from the Billy Graham Rapid Response Team have witnessed locals experience God's faithfulness through hard times.
Deployed in Salem, Oregon, and in Austin and Houston, Texas, the team is partnering with Samaritan's Purse, a ministry working to clean up houses in the aftermath of busted pipes.
While some locals are faced with salvaging their belongings, others are grieving the loss of friends and family who passed away due to the storms. Dozens were found dead in their bedrooms, vehicles or backyards due to storm-related conditions, such as carbon monoxide poisoning, car crashes, house fires and hypothermia.
The chaplains are present to help provide a listening ear to those processing recent events. So far, they've prayed with more than 650 people—and some of these conversations have resulted in the life-changing decision to follow Jesus Christ.
The following features a short story from each of these deployment locations:
Salem, Oregon: Cement Workers Seek Christ
Chaplains talked with three cement workers who were volunteering with Samaritan's Purse cleanup in Salem, Oregon, after the region faced one of the worst ice storms in the state's history. They also prayed with one of the men after he asked for prayer.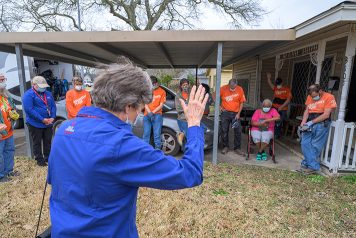 The next day, they saw the group again and gave each of them a Bible. One of the workers made the decision to follow Christ. She said she would share the Gospel booklet called "Steps to Peace with God" with her coworker when they carpooled home that night.
>>See ministry photos from the Salem, Oregon, deployment.
The next day, the chaplains saw the man they'd previously prayed with volunteering again, and checked to see how he was doing. It just so happens that he'd been hoping the chaplains would stop by. He wanted to talk.
The man opened up about some painful experiences—and in turn, the chaplain told him how he could be healed by God's love. The worker asked several questions about faith, his curiosity stirred after talking to a coworker about Jesus the previous evening. Flipping through his new Bible, he'd searched the topical index, wanting answers.
As he talked further with the chaplain, he realized that God was all he needed. He got into his car and cried, asking Jesus to forgive him and take control of his life.
Austin, Texas: Teenage Couple Recommits to God
While visiting a homeowner affected by the blizzard-like storm in Austin, Texas, chaplains met a teenage couple who lived there. The teens shared they had accepted Jesus as their Savior as young kids, but still doubted their salvation. They wanted to know how to start a relationship with Him again. The girlfriend even mentioned she occasionally went to church ahead of the pandemic, but she hadn't been able to find a local church still open.
Taking out a Bible, the chaplains went over a few Scriptures to help them be more confident in their faith and shared "Steps to Peace with God." The couple said they believed, and committed to start reading their Bible.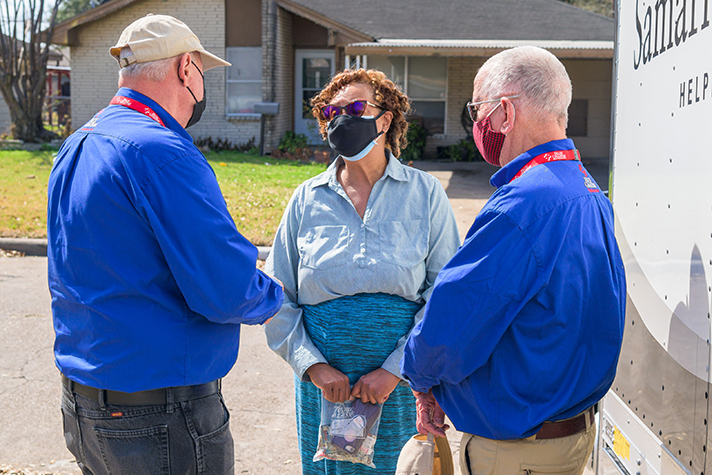 Houston, Texas: Laid-Off Teacher Receives Eternal Direction
A teacher facing job loss due to COVID-19 has had a challenging year. Dealing with health issues and unemployment, the winter storm that slammed into Houston, Texas, and damaged her home only added to her troubles. Overwhelmed, she began to cry when chaplains stopped by and asked about her faith. She had attended church with her grandmother as a child—and had a Bible she never bothered to open.
"I don't know where I'm going," she said in regard to eternity.
The chaplains read through the "Steps to Peace With God," and the homeowner excitedly decided to accept Jesus as her Savior.