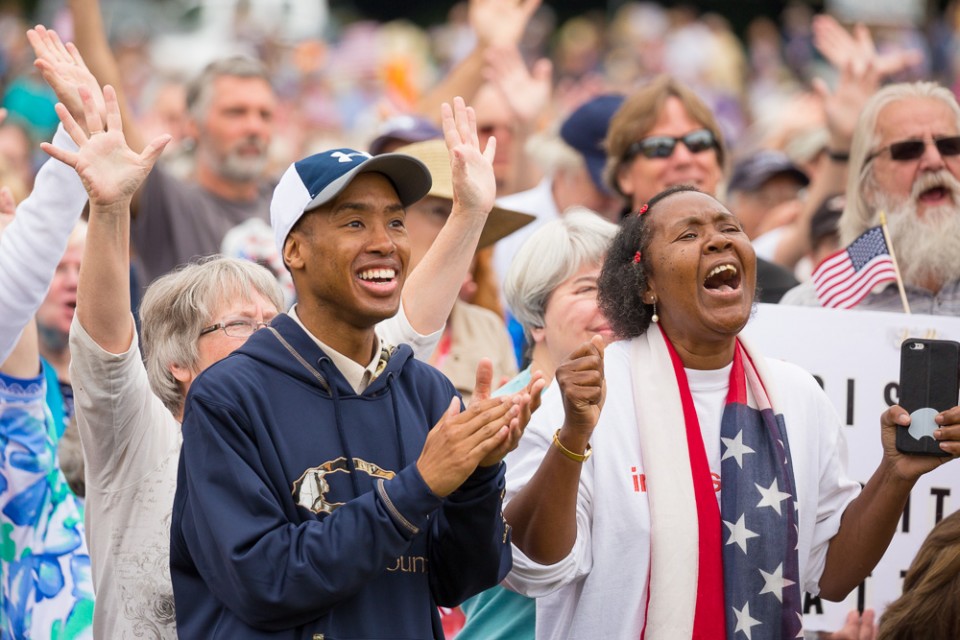 Franklin Graham's Decision America Tour is heating up with August stops in eight states from Montana to Massachusetts.
The 50-state tour, which began in January and runs through mid-October, has stopped in 32 states so far. More than 100,000 people have turned out at their state capitols as Franklin has called Americans to turn back to God and live out their faith.
Franklin Graham has been encouraging Christians to declare their commitment by signing a pledge to God and country. To date, more than 90,000 people have signed.
"This is serious business," Franklin told an estimated 5,800 people in Washington State. "We're fighting for our country."
The tour will pick up again starting on Aug. 9, when he stops in Helena, Montana. From there, his schedule includes Boise Idaho (Aug. 10) and Cheyenne, Wyoming (Aug. 12). Later this month and into early September, the Decision America Tour bus will head to New England, with stops in Maine, Vermont, New York, Massachusetts, Rhode Island and Connecticut.
At each stop on the tour, Franklin Graham has encouraged believers to get involved in the political process. Often, Franklin quotes his father Billy Graham who once said, "I think it's the duty of every individual Christian at election time to study the issues, the candidates and then go to the polls and vote."
It's not enough to sit quietly at home. It's time to get involved.
"We're to take our faith wherever we go in life and we're to live it," Franklin Graham told a recent Decision America Tour crowd. "We just don't go and worship on Sunday in a church inside walls but we go in to worship and when we leave the church, we live our life before an unbelieving world.
"We need politicians who will go into the state house and into Washington and wherever and live their life. We need to be the light of the world. That's what we're to be. We're not just to take our light and hide it under a bushel. We're to set it up so the whole world to see it."