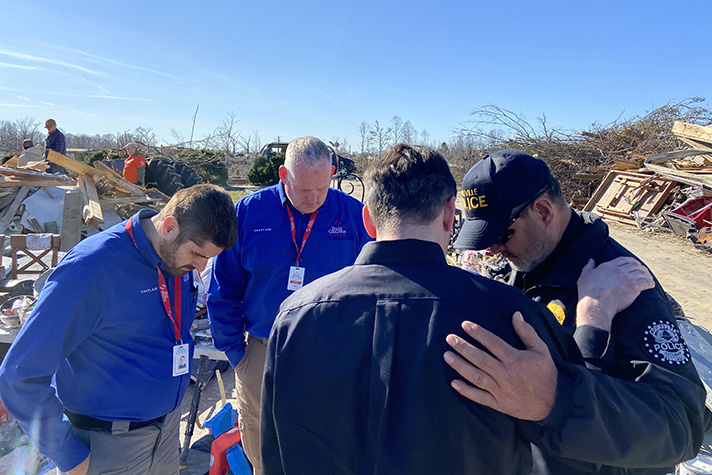 The Tennessee sky was blue. Overhead, the sun was shining. And the wind whipped about on this 60-something degree Saturday in Putnam County, just 75 minutes east of Nashville.
People worked around the piles of rubble, the broken homes—all heartbreaking reminders of the devastating tornadoes that ripped through this area earlier this week, killing 18 across the county and injuring dozens more. Overall, 25 people died in the storm system that moved around the Nashville area on March 3.
Will Graham visited the area on Saturday with crisis-trained chaplains from the Billy Graham Rapid Response Team. Graham, director of the Billy Graham Training Center at The Cove, paused thoughtfully to listen as people shared their stories. In some cases, he was given the opportunity to pray.
He felt honored to pray with one Cookeville police officer near the home of the officer's friend—a fellow law enforcement official whose own home was impacted, and he has an injured loved one in the hospital.
This is Will Graham's prayer for that officer, the officer's family, all of Putnam County and the neighboring Nashville area:
Lord, this is a hurting community right now. … Lord, as I look two feet away [from me], it's amazing anybody could have survived this.

Lord, we know there's a lot of hurting families right now, a lot of grieving families because they don't have anyone to come back to, Lord. We lift those up to you.

Lord I pray that even though these are the worst days, they can look back and say there are some great things that took place at this time.

Whether it's in tears or in smiles, Lord, we give You the glory and honor. In Jesus' Name. Amen.
God loves you. Find peace with Him today.
Your support can help provide comfort to those affected by this storm and people around the world.