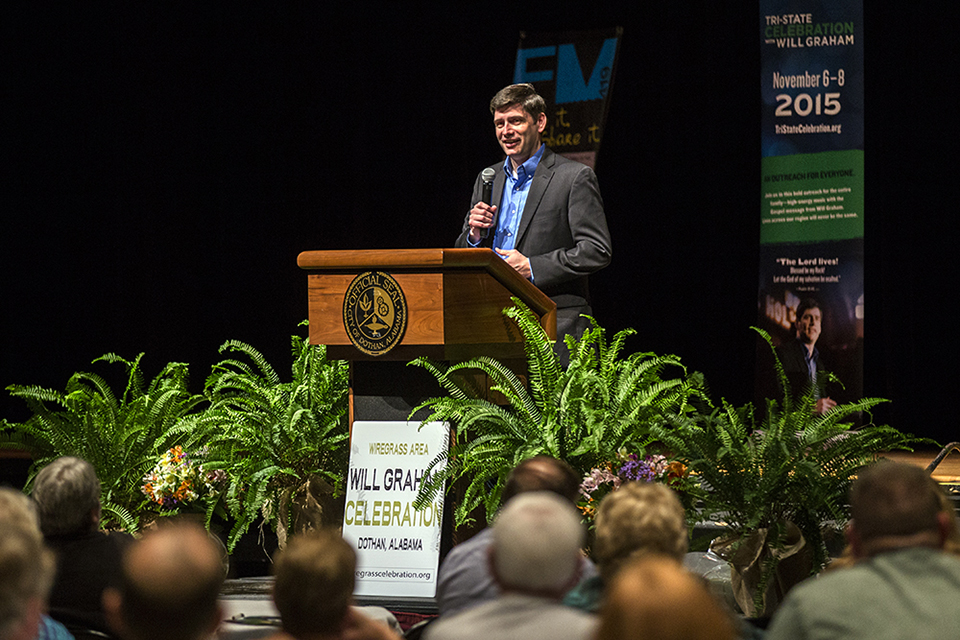 Sunday church is still a longstanding tradition in the Deep South's Wiregrass region, encompassing parts of southern Georgia, southeastern Alabama and the Florida panhandle.
According to a recent survey by Pew Research Center, 51 percent of Alabamians said they attend church at least once a week and 86 percent identified as Christians.
But even packed pews can hold empty hearts if people don't have a personal relationship with Jesus Christ.
Deep-seated "religion" in the Bible Belt is probably the biggest challenge facing area pastors and leaders of the Wiregrass Area Will Graham Celebration, May 5-7, in Dothan, Alabama.
"Like a lot of places, … there are a lot of people [in the Wiregrass] who think they're ok and they're doing well," said evangelist Will Graham. "Spiritually they may be religious, they believe in God, but they've never given their heart to Christ."
Local pastors hope to shake up the religious misconception. Celebration Director Robert Tatum is is working with the approximately 130 local churches involved in the Celebration and knows many pastors and leaders are asking their members a hard question.
"I think the biggest question that we can raise here and I think we're doing that, is, 'How's your relationship with Christ?'
"I think the Celebration is a good place to make that question as widely known as possible and give people a chance to respond," he said.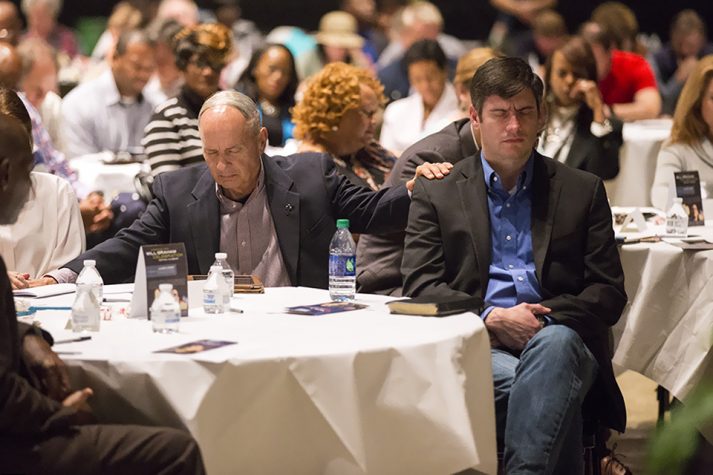 Gospel Heals Racial Scars
The grandson of Billy Graham, Will Graham is following in his grandfather's footsteps by sharing Christ's love in Alabama.
After numerous demonstrations, marches and racially charged incidents during the Civil Rights Movement, Alabama was often negatively cast in the national spotlight.
Billy Graham has a solid history in the Heart of Dixie, taking the unifying message of the Gospel into cities that had experienced racial unrest. His 1964 Birmingham Crusade created an opportunity for unity, drawing an integrated crowd of 30,000 people—who were peaceful and cordial to one another.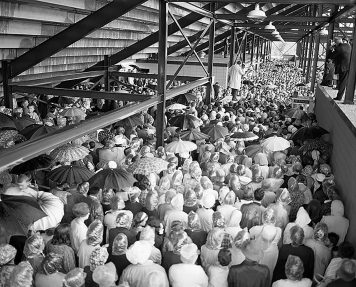 The evangelist went on to hold a series of four evangelistic meetings in Alabama the next year, after African Americans were beaten and attacked by police dogs during a march from Selma to Montgomery. President Lyndon B. Johnson asked the evangelist to come and share hope in the troubled state.
Billy Graham agreed and came to Dothan, Tuscaloosa, Auburn and Tuskegee, praying the Gospel would help tear down walls of division between blacks and whites.
A few months later, he held a 10-day Crusade in Montgomery, with nearly 100,000 people attending and more than 4,000 accepting Christ.
'A Good Time to be Here' 
Considering Alabama's long history of racial division, the Celebration director says his team has been intentional about creating opportunities for multi-racial events, worship experiences and collaborative efforts.
Tatum says the Christian community is embracing the chance to be united. He personally knows of two churches of different ethnicities that connected at prayer events for the Celebration.
"There's been a lot of prayer going up from the Wiregrass Area over the years and many pastors are starting to work together," he said.
Most importantly, he hopes to see people respond to the question about their relationship with the Lord. And becoming a follower of Jesus Christ instead of saying, 'I attend church often' or 'I attend church every Sunday.'"
"I feel an anticipation for people to see what God will do with this evangelistic outreach. I think it's a good time to be here in the city," said Tatum.
As he gets ready for the Celebration, Will Graham agrees. "I think this is going to be a wonderful opportunity to see a lot of religious people put their faith in Christ."
How you can pray for the Wiregrass Area Will Graham Celebration
Pray that many will attend and recognize their need for a personal relationship with Christ
Pray that churches and believers will come together in unity to make this outreach as successful as possible
Pray for the Bring a Friend outreach, that people will embrace this challenge
Pray that those who come to know Christ will be connected with a local church and continue a healthy walk with God
Do you have a personal relationship with Christ? Start here.