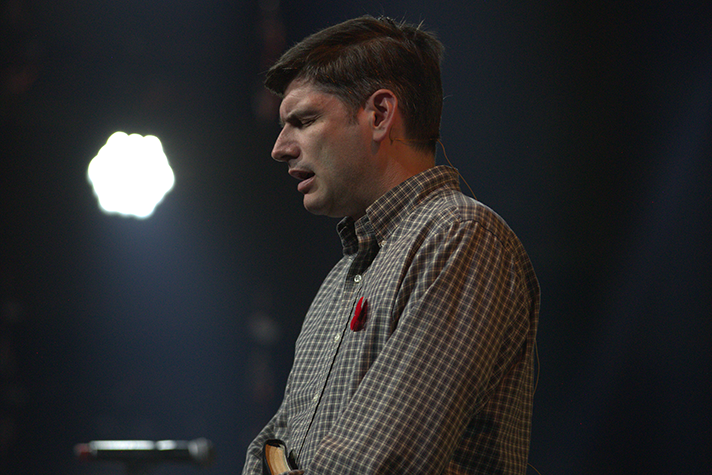 Will Graham is calling on believers to pray for America on the National Day of Prayer (NDP), May 7.
He'll be co-hosting the National Day of Prayer Observance Broadcast with NDP's task force president, Kathy Branzell. The event is scheduled for 8-10 p.m. ET on a variety of networks (details below).
>> Watch a replay of the National Day of Prayer broadcast
"I'm honored to serve as the co-host of this year's National Day of Prayer observance telecast," Will Graham tweeted recently. "Please plan to join me (and believers across the country) on May 7 in concerted prayer!"
As vice president of the Billy Graham Evangelistic Association (BGEA), Graham shares the Gospel at evangelistic events worldwide. Since the coronavirus outbreak, he's continued to encourage people through online platforms, like today's National Day of Prayer telecast from the Billy Graham Library.
With the 2020 theme "Pray God's Glory Across the Earth" based on Habakkuk 2:14, this year's prayer event serves as a reminder of the promise, "for the earth will be filled with the knowledge of the glory of the Lord as the waters cover the sea."
"The Bible places great importance on prayer: Bless those who curse you, pray for those who mistreat you (Luke 6:28). Be joyful in hope, patient in affliction, faithful in prayer (Romans 12:12)," Will Graham said in his devotional book, Redeemed: Devotions for the Longing Soul. "Do not be anxious about anything, but in every situation, by prayer and petition, with thanksgiving, present your requests to God (Philippians 4:6).
"These aren't merely pleasant suggestions. I view these as commands to follow in our daily Christian walk."
Established in public law in 1952, the National Day of Prayer is observed nationwide on the first Thursday in May. Will Graham's grandfather, Billy Graham, strongly advocated for President Truman to create such an observance, and his family has participated in many of the events since.
With unprecedented challenges from the coronavirus crisis and economic shutdowns, today will look very different from past years' gatherings, which usually include 60,000 local community events. NDP coordinators have planned to mobilize millions in unified, public prayer for America while following recommended social distancing measures through digital platforms. This year's virtual observances have the potential to become the largest prayer "gathering" in U.S. history with millions praying together, individually.
"Unprecedented times call for unprecedented prayer," Branzell said. "[We] may have more prayer—and more 'pray-ers' than ever before."
However, it's crucial for believers to recognize that prayer isn't just necessary in challenging circumstances; it's an everyday journey.
"Prayer is eternally important, on a group (corporate) level, but also for your individual walk with God," Graham said.
About the National Day of Prayer
The National Day of Prayer tradition predates the founding of the United States of America, evidenced by the Continental Congress' proclamation in 1775 setting aside a day of prayer. In 1952, Congress established an annual day of prayer and, in 1988, that law was amended, designating the National Day of Prayer as the first Thursday in May.