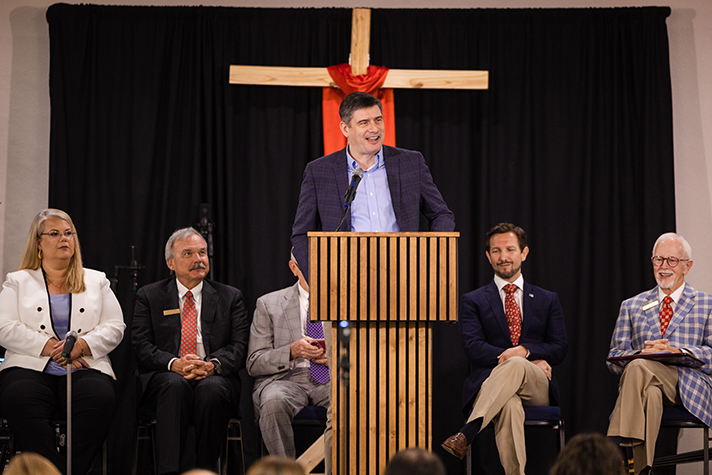 Hundreds gathered Friday in Bristol, part of the Tri-Cities region of Virginia and Tennessee, to worship and pray together for their families, churches, communities, and nation.
"We have too many churches that have been divided because of manmade reasons," said Tom King, chairman of the Bristol Community Prayer Breakfast committee, sharing the vision behind the gathering. "We need to come together only in the name of Jesus, break down all of these barriers, and lift up the name of Christ together."
Will Graham delivered the keynote message, urging everyone to look inwardly and examine their relationship with God.
He spoke about Manasseh, the king of Judah, who was known for his wickedness and idolatry.
"We think of stone or little wood statues, but an idol can be anything that you put between you and God," Will Graham said. "It's whatever consumes your thinking, your actions. Is it money, sex, drugs, fame, power? That's your idol. If it's not Jesus Christ, it's an idol. I think we're all guilty of this from time to time."
He continued, "People want to worship the creation rather than the Creator. … We want a god that gives us pleasure and everything that we desire. We've made God into our own image."
Will Graham acknowledged the spiritual drift and decay that is taking place within many Christian churches across this country.
"I'm not just talking about America. I'm talking about the church. It's happening in the church."
Along with idolatry, Will Graham brought up Manasseh's penchant for murder—even sacrificing his own child to another god—along with sexual immorality and witchcraft.
"Look at America now. We celebrate sin. We celebrate perversion. We celebrate murder. We worship nature rather than the Creator. We are idolaters," Will Graham said. "My friends, Jesus is coming back to this world, but not to save the world. He's coming to judge the world. He already came to save it. Next time He comes, He's not coming as the Savior. He's coming as the judge."
Looking back at lessons learned from King Manasseh, Will Graham explained that sin wasn't the end of his story. When God gave him over to his enemies, the Assyrians, Manasseh humbled himself and cried out to God while imprisoned in a foreign land.
"The God of second chances," as Will Graham put it, restored Manasseh and brought him back to Jerusalem, where he tore down the idols and rebuilt the altar of the Lord.
"Manasseh was the worst man alive, and he got a second chance. Our God is a God of second chances," said Will Graham. "It doesn't matter what you've done in the past; God will give you a second chance."
Concluding the breakfast with a Gospel message and prayer, Will Graham gave the audience an opportunity for a second chance of their own. He invited them to seek forgiveness and place their faith in Jesus Christ, accepting the hope, love, peace, and purpose that He offers. Many people prayed and then raised their hands to indicate they had made this life-changing decision.
Do you need a second chance in life? Turn to Jesus Christ today, who alone offers forgiveness and a fresh start.