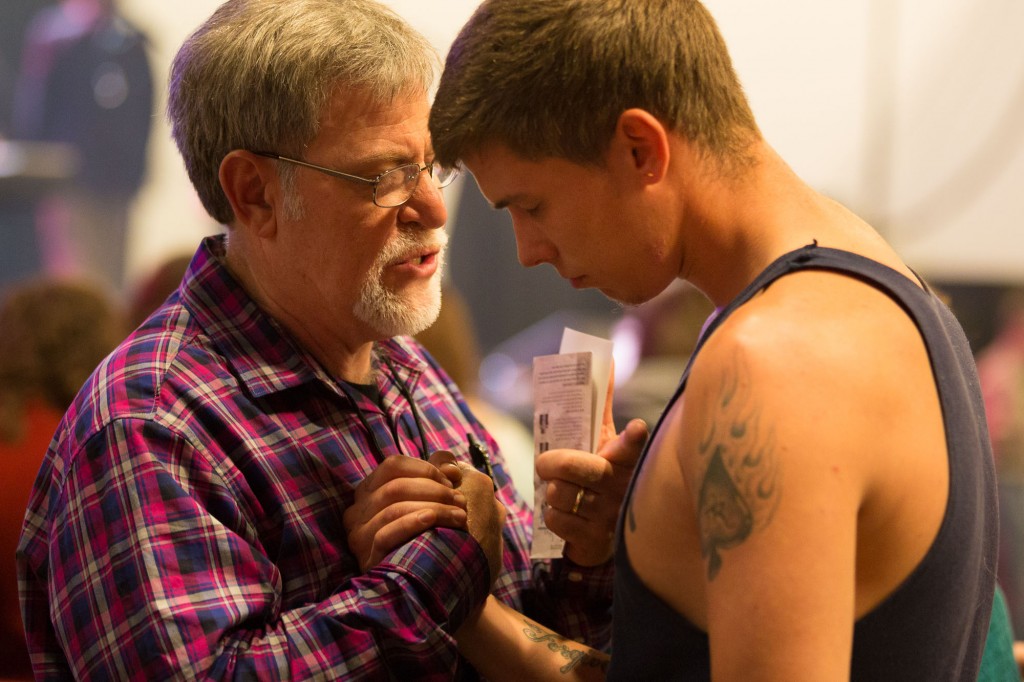 From the weather to the message, "change" seemed to be the word of the day for Saturday's Ohio Valley Celebration with Will Graham in Owensboro, Kentucky.
The day kicked off with some fun for the kids by the riverfront. Little ones were able to enjoy a petting zoo, inflatables and other games for about an hour before the rain came and dampened the fun.
Fortunately, KidzFest was only a short walk away at the Owensboro Convention Center. Children danced and watched a skit that coincides with The Greatest Journey, BGEA's discipleship tool for kids, and a number of young people prayed to accept Christ as a result.
Change in the Right Direction
By the time the evening Celebration festivities started, it was a complete downpour outside, but that didn't stop folks from coming.
Kentucky bluegrass band Kings Highway performed, along with Aaron Shust.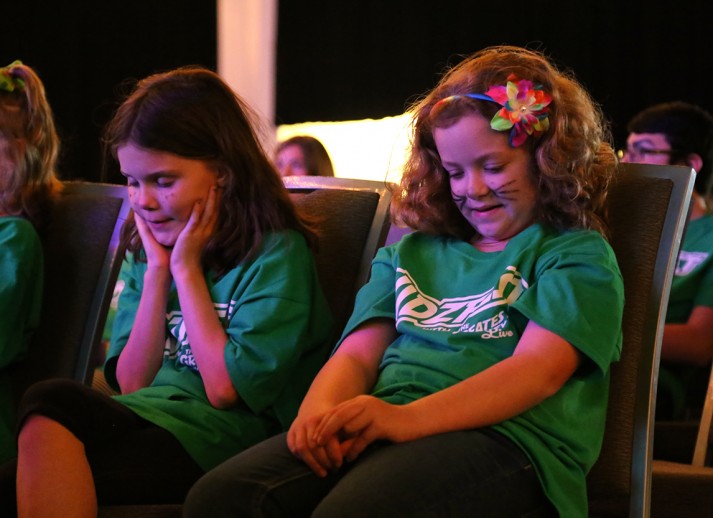 Will Graham then took the stage to challenge attendees to give their burdens to the Lord.
Why go around carrying all the pain we've experienced in life when Jesus wants to take it away?
"God wants to take that brokenness in your life and use it for His glory," he said.
Will Graham, who's a licensed pilot, shared the story of his first time flying solo.
"I looked down and realized I forgot to set my compass," he recalled. "And I was too embarrassed to turn around."
After some adjustments in the air, he was able to regroup and get everything back on track.
"But what would've happened if I didn't change my compass? Let me give you a hint. There would never be a Will Graham Celebration in Owensboro," he chuckled.
"If I didn't make this change, it would've been catastrophic," he continued. "We have to make changes in life.
"God wants to change things tonight."
A Lesson from Hannah
In the home, in relationships and marriages, even in the church—Will Graham reminded the crowd that we all experience brokenness.
He preached the story of Hannah from 1 Samuel. Hannah was barren, subject to torment, and got a harsh word when she confided in the church about her problems, "yet she left happy," Will Graham explained.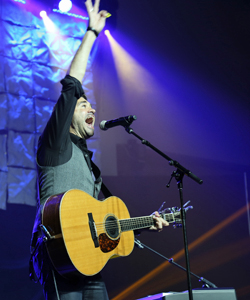 "When she went into that tabernacle, she gave it all over to God [and] she got joy in her life," he said.
Giving it all to God is something Owensboro resident Donald White knows well. He walked forward for prayer Friday night and returned for Saturday's event.
"I wanted more," he said.
Donald, who will be 50 soon, says he's "probably spent 15 years of my life in jail."
After his mom died, "the devil got a hold." But, knowing he needed a change, he recently accepted a co-worker's invitation to church. That's led to an extreme shift in his life—getting baptized a few weeks ago, reading the Bible, staying in prayer, and talking about God to his family and friends, whether they listen or not.
"I'm trying. That's why I keep coming back here (to the Celebration). I know it's a process," he said. "I want to do right, and I know I just have to let go and let God."
A Heart to Share Hope
The Ohio Valley Celebration has been a special experience for counselor Susan Rominski.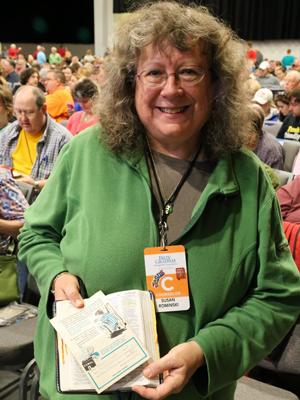 She was 9 when she walked forward to give her life to Christ at the 1962 Billy Graham Crusade in Chicago.
"We all are broken. I knew I was broken as a 9-year-old, and I'm still broken as a 61-year-old," she said. "But the cross levels the playing field."
A retired nurse with soon-to-be 13 grandchildren—Susan's heart is wired to help and care for others.
She was able to counsel a young girl she knew personally who comes from a broken home. Another woman talked with Susan about her sons who have been struggling. One of them walked forward with her, and they both rededicated their lives to Christ.
"The joy of seeing other people come to the Lord, being able to show others who you believe God to be is the most important thing you can do," Rominski said.
"Being able to walk people through that, [to help] lighten their burden—there's nothing like it," she continued.
"Nothing tops that."