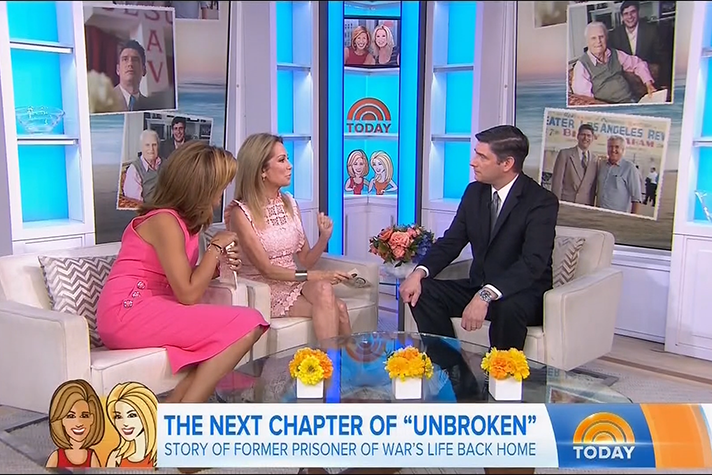 Days before Unbroken: Path to Redemption releases in theaters, Will Graham made the trip from North Carolina to New York to talk about portraying his late grandfather in the film.
"I'm not an actor. I'm just a preacher like my grandfather and my dad," he told "Fox & Friends" Monday morning.
>> Get tickets to see Unbroken: Path to Redemption, in theaters Friday.
In 2014, the movie Unbroken told the true life story of Louis ("Louie") Zamperini, a troublesome youth who found success in running, ultimately making the Olympics before heading off to war in the early '40s. During a search and rescue mission, Louie's plane crashed in the Pacific, where he spent more than 40 days adrift in the ocean before being picked up by the Japanese.
Like so many others over the years, Will Graham is captivated by Louie's story—not just the part told in Unbroken, but the part that comes after—how he spiraled out of control after the war and hesitantly attended a 1949 Billy Graham Crusade at his wife's prompting.
Louie's son, Luke Zamperini, appeared alongside Will Graham on "Fox & Friends" and said that night at the Crusade in Los Angeles forever changed his father's life. Luke wasn't born yet, but his parents were on the brink of divorce, and had his father not gotten a hold on his life, Luke said, he wouldn't even be here.
When asked about playing Billy Graham on the big screen, Will said the person moviegoers will see is himself, not his granddaddy.
"I tried to do my grandfather," he said about the first takes he did onscreen. "They said, 'You're trying too hard; it's coming off fake. Just be yourself.'"
Will Graham also spoke with Kathie Lee and Hoda on "The Today Show" where he called it a "a great honor and privilege" to not only play his grandfather but to be part of Louie Zamperini's story in the sequel. The movie shows Will preaching the same sermon his grandfather preached that night in 1949.
Will later appeared on "The Todd Starnes Show" and spoke on the "Busted Halo" show on SiriusXM. An interview with Martha MacCallum on "The Story" will air today, and an appearance on "Walk in Faith" on NET TV is yet to come.