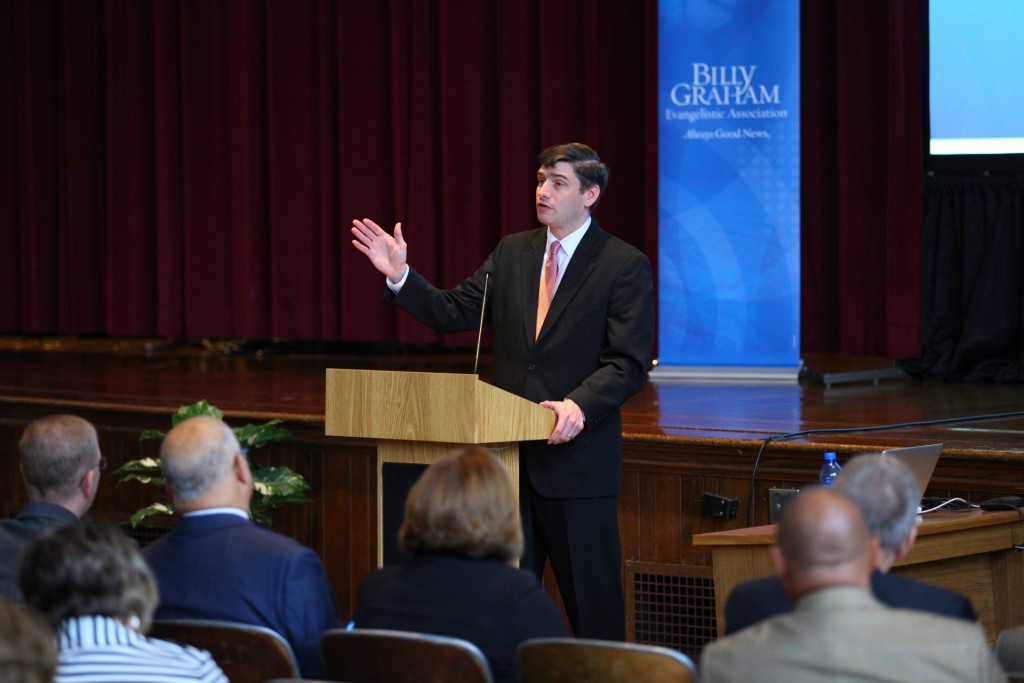 Across the Old Huntington High School auditorium—from the podium, during the prayer time, and in huddled conversations—local leaders and concerned citizens repeatedly mentioned one word: addiction.
The allure of drugs as an escape from hopelessness has trapped many, and the burden weighs heavily on the people here in the mountains of West Virginia and the surrounding area.
Into this atmosphere of darkness, an evangelistic outreach was announced on Tuesday morning, April 14. The Tri-States Celebration with Will Graham will take place Nov. 6-8 at the Big Sandy Superstore Arena in Huntington, and is an effort involving churches and Christian leaders from West Virginia, Ohio and Kentucky.
Will Graham—who preached his very first sermon two decades ago at Huntington's Seventh Avenue Baptist Church—shared that there's only one answer to the problems that face this region.
"You know about the addictions and the drug problems, but I've been praying that God will speak into that darkness. When that happens, things change," Graham said.
"My friends, that's what I've been praying for your community, that God will break those chains for generations upon generations."
In a poignant moment, Will Graham thanked those who have labored for the sake of the Gospel for years leading up to this moment.
"When I come to this city, I understand that I'll get to harvest fields I did not plant. It's fields that you planted, that your parents planted, that other pastors and Christians have planted," he said. "You've been praying. You've tilled the soil and planted seeds."
Bill Smith, the superintendent of Huntington schools who will provide local leadership to the Celebration planning process, said, "It is my expectation that this Celebration will open the heart of our community to become a place of vision and unity that only the love of God can bring. Our tri-state area can be a place where people discover purpose and hope."
Preparations will now begin in full force for the November Celebration, with meetings, workshops, and prayer gatherings scheduled for the coming months.
"Be praying for this area," said Graham. "This is an amazing place, and I'm expecting God to do amazing things here, but it all starts with prayer."
How You Can Pray
For unity of the churches as they work together to reach their communities with the Gospel. As one pastor cried out in prayer during the meeting, "Lord, may we not just have unity, but oneness!"
For the "Bring a Friend" effort, that Christians will be planning even now to reach out and bring their friends to hear the Gospel.
For the Christian Life and Witness classes that will be held here in the coming months, that many Christians will grow in their faith and will become comfortable with telling others about Jesus.
In faith, praise God for the harvest that He will provide as His Word is proclaimed.