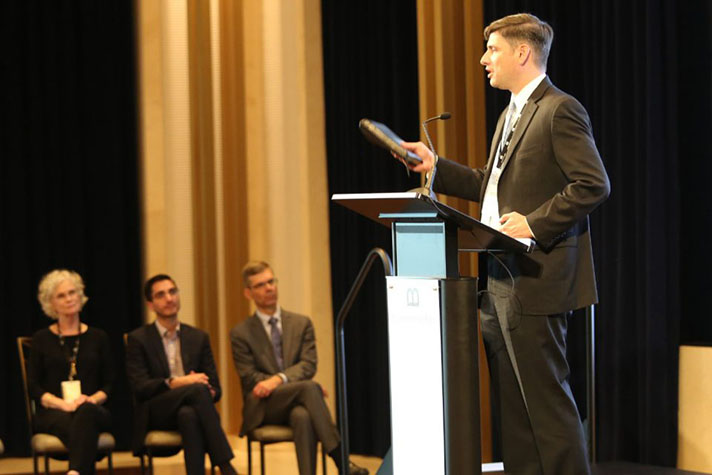 August 1949. It's a starry, moonlit night at Forest Home, a Christian retreat center in California. A largely unknown young evangelist named Billy Graham is wrestling, not against another person but against a belief, a philosophical ideal that threatens to pull the very foundation of his faith and worldview from underneath him.
Billy, who had already traveled in post-war Europe to preach the Gospel and who was currently the youngest college president in America, was internally debating his own path, future and calling. At the crux of the battle was the inerrancy of Scripture. The Word of God.
Though Billy loved Jesus and was committed to preaching, a dear friend named Charles Templeton—in every way a more well-known and respected evangelist than Billy Graham in those days—was trying to convince Billy that his views were old-fashioned and that the Bible couldn't be trusted. It was a book written by man, full of mistakes and contradictions.
"He didn't know if he could trust this. He didn't know if he could trust this as the Word of God," Will Graham said on Friday night, holding his Bible aloft as he recounted the story at the Museum of the Bible in Washington, D.C., where he was helping to open a special exhibit meant to honor and explore his grandfather's life, ministry and legacy.
>> See photos from the opening of the Billy Graham exhibit at the Museum of the Bible
Though Billy Graham had no way of knowing it at the time, the outcome of this struggle would not only define Billy's future, but the eternities of millions of people around the world.
On that evening at Forest Home, Billy walked out into the woods, set his Bible on a tree stump, and collapsed to his knees. He cried out to God, acknowledging that there were things that he didn't understand and questions that he couldn't answer. As the Holy Spirit moved in him, Billy cried out, "But I'm going to accept this as Your Word, by faith!"
A weight was lifted from Billy Graham that night, and it was noted that he began preaching with an authority that was not there before. One month later, the historic Greater Los Angeles Crusade of 1949 began and Billy Graham became a household name.
Will Graham on His Grandfather
"I'm not sure how many of you have gotten to be around my grandfather personally. My grandfather was the most humble man. He'd be embarrassed because it was never about him. He hated to see stuff about himself. But as a family we're proud of what's down there [in the exhibit], and we're grateful for what you did down there. It doesn't honor Billy, it honors the Lord Jesus Christ and what Jesus did through my grandfather. And I'm so grateful for that."
"That was the turning point in my granddaddy's ministry," said Will. "I believe that if my granddaddy never made that commitment, you would have never heard of Billy Graham."
Of course, the world did hear of—and from—Billy Graham, as he preached the Gospel of Jesus Christ around the globe for well over half a century.
That ministry is featured extensively in the new temporary exhibit at the Museum of the Bible, titled Pilgrim Preacher: Billy Graham, the Bible and the Challenges of the Modern World.
"The exhibit explores how Billy Graham became an internationally known religious figure and the impact of his work in the realms of religion, society and politics, as well as how he engaged with challenging issues such as ecumenism and civil rights," said Dr. Jeff Kloha, chief curatorial officer at the Museum of the Bible.
"Exploring Graham in this historical context reveals his complexities as a human being rather than only as a cultural icon."
The exhibit features dozens of images, some so rare that Will Graham remarked he had never seen them before. Other pieces of memorabilia and artifacts include Billy's college notes on preaching, a Bible he gave his father, and the thick boots he wore when visiting U.S. soldiers in Korea at the mid-point of the 20th century. A pulpit from one of his earliest Crusades (Modesto, 1948) and the one he used in his final Crusades bookend the tour.
Despite the varied and unique collection featured throughout the exhibit, the evening reception kept coming back to one key component—that issue that Billy wrestled with nearly 70 years ago—the Bible.
"Daddy loved the Scriptures. I don't suppose there was ever a time I walked into his bedroom—he loved to study and read in bed—and he'd have his books all around him," said Ruth Graham, Billy's daughter.
"Always open beside him was his Bible. Always. And if we went into his office, on his desk the Bible was always open. He could have been taking notes. He could have been doing something else. But that was his reference."
Ruth continued, "The Bible gave him his worldview. The Bible was his reference. The Bible was his authority. The Bible was his comfort."
Will added, "That's what I love about this place here. It's committed to the Word of God. This is a fitting place for my grandfather's things to be on exhibit, because he believed in the Bible more than anything else in the world."