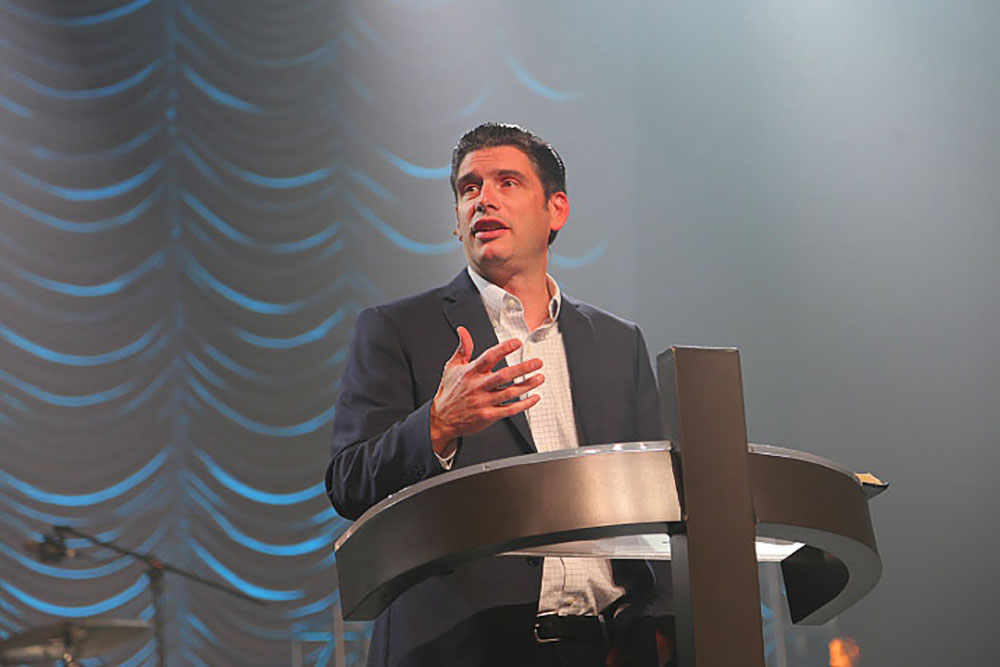 After so much tragedy in the news recently—hurricanes, earthquakes, the mass shooting in Las Vegas—many people don't know where to turn.
In Fort Wayne, Indiana, more than 1,300 people wanted some good news and came out Friday night to hear a message of hope at The Greater Fort Wayne Celebration of Hope with Will Graham. The event was held at at the Allen County War Memorial Coliseum while another 21,000 watched online from across the country.
With recent heartbreaking and scary events, Will knew people would be searching for answers.
"We all have a list of questions we want to ask God," he said. "You're looking for some type of hope, some type of meaning in life. … Jesus has the answers that you're looking for."
Celebration volunteers Ralph and Tierney Scantlin have seen a lot of good and bad in their lifetime but love leading others to the answer they've found.
Some 58 years ago, Ralph felt God stir his heart at a Billy Graham Crusade in Indianapolis, Indiana.
"I was comfortably glued to my seat," Ralph vividly recalled, until he realized that Billy Graham was inviting people to walk down front to make decisions for Christ.
He laughed as he remembered how uncomfortable he felt about walking in front of the huge crowd. But in his soul, Ralph sensed he may never get another opportunity like that one.
"I knew that I really needed the Lord—and I wanted Him," he said.
Ralph and his twin sister accepted Christ that night but it wasn't until two weeks later that he felt the weight of his sins disappear.
"I [couldn't] explain this joy inside of my heart," Ralph said, remembering how he wept when he realized he was fully forgiven.
"If God can do this for me, He can do this for anybody," he thought.
Ralph decided to attend Bible college and later pastored a church while working other jobs to support his family.
Now, he's thrilled to serve as a counselor as Billy Graham's grandson, Will Graham, leads a Crusade event.
"Billy Graham has done this for me and if I can do this through the Lord for Billy Graham and his family and what they're doing for the Lord, I feel honored."
Ralph's wife, Tierney,  serves as a counselor supervisor at The Greater Fort Wayne Celebration.
She accepted Christ as a teenager after hearing Billy Graham preach the Gospel on TV. After 52 years of marriage, they're pretty sentimental about their salvation decisions long ago.
"We came to the Lord and our whole family is walking with the Lord," Tierney said. "I hate to think where all of our family would be if we had never committed our lives to Christ."
Toward the end of the night, Will Graham asked, "What now are you going to do with Jesus?" In the crowd, a man named Larry got restless in his seat, just as Ralph had so many years ago. "I felt a nudging," Larry said.
"Do you have the courage to take a stand for Christ?" Will asked.
Larry felt a tugging on his heart.
"I've been through a lot of struggles over the years—loneliness, rejection," he admitted.
He'd lost his best friend in an accident—the person he could talk to about his problems—and was feeling the void.
"I just felt the Holy Spirit come over me and I knew I had to go forward."
Larry prayed to rededicate his life to Christ and shared his heart with a young counselor—and now a new friend—Chad.
"This is the end of some pain I've been going through," Larry said. "Because [God's] here and He's letting me know He's here."
Larry didn't ignore the Holy Spirit's nudging, just like Ralph and Tierney didn't.
"I have never regretted that decision," Ralph reflected. "Never have and never will."
"I long to see everyone saved and to hear the truth," Tierney added. "I think this is a perfect way to do it—through hearing Will Graham."