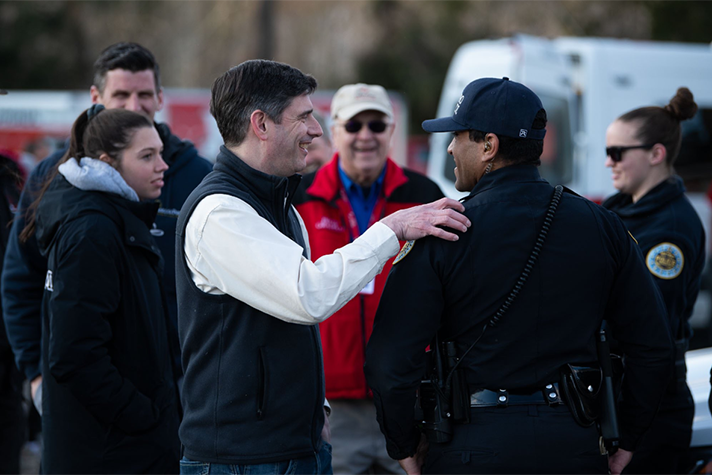 Will Graham, along with his brother Edward Graham, visited homeowners at a devastated apartment complex in Hermitage, a suburb of Nashville, after six overnight tornadoes spun across Central Tennessee earlier in the week.
They were joined by Will Graham's 18-year-old daughter, C.J., who attends nearby Lipscomb University, and their longtime family friend and musician, Michael W. Smith.
Smith also lives in Nashville and has been walking alongside his community through the aftermath.
Immediately upon the group's arrival to the complex, all hands were on deck.
Going alongside Billy Graham chaplains and Samaritan's Purse volunteers, they talked with homeowners and carried belongings into moving trucks that were filled with everything from guitars to plants. The disheveled complex, which contains collapsed balconies, dozens of fallen trees and power lines, and smattered cars in its parking lots, has been condemned and is urging its residents to find another location to recover.
India Christian is one of those residents.
Although her apartment was not damaged during the storm, Christian was overwhelmed at the daunting task of quickly moving out of her home of four years.
On the way to meet her, Will Graham, the executive director of the Billy Graham Training Center at The Cove, came across two Samaritan's Purse volunteers trying to maneuver her bulky couch down the stairs. He assisted them before greeting Christian inside her apartment, which volunteers had already nearly emptied.
>> You can help Tennessee tornado survivors.
The two strangers quickly shared a lighthearted camaraderie for their love for Eastern North Carolina barbecue before the conversation grew serious.
"It's so hard," Christian tearfully told Will Graham about the tornado. She'd checked out her car right after the massive storm, but hadn't realized the level of damage to her neighborhood until daylight.
"I had no idea how bad it was," Christian said. "It was shocking."
Although Will Graham had never been on a Rapid Response Team deployment before, he compassionately took on the role of a chaplain.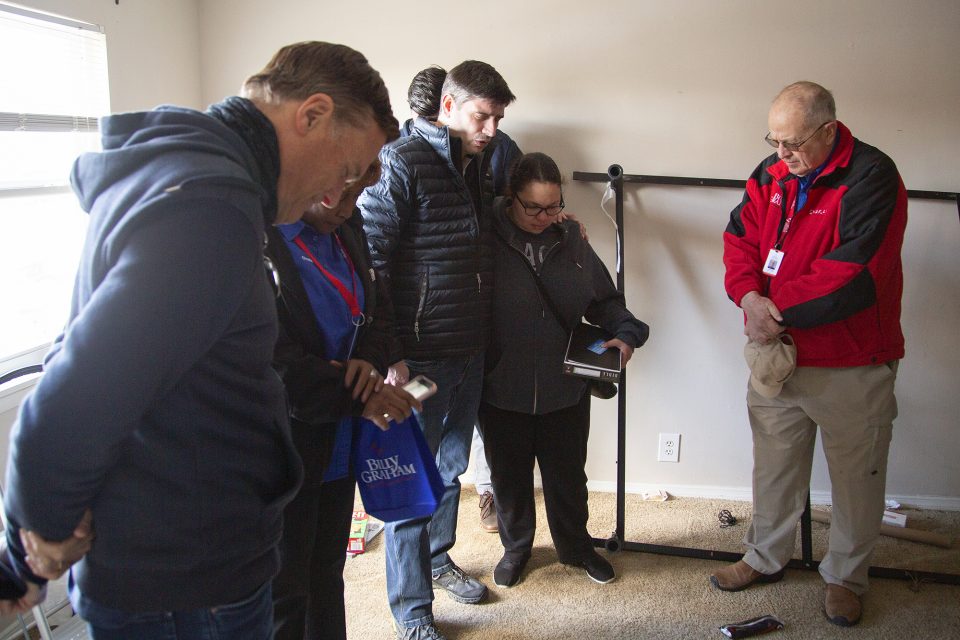 He gave her a Billy Graham Training Center Bible, explaining, "We believe this is God's Word to us. It's like a road map for life."
>> Read more about Edward Graham's visit with Tennessee homeowners.
He continued, "You just asked Christ into your life today, and that's the best decision you can ever make."
Christian acknowledged that life-changing choice.
Just hours before, she was visited by two crisis-trained chaplains, Doris Fontelroy and Donna Lamb. These blue-shirted chaplains had taken time to see how she was holding up.
Over the course of their conversation, "her tears changed from tears of sorrow to tears of joy," Fontelroy said.
Although Christian had been in church, she hadn't realized there was a difference in knowing about Jesus and having a relationship with Him.
"She knew Jesus with her head, but didn't know Him in her heart," Lamb added.
The chaplains showed Christian the Steps to Peace booklet, which includes Scripture and a prayer to start a relationship with God, but it also has one page where you can put how close or far you think you are from Him.
And Christian realized she wasn't close.
Weeping, she asked Jesus for forgiveness and surrendered her life to God.
"It was so tender, so real," Lamb recalled. "Today, Jesus became her Savior."
That decision is one that Will Graham wanted to celebrate with her.
"We rejoice that you did that," Will Graham said. "God doesn't want to [just] save you just from hell and eternal separation—yes, He does—but He wants to give you an abundant life. I pray that starting today your life will be forever changed to be abundant."
Watch more of this story: