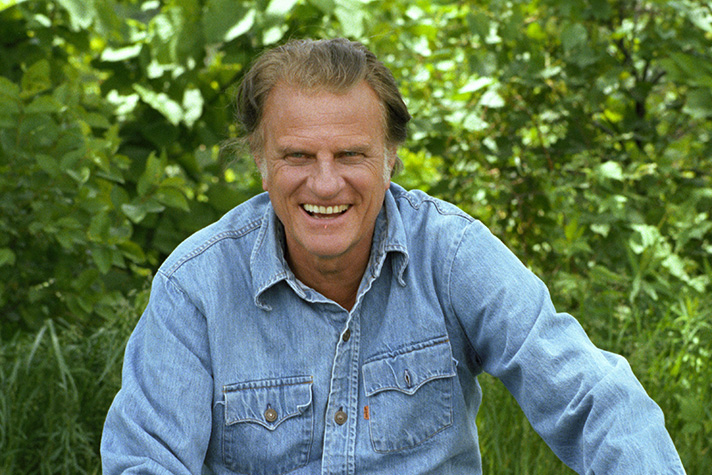 He brought them out and said, "Sirs, what must I do to be saved?" —Acts 16:30
Will Graham's new book Redeemed: Devotions for the Longing Soul was birthed from his desire for others to know the love and redemption of Christ. In the book's 50 devotions, Will shares experiences from his life, including lessons from his grandfather Billy Graham. Be encouraged by this exclusive excerpt, as well as Communion: Will Graham Shares How He Surrendered His Life to Christ and My Grandfather's Best Advice. Read and share these excerpts from Redeemed, then order your copy.
When you're a ten-year-old boy, getting to see your grandfather is one of the greatest things in the world.
On this particular day, I worked my way through the crowded room, my dad right behind me. I had that singular focus and tunnel vision that comes with being a child. I finally saw him—my grandfather surrounded by a mass of people.
I was so excited that I couldn't help myself. I took off running to reach him, wanting nothing more than to give him a hug. Suddenly an arm swung downward and stopped me in my tracks. A big security guard looked at me and said, "Excuse me, but the line is over there."
It wasn't until that moment that I realized that everybody in the room was there to see my grandfather, and I was—in the wording of an elementary-age boy—cutting in line.
>> Get a copy of Redeemed: Devotions for the Longing Soul.
I was unsure of what to say or do. Though my dad had been with me before I took off running, I now felt very much alone. My grandfather turned toward the commotion, and I'll never forget what happened next.
A broad, gracious smile spread across his face. He spread his arms wide open and called me to him, and I lunged into his embrace.
While most know the Billy Graham who preached to massive crowds, met with presidents, or was interviewed on national television, that day many people saw the "private" man that I always called "Daddy Bill." His big, encompassing hug made it feel as if I were the only person in the room.
When I consider the love of God for us, His children, I occasionally think back to that day.
Some philosophies believe in a creator who divinely made the world in which we live and then stepped away so we could fend for ourselves.
I don't believe that. I believe that the Creator of the universe knows my name. He knows my tears and pain. He knows my triumphs and my struggles. He knows the number of hairs on my head.
And guess what? Through it all, He loves me with an eternal, unconditional love. He loves me so much that He gave His Son to die for me.
A broken world that seems to thrive on pain and decay tries to tell me that I shouldn't run to Him, but I know where my Father is and where I need to be. He's standing with His arms open wide, ready to embrace me as I lunge into His awaiting arms.
Today He's ready to embrace you as well!
Are you running toward God or away from Him? Are you resting in His embrace?
Prayer: Dear God, thank You for loving me with an unconditional love and for the blessing of being called Your child. Through every step today— whether there be struggles or successes—hold me close to You. In Jesus' name. Amen.