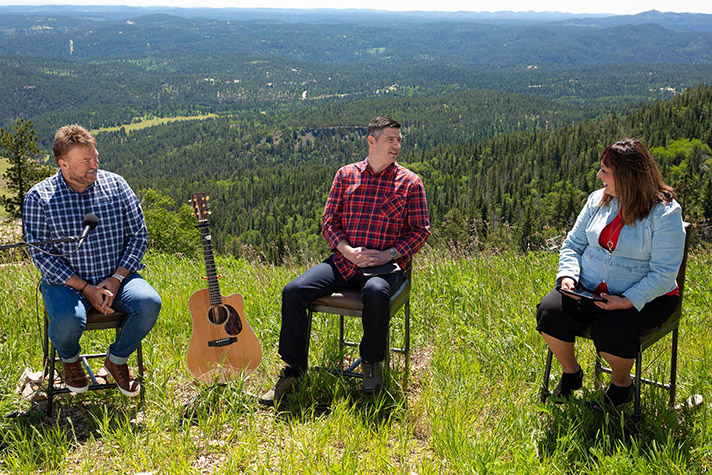 The thought that living a Christian life is no fun is "a lie from Satan," Will Graham said in a livestreamed message on Wednesday.
Preaching with the Black Hills of South Dakota as his backdrop on July 1, Graham shared the Bible story of the Prodigal Son—who gave up a great life under his father's rules to live what he thought would be a better life on his own. It wasn't long before the son found himself at his worst, living in a pig pen.
The parable parallels how we can treat God—and how our lives can take a turn when we decide to run from Him.
"We decide, 'God, we don't want You in our life. We don't want Your rules. We want to have a good time," Graham explained.
"There are many of you watching right now; you've made poor decisions and you've run away. You've run away from God. You've run away from your family," he continued.
"You've got to get up. And you've got to go home. Come home to Jesus."
The July 1 event was Will Graham's latest online-only Celebration sharing the Gospel through shorter messages via livestream. Nearly 70,000 people watched from 45 countries.
"You'll never experience freedom in this world until you surrender your life and give it over to Jesus Christ because that's why you were created—to have a relationship with Him," Graham said, explaining how the Prodigal Son decided to return home to his father and was welcomed with open arms.
More than 150 viewers indicated making a decision for Christ.
"This is the greatest decision you'll ever make and you'll never regret. This is true freedom in Christ. This is the freedom you've been longing for yet couldn't find.
"It's Him. It's Jesus, and He's waiting on you."
A Prayer for Prodigals
Before ending his message, Graham took time to pray for those with their own "prodigals" who have gone astray.
"As parents you might have a prodigal child. Don't worry, you're in good company. Billy and Ruth Graham had prodigals," Will Graham chuckled. "My dad was one of them. He was one of those in the pig pen, but he came to his senses [and] gave his life to Christ."
Graham assured anyone who may be watching from their lowest point in life: "God has a better plan for you."
And for the parents still waiting for their prodigal to return, he urged, "Don't give up on them. God's still working on them.
"Why don't you send them this message? And they can hear it and come running home."