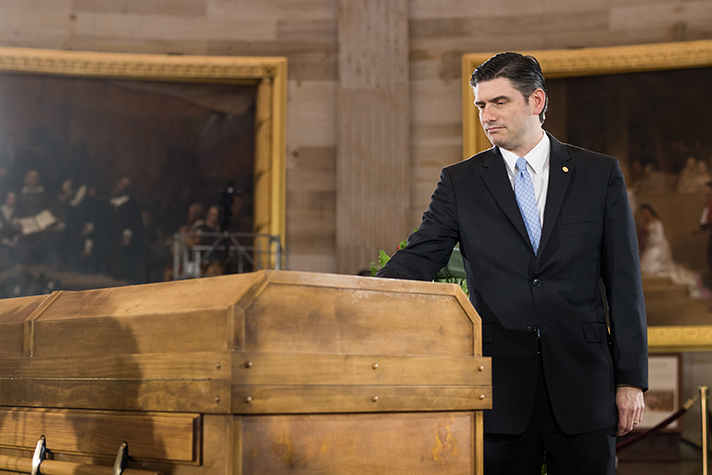 My grandfather was one of the most heaven-focused people I've ever met.
Though Bible verses such as 1 Corinthians 2:9 make it clear that we have no understanding of the magnitude of "the things which God has prepared for those who love Him," for my grandfather, heaven was not a distant and inaccessible realm.
Especially in his final years on earth, heaven was just as real as the house in which he lived. It would be his new home where he would reside once his journey here was complete.
Long before he slipped quietly into eternity on February 21, 2018, my grandfather made the following proclamation about his own passing:
"One day you're going to hear that Billy Graham has died," he said, somber and serious, but also brimming with hope and peace. "But don't believe it! For on that day I will be more alive than ever before. I will have just changed addresses!"
>> Read 5 Billy Graham answers on heaven.
You see, my grandfather spent decades proclaiming the reality of heaven and the narrow road that leads there. Just as an ambassador promotes his home country and pursues its best interests in a foreign land, my grandfather traveled the world as a representative of Christ, sharing and promoting the hope and glory in the heavenly realm for those who call upon the name of Jesus.
I believe heaven became increasingly real to him as he aged well into his nineties. The things of this world—especially his beloved wife (my grandmother, Ruth, who made her own final journey to heaven in 2007) and most of his friends—had already gone on ahead of him. He once joked that he had lived so long that his friends in heaven would be wondering where he was!
In many ways this world was no longer home and heaven was clearly where his heart resided, even before the glorious morning when he passed from this broken realm into God's presence.
I assume that most of you who are reading this are younger than my grandfather, but you may be dealing with a terminal disease. You may have lost a loved one recently. You may be clinging to the hope of heaven as your anchor in the storm.
If this is you, bless you. I pray that you're finding the peace of God as you walk this valley.
>> Longing for heaven? Read Billy Graham's encouragement.
In addition to focusing on the hope of heaven, I would encourage you to cling to the reality of heaven as well. Like my grandfather, understand that heaven is a very real place where you will reside for eternity with your Savior.
But it's not just a different address. This very real place will be something so far beyond what our human minds can begin to comprehend. There will be no mourning or pain, hunger or thirst. There will be a place specially prepared for you. The old will be gone, and all things will be made new!
If you've surrendered your life to Jesus as your Savior, don't fear death. Instead, anxiously anticipate heaven and the promise of eternity with Him.
>> Not sure where you'll spend eternity? Start a relationship with God today.
This is an excerpt from Will Graham's devotional, Redeemed: Devotions for the Longing Soul. Order your copy.
Scripture Reference: 1 Corinthians 2:9
9 But as it is written:
"Eye has not seen, nor ear heard,
Nor have entered into the heart of man
The things which God has prepared for those who love Him."