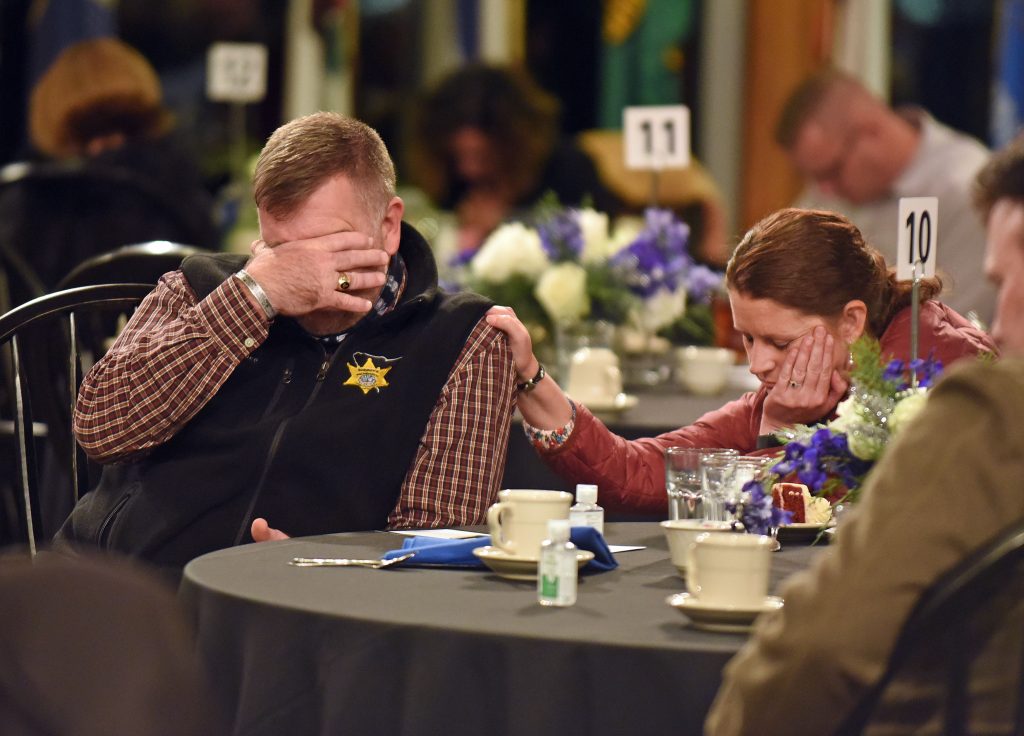 "Blessed are the peacemakers for they will be called the children of God."
—Matthew 5:9
Sgt. Jason Andersen was supervising Minneapolis police officers on the roof of the 3rd Precinct this past May as demonstrators started to torch the building. Sixteen straight work days followed as violence erupted in the wake of George Floyd's death.
During that time, Andersen and his colleagues were on the receiving end of bullets and mortar fire. Their loved ones sat at home, wondering, waiting.
Through it all, Andersen continued to report for duty, even as fellow officers called it quits. Local authorities became vocal opponents. And public perception seemed to steadily drop.
Andersen—and many law enforcement officers like him nationwide—haven't relinquished their calling.
Law Enforcement Appreciation Events
The Billy Graham Rapid Response Team strives to give officers an opportunity to build their spiritual fitness and encourage Christ-centered growth in their careers, marriages and lives.
"I do it because I still care about our community," said Andersen, an officer of 25 years. "I still care about cops. I care about the job. I took this job for the good and the bad. Not just for the good."
Monday evening, Andersen was among dozens of law enforcement officials who attended a Law Enforcement Appreciation Dinner, hosted by the Billy Graham Rapid Response Team in Charlotte, North Carolina. It was a breath of fresh air for many officers who have been exposed to civil unrest, the deadly reality of COVID-19 and even more this year.
"Being able to come experience something like this means something to us," Andersen said. "I think it would mean a lot if it came to Minneapolis."
Ultimately, the Billy Graham Evangelistic Association would like to hold more events nationwide. Waite City Police Chief Dave Bentrud attended Monday with Andersen to learn more about making Minnesota a next stop.
>> Learn more about the National Law Enforcement Ministry
"Our profession is hurting," said Bentrud, who also serves as president of the Minnesota Chiefs of Police Association. "When I say hurting, I mean they're upset. They're disappointed. They're frustrated. And they need a message of hope. When I saw the Billy Graham Evangelistic Association was involved in law enforcement, and when we're in an era where you hear so much about defunding the police, how cool is it to have an organization like this that's out there defending police?"
A total of three dinners were held this week. The focal point of each event is to encourage law enforcement in their God-given calling.
"We love you. We appreciate what you do to make our communities safe," Will Graham encouraged officers Monday. "You look after us."
>> Read more of Will Graham's message to police officers
Plenty of negative narratives flash across news sites and social media, but Detective Serita Wright believes most officers want to help people. That passion to make a difference is what prompted Wright to leave a job working in the county jail in Wichita, Kansas, and start serving as a police officer with the Charlotte-Mecklenburg Police Department (CMPD). She started seeing too many repeat visitors, as she intentionally calls individuals incarcerated multiple times.
"[I thought] I'm not reaching them," Wright said. "So [I thought] maybe if I move out of the jail and into a patrol car, I can stop them from coming to jail or at least give them a chance to, 'Hey, rethink what you're doing.' Stop them before they have to go into handcuffs, and they don't have to be transported to jail."
Wright served eight years on patrol with CMPD before becoming a detective. Her perspective remains to nurture the good in whoever she finds. That's why she continues to report for duty despite a hard year.
Those personal moments of serving mean so much, and they are an encouragement for officers like CMPD Maj. Tonya Arrington, who spends time working with community engagement.
"It's been a challenging year for us," Arrington said after the Law Enforcement Appreciation Dinner. "However, those are the times that you press on. You know that the light's coming on the other side, and I think there are silver linings even in darkness. While there's a lot of negative things surrounding us, I think there's a lot of good happening in our community and people willing to come together even though there's a loud voice against us.
"In the quietness behind all of the noise there's some phenomenal opportunities and programs that are taking place."
One of those programs, the Charlotte Dream Center's Adopt-A-Block, now stretches into three neighborhoods. Whether tossing a football, shooting hoops or simply hanging out and chatting, officers are intentional about interacting with community members during outreach events. The impact goes beyond just smoothing relationships for day-to-day policing. These moments, Arrington said, could have implications for eternity.
"How do you quantify some type of eternal nugget or seed that you left that could break a cycle [of poverty or addiction] for somebody?" Arrington asked.
"It's hard to measure what praying on the front porch with somebody can do and the impact it can have."
Please continue to pray for law enforcement and the communities they serve.
Read More: BGEA to Expand Law Enforcement Ministry Efforts in 2021