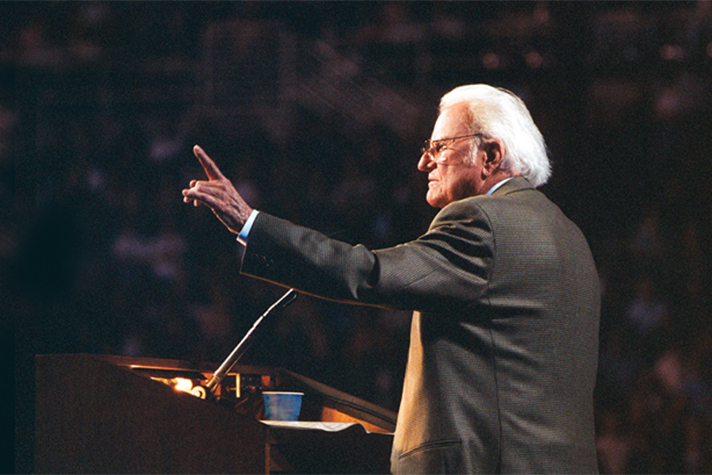 The political chatter is relentless in light of today's Iowa caucus, and you've no doubt heard how critical the evangelical vote will be.
But really, the adjective evangelical is kind of murky.
What—or better yet, who—is an evangelical?
The question has been on the minds of folks nationwide per Merriam-Webster, which lists the word atop its trending terms. The language information website claims more than 40 million monthly visitors and offers this simple definition:
Evangelical

adjective | evan·gel·i·cal  | \ˌē-ˌvan-ˈje-li-kəl, ˌe-vən-\

: of or relating to a Christian sect or group that stresses the authority of the Bible, the importance of believing that Jesus Christ saved you personally from sin or hell, and the preaching of these beliefs to other people
Billy Graham lived out that definition through six-plus decades of ministry, impacting countless lives globally. He once summed up the work of an evangelical:
"An evangelist is like a newscaster on television or a journalist writing for a newspaper … except that the evangelists' mission is to tell the Good News that never changes."
Mr. Graham has also said evangelism is "not a calling reserved exclusively for the clergy."
That means neither a stage nor a well-known name are a prerequisite for delivering the Gospel. A willing heart sharing with an audience of one will work just fine.
Of course, God has gifted each of His children differently so evangelism won't always look the same. It can be in-person, via the telephone or over the Internet. Simply put, an evangelical is someone who continually points to Jesus.
Below are examples of evangelicals in action:
In Person
Kevin Williams can't help but exude the Holy Spirit.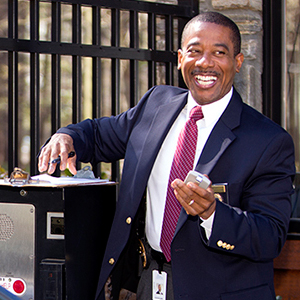 When he first arrived here at the Billy Graham Evangelistic Association, he served at the Billy Graham Library in campus security. Today, he is a full-time member of the Billy Graham Rapid Response Team and often deploys as one of the crisis-trained chaplains to provide emotional and spiritual care.
His cheerful greeting, "God. Loves. You." both charms and disarms.
For the believer, it's a shot of encouragement. For the seeker, it's intriguing, especially in the wake of crisis: Wait. God loves me?
Williams is more than happy to explain himself when asked. Starting conversations is a blessed byproduct of this evangelical's life. He's continually praying and looking for opportunities to share Christ, while also encouraging and strengthening those in the faith.
And he's no stranger to divine appointments. In 2014, Williams watched God orchestrate an opportunity for the Rapid Response Team to further share His love with a wounded Ferguson, Missouri, community. Williams deployed as part of the crisis-trained chaplain team, and wound up sitting on the plane next to Rev. Carlton Lee—the pastor of Michael Browns' family. Michael Brown was the young man fatally shot by officer Darrell Wilson in August 2014.
Williams' encounter with the Rev. Lee was an answer to prayer and broadened the deployment, giving the chaplains an opportunity to minister in-person community-wide.
Over the Phone
Phyllis Sanford shares Kevin Williams' passion for in-person evangelism, but about a decade ago she felt a call to freshen up her approach.
She and her husband Tom, both outspoken when it comes to sharing God's love, noticed a listing during church one Sunday requesting Billy Graham Television Ministry volunteers in Savannah, Georgia.
Tom was all for it. His wife wasn't so sure until she heard a preacher on the radio talking about presenting the Gospel in a new way. She knew that message was meant for her.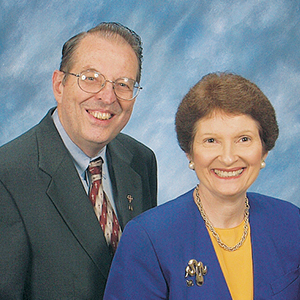 "That's all it took," said Phyllis, now 67. "I was ready to go, and I've been going ever since."
That was September 2005, and since then the Sanfords haven't missed a phone operation. Tom, 73, can't recount the opportunities that he and his wife have had to share during the past 10 years over those 10-12 minute phone exchanges, but he has noticed one trend when people call in after a Billy Graham TV Classic airs.
"People used to call and they'd kind of beat around the bush and have a prayer request," Tom said. "They don't do that anymore. They get right to the point. People are so hurting and so disillusioned with life in this world."
The pain is palpable, and the Sanfords are ready to share the hope they have found in Christ. They rejoice when a new brother or sister comes into the family of God and immediately encourage that person to start praying, reading the Bible and attending a local church.
"The important thing to understand is if Christ isn't honored and God isn't glorified, you're not accomplishing a thing," Tom said. "You can't lead anybody to Christ in your strength. The work is His, not ours. We have to sincerely let people know we love and care."
The Sanfords haven't forsaken their in-person evangelism, though. They're active in their church, but also go to the local hospital and mall with the primary purpose of sharing Christ with folks they see.
"Anytime I open my mouth, and I share with somebody, I know it has to be the Holy Spirit doing it because I'm a quiet, very shy person," Phyllis said. "But if God gives me an opportunity, I'm going to take it because I care about people and I want to take them home to heaven with me."
Online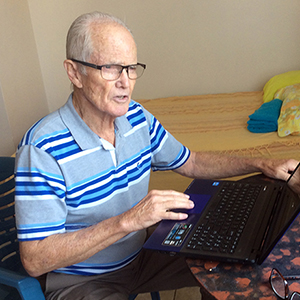 God isn't confined to our schedules. Sometimes He'll stir a soul in the wee hours of the morning, and that's perfect for searching hearts who can log onto PeaceWithGod.net anytime—day or night.
More than 7 million people have made decisions for Christ via the evangelistic website, which is part of BGEA's Internet evangelism ministry. The site explains the Gospel in simple terms and gives people a chance to respond to it. To date, more than 37 million people worldwide have visited the site.
Some of those folks have chatted with Bob Milton, an 81-year-old retired doctor, who volunteers during the early morning shift. As the day is starting, Milton is sharing the Good News with hurting people hungry for the love of Christ.
"I think I am blessed beyond measure to be able to do this," he recently told BillyGraham.org.
Milton, an aspiring medical missionary living in Ecuador, has volunteered with the Search for Jesus team since January 2013. His position requires a commitment of a couple hours a week, but Milton tries to serve every day during this critical timeframe.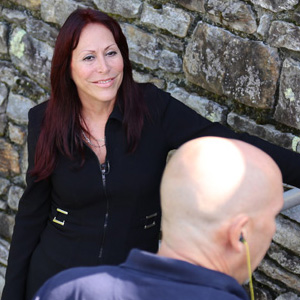 Mayra Lopez, a Florida resident originally from Puerto Rico, makes her impact as a chat coach for BGEA's Spanish-based Internet evangelism ministry, En Busca de Jesus (or Search for Jesus in Spanish).
Lopez completed training and began chatting with Spanish-speakers asking spiritual questions through PazConDios.net, the Spanish counterpart of PeaceWithGod.net.
Through volunteers like Lopez, this ministry enables hurting people to experience God's love despite circumstances like immigration. Lopez told BillyGraham.org that she's come across several site visitors who haven't seen their children in years because they live in different countries. Lopez has had a chance to encourage them, comfort them, pray for them and give them real hope by sharing Christ.
What About You?
If you are a member of Christ's family, how are you sharing the Good News of His love? Remember, Billy Graham said evangelism "is not a calling reserved exclusively for the clergy."
It's time to unleash your inner evangelical.
Franklin Graham has extended an immediate opportunity for Christians in the United States to get involved through his 50-state Decision America Tour. He is stopping in every state capital this year to encourage Christians to pray, vote and engage during the 2016 election year.
During his first four stops, he has encouraged people to start community prayer groups, and even urged believers to consider running for office at every political level.
"Let's just see what God can do," he told the Concord, New Hampshire, crowd in January. "Let's become a nation that can once again say 'In God we Trust.'"