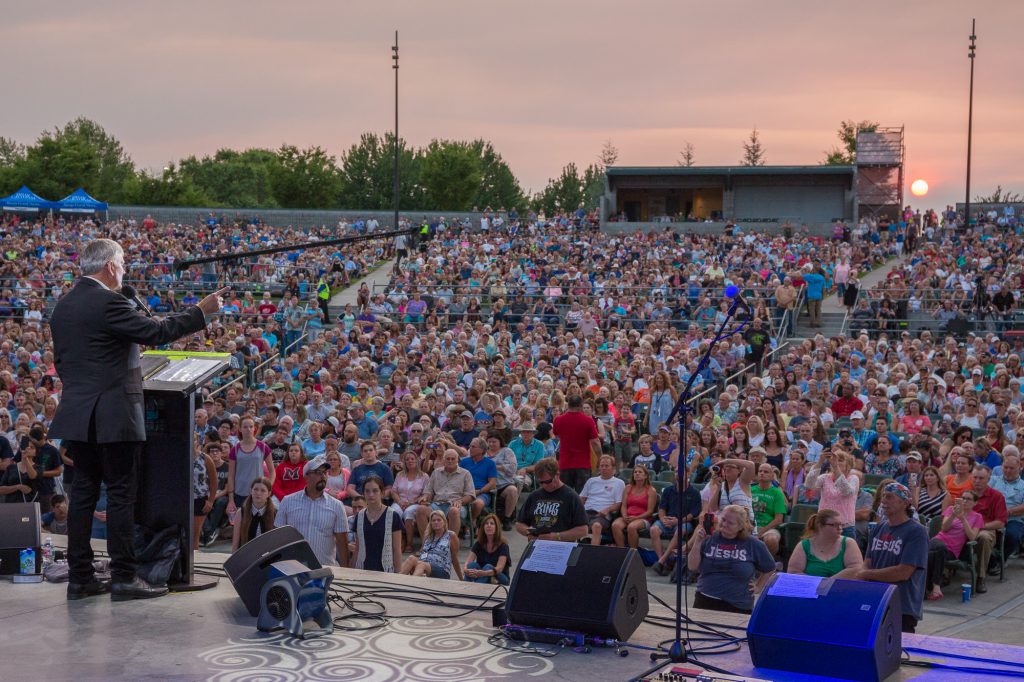 The crowd was unreal.
Or at least that's how some people at the first stop of the Decision America Pacific Northwest Tour described it.
But to God, it was no surprise.
>> See photos from the Pacific Northwest Tour in Medford.
For more than a week, smoke had blanketed Medford and the rest of southern Oregon while wildfires raged across the West Coast.
With Wednesday's prayer event at the Bi-Mart Amphitheater nearing, local residents looking forward to the Decision America rally thought the smoke would keep people away.
Yet one by one, folks trickled into the outdoor venue. And it wasn't long before that trickle became a pour. Some with lawn chairs. Some wearing masks. All with great expectations for what was about to take place.
"We were praying, and it looks like God was listening," one volunteer said with a smile.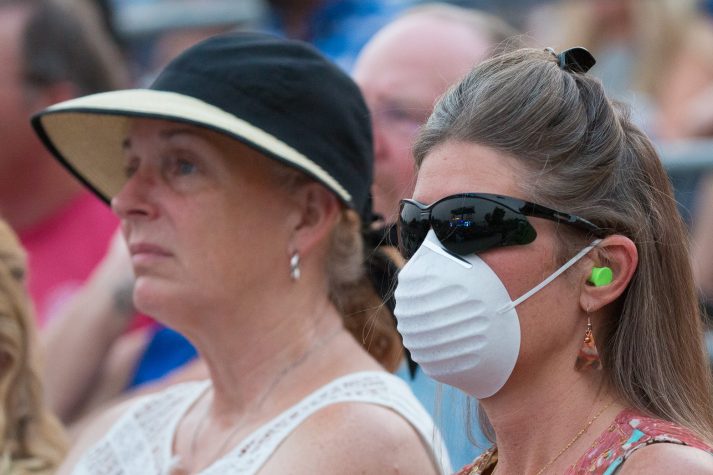 Once the event kicked off Wednesday night, the amphitheater was filled to the brim as an estimated 8,750 people joined Franklin Graham to pray for their state and the nation.
Lora Pomerville and her husband, Bill, decided to snag a seat high up on the grass in the rear. An avid follower of BGEA's social media, she said it was on her bucket list to attend a Franklin Graham event.
"Who knew I'd get to [check this off] so soon?" she said.
Watching the crowd grow and grow, Lora was reminded of the importance of events like this.
"Most of us here are probably already believers," she admitted. "But this helps uplift and motivate.
"If we don't share the Gospel and the message of salvation, we might miss the opportunity to help someone."
Taking the stage, Franklin shared the story of blind Bartimaeus, who didn't let an opportunity to be changed by Christ pass him by.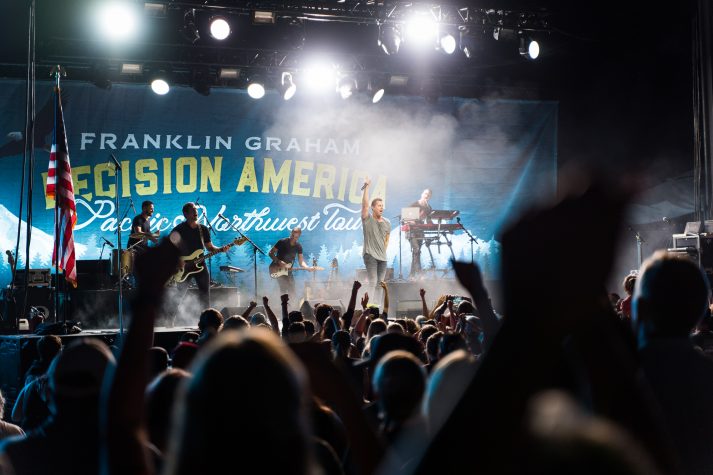 "Bartimaeus had one chance. He knew time was running out," Franklin said.
"Maybe you're here tonight and you feel your time is running out. … You feel like you have no hope," he continued.
"God's got a plan, and God's got a purpose. You might think that time is running out, but time goes for eternity in the presence of Almighty God!"
As Franklin's voice echoed, former U.S. Marine Andrew Barrow stood in awe.
In recent months, he felt compelled to watch old Billy Graham sermons online.
"His message was simple and to the point," Andrew said. "To see so many come to the Lord because of the simplicity of the Gospel, then being here tonight … it's powerful."
Little did Andrew know, he'd see that power at work beyond the message.
Andrew came with his wife and kids, along with more than a dozen others he invited. With Franklin on stage giving the invitation to accept Christ, Andrew felt a tug at his side.
It was his 7-and-a-half-year-old son, Aidan, wanting to walk forward.
"I felt honored to be a part of something that's bigger than us," he said, adding that Aidan assured him he knew the decision he was about to make.
"Up there looking around, we were all the same," Andrew continued. "Rich, poor. It didn't matter.
"Everyone was there together."
By the end of the night, the smoke had cleared and hundreds had made a decision for Christ.
It was as if God was giving a real-life example of what happens when the Gospel is preached simply: a moment of clarity.
Will you join in praying that all who made a decision for Christ in Medford will continue to see clearly God's way? The Pacific Northwest Tour heads to Bend, Oregon, next.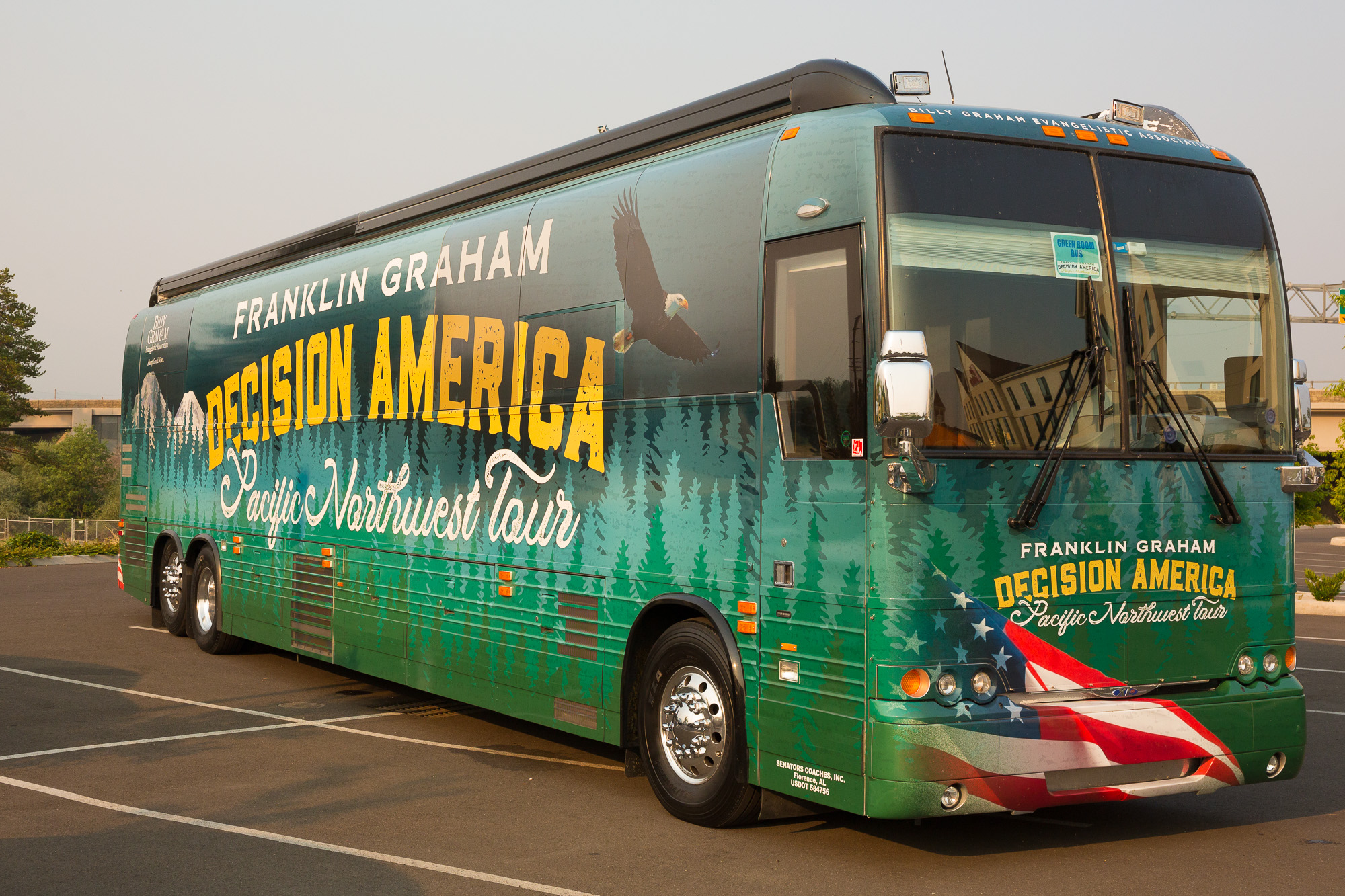 The Pacific Northwest Tour with Franklin Graham continues Friday in Bend, Oregon. See the full list of stops, and join us in praying for each city.