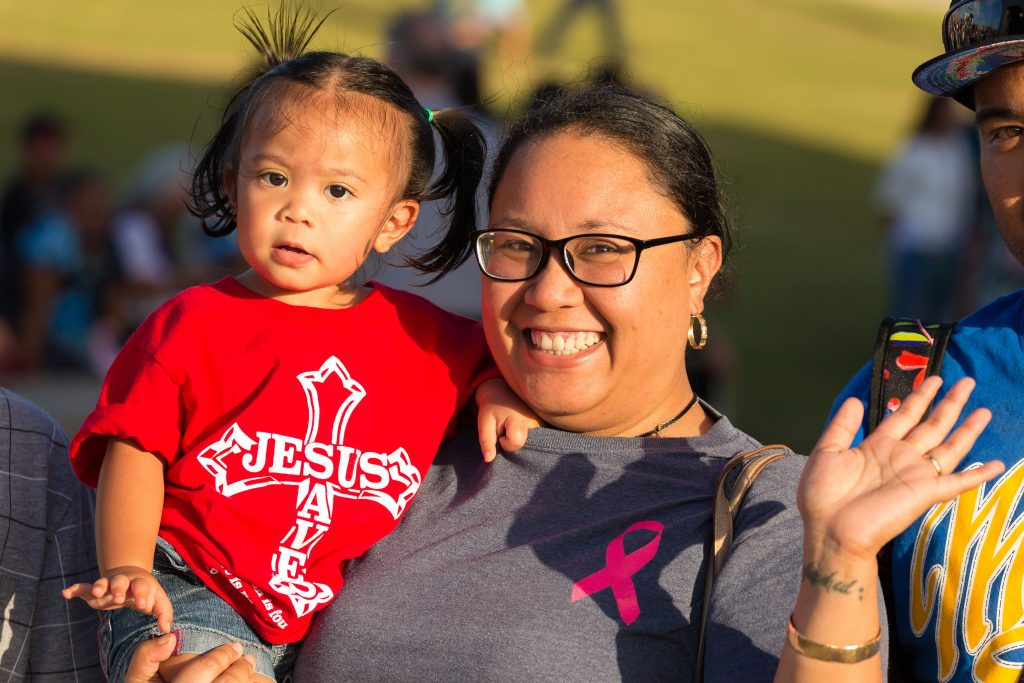 "If my people, who are called by my name, will humble themselves and pray and seek my face and turn from their wicked ways, then I will hear from heaven, and I will forgive their sin and will heal their land."
—2 Chronicles 7:14
Marilou Arriola doesn't think she'll ever forget how the Marianas Festival of Hope ended.
It was a beautiful answer to prayer to see hundreds pour forward, ready to learn more about Jesus after Franklin Graham's message during the evangelistic event in late February. But as breathtaking as that was, nothing could have prepared Arriola for what was about to take place on her island of Saipan, the biggest of the Northern Mariana Islands in Micronesia.
The Islanders—churchgoers and non-churchgoers alike—didn't head for the exits. They stayed put as the Tommy Coomes Band and then Dennis Agajanian took the stage. People sang. They danced. They worshipped with their entire being as one last song led to one more last song.
"It was a huge celebration at American Memorial Park 'til 10 p.m.," Arriola said just over a month later. "That's not common on our island, not with any event.
"There was music and transformation through the Word and commitments [to Christ] were made. And then, the celebration."
The park rangers gave the Festival event planners a gentle nudge. Time to wrap things up. And so the Festival concluded, but the excitement didn't wane.
In the weeks that followed, churches began reaching out to people who came forward to make decisions for Christ. Some attended church services. And Arriola, who works with youth and singles at Marianas Christian Church, was encouraged by the chatter within the community.
Faith conversations were happening in the Festival's wake, and it wasn't just churchgoers who were starting them. At a local skate park, parents began talking with Arriola about the Festival. They remembered headline worship leader Michael W. Smith from their youth. Furthermore, they really didn't disagree with anything Franklin Graham said about Jesus.
"I think you can see how hearts were softened. You can see that people are more welcoming [to hear about faith], and that's something big with our small island community," Arriola said.
As COVID-19 snaked its way around the globe, Arriola and others continued inviting people to church, making connections. Looking back, they only had a few weeks before the new coronavirus reached Saipan in mid-March.
Officials called for stay-at-home measures and implemented a curfew. But the spirit within the church body held fast.
Individual churches that once banded together to make the Festival such a success have stayed united. Now they're working together to make sure each church can reach its congregation virtually. The local newspaper also has published virtual church events for people otherwise stuck in their homes.
Arriola's church, which managed the communications committee for the Festival, has continued with its Bible studies and prayer meetings from virtual platforms. Their Sunday service is now available online, and that viewership is one way Arriola said she's seen God's hand during this time. She praises Him for the way He's financially provided for her church in a time when pretty much no one except first responders are drawing a steady paycheck. In the physical, it can be a scary time. A scary time that's prompting people to become more comfortable discussing faith.
"We're seeing a lot of people say, 'You know what? We just need to pray.' Whether or not they understand what that means or not, the point is they're getting spiritually ready to be touched by God," Arriola said. "I can see it. I think it was an opportune time that the Festival happened before the lockdown. Those who attended the Festival are recalling, 'That's right, I remember they were saying we've got to pray and trust Him.'"
People are hungry right now, Arriola continued. They're hungry for miracles, for God's Word.
The song "Heal our Land" by popular Filipino artist Jamie Rivera is stuck in Arriola's head right now. It stems from 2 Chronicles 7:14 when God appears to Solomon. The Bible verse declares, "If my people, who are called by my name, will humble themselves and pray and seek my face and turn from their wicked ways, then I will hear from heaven, and I will forgive their sin and will heal their land."
"And when He says heal our land, I don't mean just heal the virus," Arriola said. "He's going to heal hearts and hurts from the community, and it's going to be a worldwide transformation."