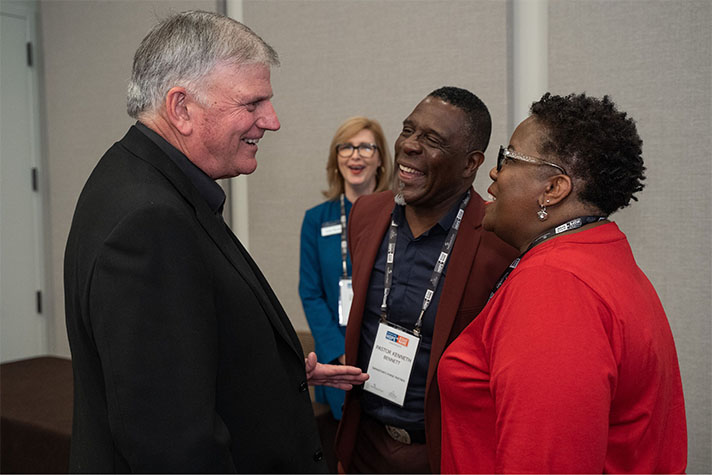 On Thursday evening, Franklin Graham commenced the first-ever Sharing Hope in Jesus' Name Conference in Orlando, Florida.
This weekend retreat was a joint conference for two of his ministries, the Billy Graham Rapid Response Team (RRT) and Samaritan's Purse North American Ministries (SP), to come together and be trained to respond in times of disaster.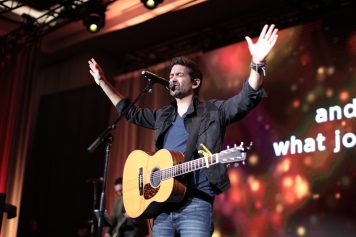 After introducing his wife, Jane, and three sons, Will, Roy and Edward, Franklin told the crowd, "All of you are part of the Samaritan's Purse (SP) and Billy Graham Evangelistic Association (BGEA) family."
More than 1,200 attendees filled the spacious room—some experienced volunteers who have encountered the effects of crashing waves and monstrous winds numerous times, and others who are just beginning their journey with BGEA or SP.
Although the ministries have different tasks—blue-shirted Billy Graham chaplains provide emotional and spiritual care for survivors while orange-shirted Samaritan's Purse volunteers meet homeowners' physical needs—they all have a unified goal.
"Samaritan's Purse and the Billy Graham Evangelistic Association is about one thing: it's about the Gospel," Franklin said. "I don't want to be known as a humanitarian organization," he continued. "We're about soul winning; we want people to know Jesus Christ."
That's the purpose behind every conversation a chaplain has with a homeowner and each piece of split wood from a volunteer's chainsaw.
To date, the ministries have prayed with more than 405,000 people on deployments around the world, while thousands have made decisions to follow Christ. The work is far from over.
>> Learn more about becoming a Billy Graham Rapid Response Team chaplain.
"All of us are going to find ourselves in storms," Franklin said. "If the Lord Jesus is with us, we don't have anything to be afraid of. … We want to keep our focus on what God has called us to do. We want to be obedient to Him and follow Him through life, all of our lives."
Attending the conference, Libby Bozeman and her husband, Greg, could relate. They'd had a storm hit close to home. In fact, that was the very reason they found themselves here.
From Wewahitchka, Florida, the couple was devastated by the strongest hurricane to ever touch the Panhandle, Hurricane Michael. In the days after, though, SP volunteers and Billy Graham chaplains offered help.
"We were so grateful they were there to meet our needs," Libby said. "We saw what they did for us and we want to do that for other people."
They lost Greg's car, a pole barn that held equipment and two sheds in the Category 4 hurricane.
"One of the sheds had antiques and children's artwork, sentimental things … things we didn't want to lose," Libby said.
Six months later, she's learned that stuff is "just stuff," but has been disturbed by how people are still being affected by Hurricane Michael.
"During the cleanup, tragedy has happened," Libby said, explaining how a family was electrocuted while trying to fix a scoreboard on a ball field.
"It's almost like people are stuck in the middle of this storm," she continued. Around town, there are still blue tarps on roofs and battles with insurance companies.
"If I can be trained in such a way I can speak to someone and help them through it, then that would be a blessing," she said. "You know how God does, He brings beauty from ashes. That would be like bringing beauty out of this storm—to be able to help someone else cope with what they have been and still are going through."
Franklin recognizes the blessing of these ministry volunteers, too.
"I thank God for each and every one of you. All of you who volunteer and give your time, thank you for doing this," Franklin said, wrapping up the evening. "It makes a difference, and we can make a difference in Jesus' name."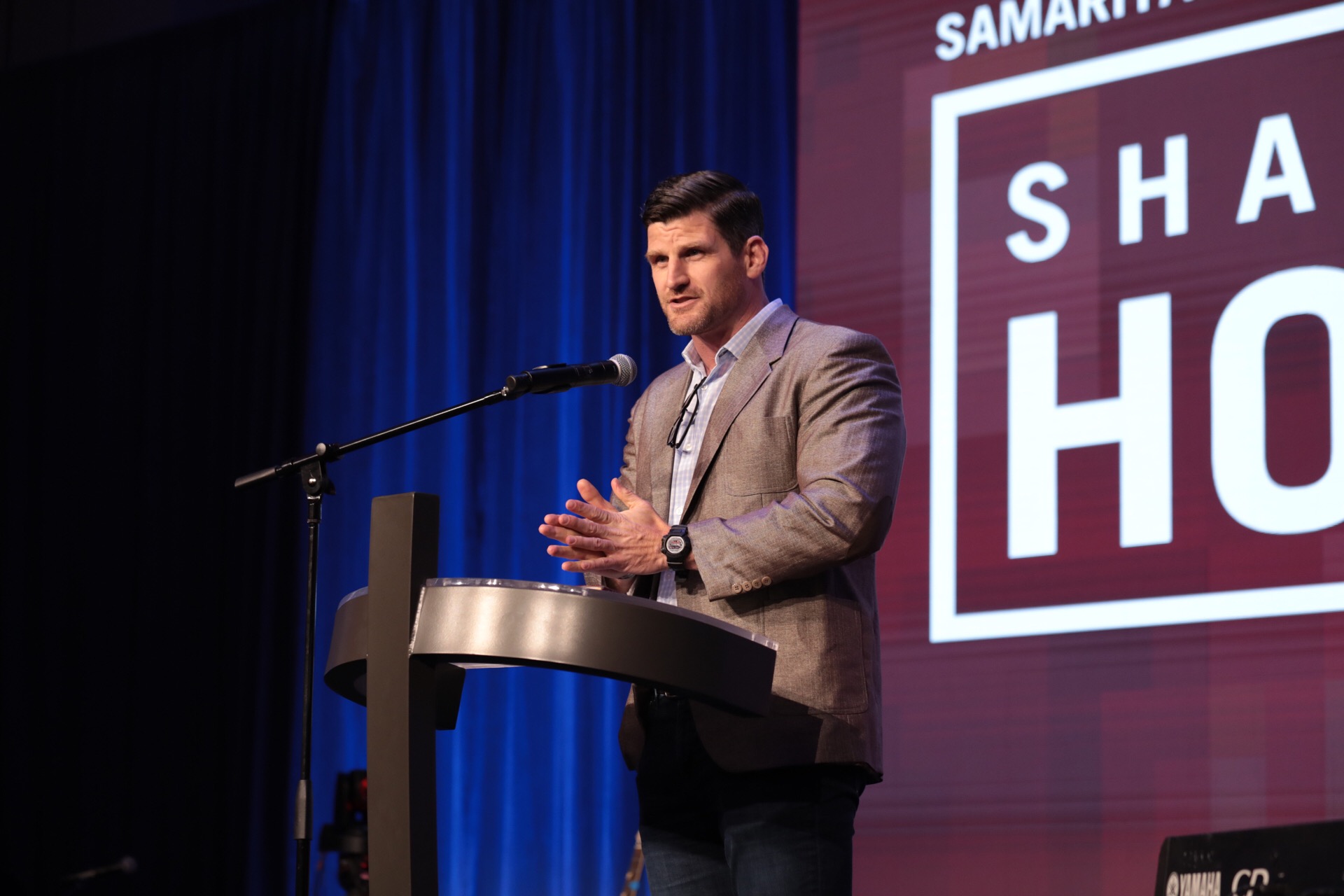 Interested in becoming a Billy Graham chaplain? Learn more.