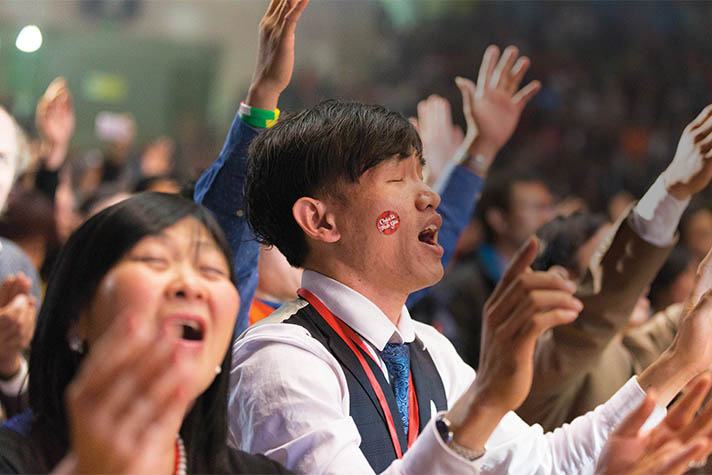 Just seven days before the Love Hanoi Festival began in December 2017, Franklin Graham wasn't sure if he'd be permitted to speak. The Festival's fate still lay in the hands of Vietnam's government.
Really in God's hands.
An account of how this historical and life-changing event occurred is relayed in a powerful new TV special from the Billy Graham Evangelistic Association (BGEA), Vietnam: Rising Hope, airing on TBN, Faith USA, Cornerstone and several other stations. It's also available online at BillyGraham.tv.
>> Watch Vietnam: Rising Hope online, or check dates and times it will be on TV.
In Vietnam: Rising Hope, American veterans share how anger, bitterness and rage nearly consumed them after combat. The TV special also tells a story of God's redemption through the pain of war and struggles of the Vietnamese people. Viewers see how prayer later paved the way for lives to be changed at the Hanoi Festival, the first large evangelistic event ever allowed in this Asian country.
In the months leading up to the Hanoi Festival, more than 500 churches in the Republic partnered with BGEA to cover the historic event in prayer.
When it finally happened, thousands of people poured into the Quan Ngua Sports Complex to hear uplifting music and a message from Franklin Graham. Another 20,000 people watched on giant screens outside. So many came that event organizers ran out of chairs—and there were no more available.
>> Watch a 4-minute video from the Love Hanoi Festival.
The TV special shows so many of these powerful moments, including a clip from the Festival when Franklin asked the crowd at the venue to join hands and pray out loud for their government leaders.
"Many government officials were in the room at that time," Franklin Graham said. "They'd never heard anybody pray, much less pray for them."
Over the two-night event, more than 4,500 people came forward to make life-changing decisions for Christ.
"God can reach people anywhere," said Franklin Graham. "Whether it's behind an iron curtain, a bamboo curtain or whether it's just behind the closed door of your home."
It was in the late 1960s that Franklin's father, Billy Graham, shared a message of hope with U.S. troops in Vietnam, and it's not lost on Franklin how God allowed him to share the Gospel with the native people.
"Just 50 years ago, we were bombing Hanoi," Franklin Graham said. "And there I was as an American, standing before the people of North Vietnam to proclaim the greatest news in the world."