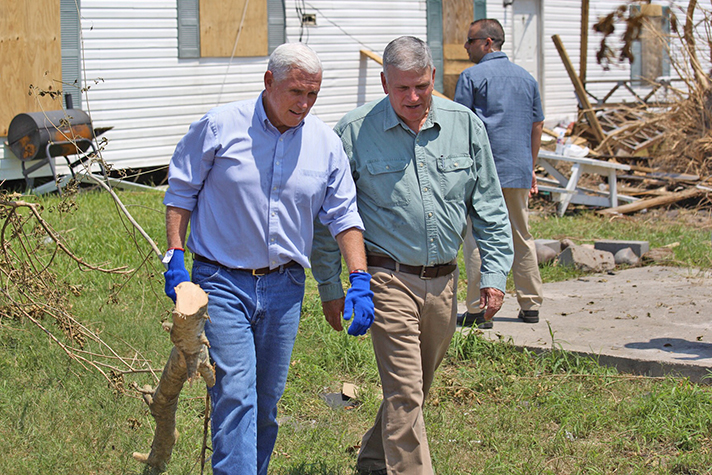 Franklin Graham was in Rockport, Texas, Thursday to meet with Hurricane Harvey victims and tour the widespread damage. Vice President Mike Pence, along with his wife and second lady, Karen Pence, and Texas Gov. Greg Abbott, joined Franklin to visit a worksite where chaplains with the Billy Graham Rapid Response Team were providing emotional and spiritual care to residents hit with the disaster. Samaritan's Purse staff and volunteers were also on site, already busy assisting homeowners.
Franklin Graham, who is president and CEO of the Billy Graham Evangelistic Association (BGEA) and disaster relief ministry Samaritan's Purse, met the vice president, Mrs. Pence and Gov. Abbott for prayer at First Baptist in Rockport Thursday morning and also took time to pray with BGEA's Rapid Response Team chaplains, who headed to the scene of the crisis over the weekend.
>> Help send crisis-trained chaplains where they're needed most.
"As you've seen on television, the rain, the flooding, is just horrendous," Franklin Graham said Thursday. "People have lost homes, they don't have insurance. Some people have lost everything. And we want to go and we want to be there in their time of need. Of course we want to help people put their lives back together, but we want to do this in the name of Jesus Christ. So pray for the people of Texas and for our volunteers."
Nearly a week after the historic hurricane made landfall, it's since been downgraded to a tropical depression, but not before leaving mass destruction in its path. At least two dozen people have died, and many others have been injured.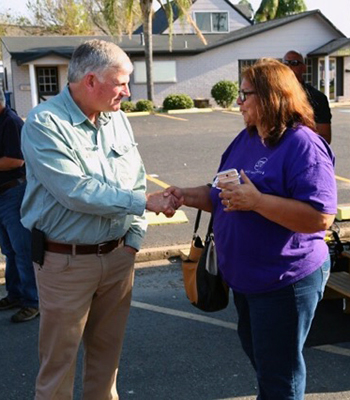 "We commend the extraordinary first responders who at this very hour are pulling citizens out of harm's way," Vice President Pence said, surveying some of the surrounding damage at the worksite.
He and Mrs. Pence stood with Franklin Graham and a crowd of others as Gov. Abbott declared Sunday a day of prayer for his state.
Franklin encouraged others to get involved in the relief effort, saying, "We need Christian men and women willing to come to south Texas to help us. There's so much need down here."
One resident he met on his visit was a woman named Sylvia who lost part of her roof and had water damage at her house. Sylvia attended the Decision America Tour last year when Franklin toured the country, calling Americans to live out their faith. She thanked him Thursday for being there in person and for helping her home state recover.
Franklin will stop in seven more cities around the state in October on Decision Texas: The Lone Star Tour with Franklin Graham. Several of the stops will be in or near cities that were hit hard by Harvey, including Corpus Christi. Franklin is continuing to call Americans to pray not only for the state of Texas but also for the nation as a whole.
Watch to see how you can help Hurricane Harvey victims: