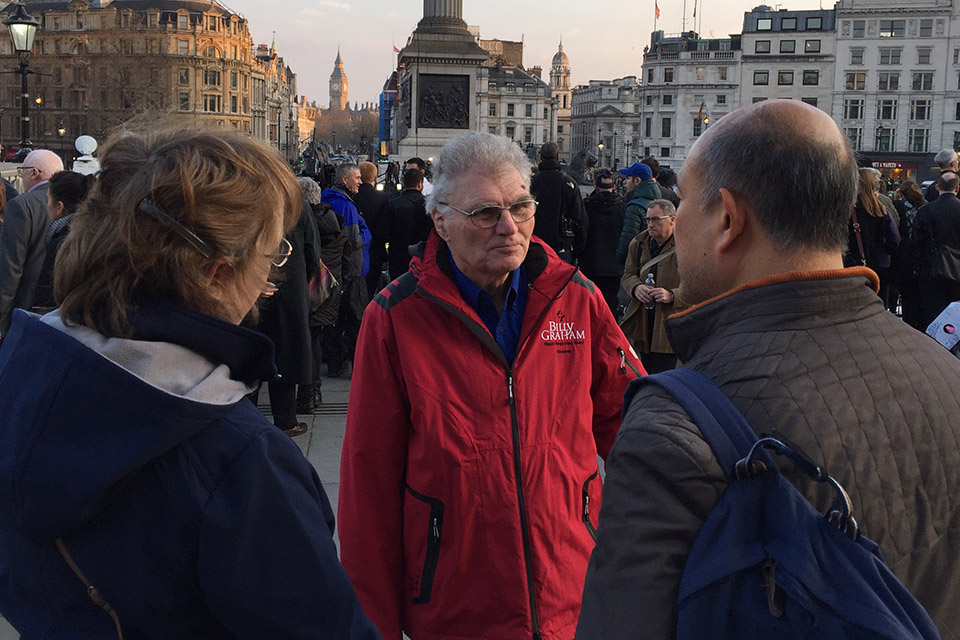 From whiteboards in the London Underground transit system to chalk-written notes at the memorials, if there's one word that can sum up London's reaction to the recent terrorist attack it's resiliency.
On March 22, four people were killed and scores were injured during an attack at Westminster Bridge and outside Parliament Square. Billy Graham Rapid Response Team chaplains from the United Kingdom deployed in the wake of the incident that shook Londoners and tourists, but also left them resolved not to give into fear.
"London is trying its very best to show that we can quickly respond to an incident, but also recover as well in terms of reopening the roads and taking down those police cordons," chaplain Nigel Fawcett-Jones said. "For a lot of people, life has just continued on. People have been coming into work, their offices and buildings. Tourists have been going on their everyday business.
"But in the midst of that, you see those people who are seeking to stop and reflect on the moments of the event. They do want to pause and reflect and consider the events that have happened."
It's in those moments the chaplains were on hand. They prayed with people during a vigil the night after the attack, and offered emotional and spiritual care at the memorials on Westminster Bridge and Parliament Square.
Fawcett-Jones hails from Bradford, a couple hours north of London. He said historically, Londoners have learned to steel themselves in the wake of adversity.
"I think there's maybe something in the British psyche that makes it resilient and strong, but at the same time, there is that softness as well to the work of the Holy Spirit when someone comes along to offer prayer," he said.
One key example happened when chaplains encountered two school-aged men who had just visited Parliament weeks ago. Fallen officer Keith Palmer had made an impact on the young men, and they returned with flowers to pay their respects. They were visibly moved by the incident and welcomed prayer with the chaplains, who asked that God would protect them.
Standing in Parliament Square, this place where so many government decisions are made, Fawcett-Jones couldn't help but be struck by the fact that this incident would encourage Londoners and tourists to ponder eternal questions while visiting the memorials.
"So many do stop and read the notes left on the flowers, and you think, here we are in Parliament Square, next to the Houses of Parliament, where so many decisions on laws and the UK are being drafted," Fawcett-Jones said. "How wonderful would it be if there was a decision for Christ made outside the Parliament?"
Please keep London and all affected by this tragedy in your prayers. Particularly lift up those who were injured and the families of those who lost their lives. Additionally, please pray for the law enforcement and first responders who attended the scene as well as the medical staff caring for those still hospitalized by the vicious attack.