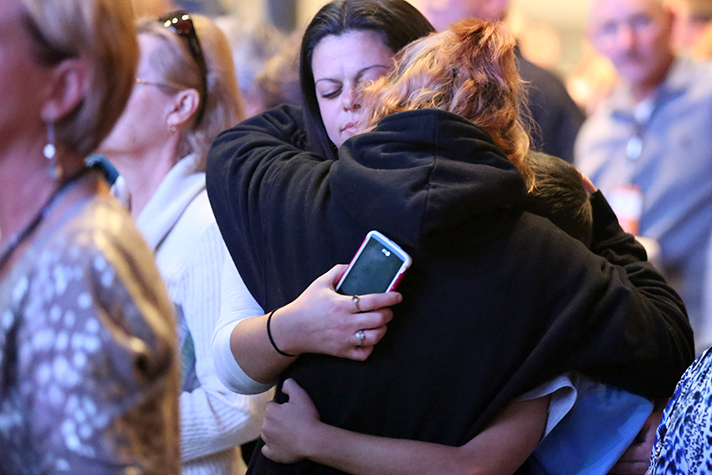 With his chiseled look and tattooed arms, Chris Bautista had become somewhat of a familiar face by the final day of the Tri-State Celebration with Will Graham.
After all—he'd attended two nights of the event, sharing a smile and a hand shake with various decision counselors and volunteers.
Chris spent 10 years in the Marine Corps, but admitted that his personal life didn't live up to the honor, courage and commitment his uniform stood for.
Domestic issues ended his marriage and his military career, and landed him in jail for four years. Later, he married again, but started doing methamphetamine. He recalled an addiction so intense he once "did enough meth in three hours to kill about four or five people, if not more."
After another stint in jail, Chris knew it was time to make a change. That's what brought him to the Tri-State Celebration on Saturday, where he rededicated his life to Christ.
"I served [the wrong] god for a long time, and last night I just felt a call—the want and the need for God's love," Chris said.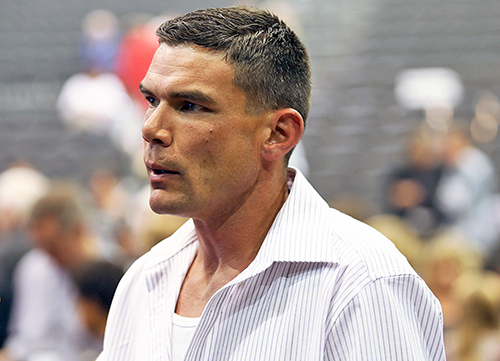 He was so compelled by his experience Saturday night, at the Celebration on Sunday he brought a friend he'd known from Alcoholics Anonymous meetings.
"He made some bad decisions and now he's homeless. But he went to church with me earlier this morning and came here," Chris said.
By the end of the night, that friend, too, was talking to a counselor about having a relationship with Christ.
"I want people to have what I have. I want people who've been where I've been to see what changed me," Chris said.
"If I could've changed myself, I would have a long time ago. I would've changed my friends. But I can't. It's only God through me."
And that's exactly what Will spoke about on the final night of the Tri-State Celebration—how God transforms lives once a decision has been made to live totally for Him.
Preaching from Matthew 27, Will used the example of the decision Pilate had to make concerning Jesus.
"Maybe there are some of you here today, you don't know what to do with Jesus. You say, 'I'm just going to stay neutral through all this. I'm just going to ride the fence,'" Will said. "When you make no decision for Jesus you're actually making a decision about Jesus.
"There's no neutral ground my friends," he continued. "God is trying to wake you up. He's saying, let Me come into your life and change you."
And it seems the transformation has begun in Huntington and surrounding cities following a weekend filled with reminders of God's power, grace, love and truth.
Sunday night started with a medley of hymns from the Jason Lovins Band. The crowd sang along to classics like "Will the Circle Be Unbroken?" and "What a Day That Will Be." Later, Aaron Shust took the stage to lead the crowd in worship.
"Praise God for what He's done in this city and what He's going to continue to do," Will Graham said.
For Deborah, who served on the Celebration prayer team, seeing young people and especially entire families come forward this weekend has been encouraging.
"This is not the biggest [event BGEA] will ever do, but you may never come to an area that needs it more," she said. "I don't think this is the end. This is the beginning.
"So much is going to come out of this that it's going to spill over into families, people that they work with, to the cities in this Tri-State area."
Youth pastor Bobby Bannister brought about 10 kids from his church to the event. At least one of them made a first-time decision to accept Christ.
Over the course of the three-day event, nearly half who walked forward during the invitation were ages 10 to 18. Bannister hopes each one will stick it out and put faith into practice.
"Once you make the decision [to accept Christ] you've got to make the decision again every day," he said. "Every day is a new choice, and every day you've got new obstacles in front of you."
Chris seems ready for the challenge as long as God is with him—even if it leads to unexpected places.
"I'm on my way. It's a beautiful journey, and it's not the easiest journey," he said. "But I really believe that I'm going to be preaching from a stage like this one day."