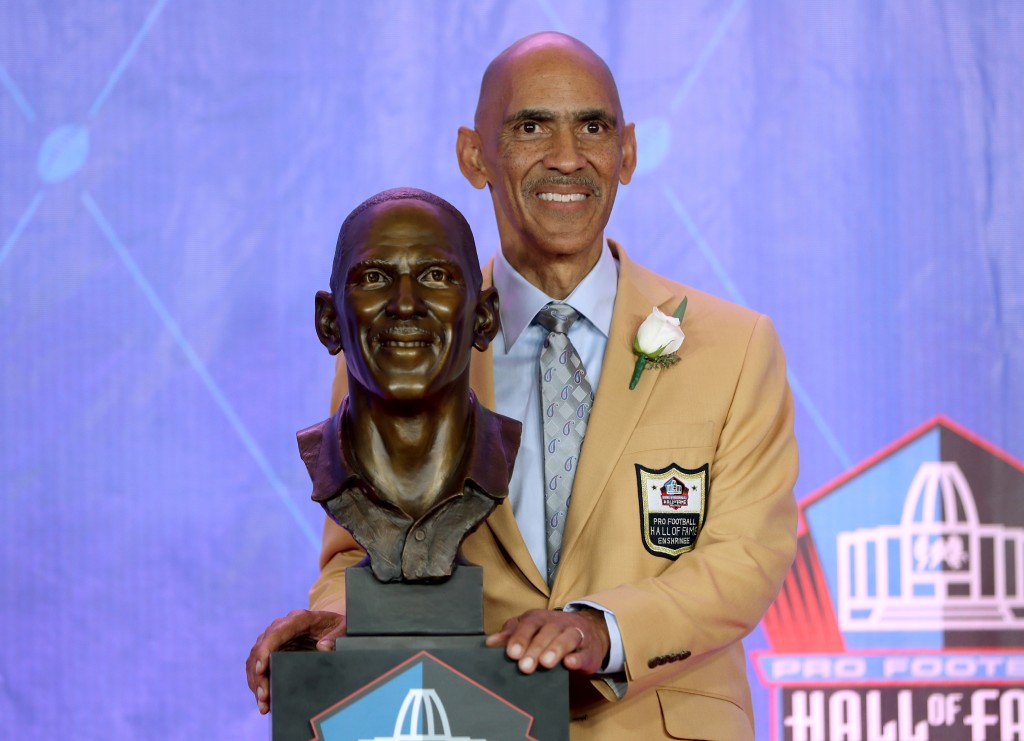 Tony Dungy's path to the Pro Football Hall of Fame was an exercise in learning to walk by faith and not by sight.
From the disappointment of being an undrafted player in 1977 to the despair of being fired from his first head-coaching job 25 years later, Dungy repeatedly found that God turned his trials into blessings.
"The Lord has truly led me on a wonderful journey through 31 years in the NFL—through some temporary disappointments to some incredible joys," Dungy, 60, told a capacity crowd at Tom Benson Hall of Fame stadium in Canton, Ohio, on Saturday night.
The other 2016 Hall of Fame inductees were quarterback Brett Favre, outside linebacker Kevin Greene, former San Francisco 49ers owner Eddie DeBartolo, wide receiver Marvin Harrison (who played seven seasons for Dungy in Indianapolis), offensive tackle Orlando Pace and two deceased former players, quarterback Ken Stabler and guard Dick Stanfel.
"I'm pretty much like all of these guys today: When I found out I had been elected to the Pro Football Hall of Fame, I just couldn't believe it," Dungy said.
Becoming an all-time great certainly didn't seem in the offing back in '77 when he was overlooked in the 12 rounds of the NFL player draft following his college career at the University of Minnesota.
"I was devastated," Dungy said. "But it is just one example of God's plans being better than our plans."
Dungy, a college quarterback, wound up signing a free agent contract to play defensive safety with the Pittsburgh Steelers, joining what is now regarded as one of the elite teams in NFL history. Steelers coach Chuck Noll would become a valuable mentor.
It was also during his rookie year in Pittsburgh when Dungy met the man who dramatically influenced his Christian life—Steelers safety Donnie Shell.
"Donnie took me under his wing, and I learned so much from him—not just about playing safety, but about being a Christian athlete, a husband, father and teammate," Dungy said.
After two seasons in Pittsburgh, Dungy was traded to San Francisco, where he lasted one season before his playing career came to an early close at age 25.
"Suddenly … I was looking for a real job," he said.
But, yet again, God was up to something good.
Noll gave Dungy the opportunity to rejoin the Steelers as an assistant coach, which he accepted and thereby starting his journey toward Canton's hallowed halls.
It was also during that time when Dungy met the woman who later would become his wife, Lauren. On Saturday night, he called her "the love of my life, my biggest supporter and my greatest blessing."
"There's no way I'd be here tonight without her," he added.
Dungy went on to coach four seasons with the Minnesota Vikings, where he became the NFL's first African-American defensive coordinator and received intensive discipleship training from team chaplain Tom Lamphere.
"Tom … met with me weekly, going through the book of Nehemiah to give me a picture of biblical leadership that I would use to guide my teams," said Dungy.
Dungy received his first NFL head coaching job in 1996 with the Tampa Bay Buccaneers. Though he revitalized what had been a struggling franchise, he was fired in 2002 after a disappointing playoff loss.
Again, the Lord turned what looked like a negative into something positive. He was quickly hired by the Indianapolis Colts, where he joined forces with Hall of Fame general manager Bill Polian and future Hall quarterback Peyton Manning. Together, they made seven consecutive playoff appearances and helped Dungy become the first African-American head coach to win a Super Bowl.
Ever humble, Dungy interrupted his speech to recognize his former players who were in attendance Saturday night, asking them to stand as a group.
"You don't win in the NFL without players, and was I ever blessed with players," Dungy said.
Those who stood included Harrison and Manning, plus two of Dungy's former Tampa Bay stars who are in the Hall, linebacker Derrick Brooks and defensive tackle Warren Sapp.
"There's no doubt these guys are responsible for me being up here today," Dungy said. "I thank you guys. I love you, every one of you."
The feeling was mutual.
Harrison, at one point in his own enshrinement speech, spoke directly to Dungy:
"I could sit up here for 10 [or] 15 minutes and tell you about how important it was to have you as my coach … You taught us how to be teammates. You taught us how to be men. But the most important thing you taught us was about fatherhood."
Dungy spoke about how his parents, who are now deceased, established the faith-first perspective that has permeated his life and career.
He said his father, Wilbur, emphasized not complaining about negative circumstances, and that his mother, Cleomae, stressed integrity and honoring God above all.
"One of her favorite Bible verses was Matthew 16:26—'What would it profit a man to gain the whole world and forfeit his soul,'" Dungy said. "I know she'd be happy to know that her son never forgot that verse."