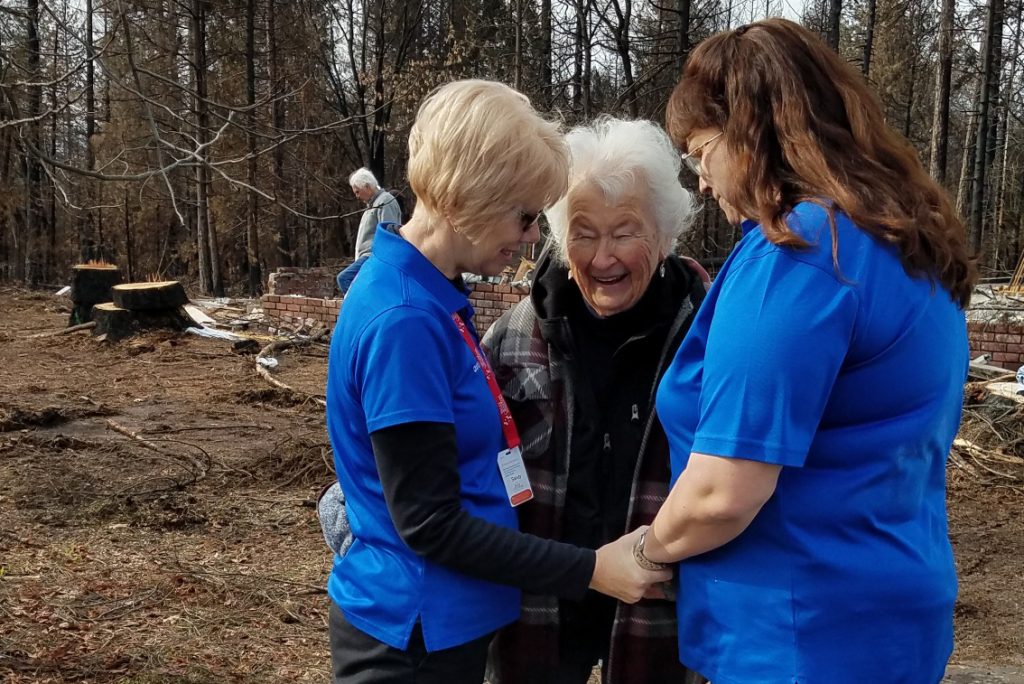 On November 8, 2018, a fire broke out in Butte County, California, and quickly spread, completely devastating the town of Paradise and neighboring areas. After burning more than 153,000 acres, nearly 14,000 homes and 500-plus commercial buildings, and causing 87 deaths, it became known as the most destructive and deadliest wildfire in the state's history. 
"What have I got to be happy about? … This is not Paradise. … I just escaped hell."
These words penetrated the hearts of Billy Graham Rapid Response Team (RRT) chaplains, who sat listening to Camp Fire survivors' stories in the weeks after the blaze. The team deployed to Butte County just days after the fire started and remain there three months later.
Now stationed at a church in the heart of the devastation in Paradise, chaplains spend their days going with residents to the sites where their homes once stood. Many of them barely escaped the encircling flames by car or on foot. For some, it's their first time returning to see what's left. With mounds of twisted metal and ashes across the town—it's surprising—but such a blessing when something is found.
"When we meet them, they'll have certain things they'd like to find … precious rings, maybe a teapot," Chaplain Coordinator James Kilgore said. "They'll know right where it is in the house and be ready to sift. It brings a smile to their face when they find those precious things they're looking for."
With the help of Samaritan's Purse, chaplains have been coming alongside residents, looking through the remains of what once was to see if anything still is.
"What we're trying to do is help them find peace—the true peace of Jesus Christ," Kilgore said.
They've witnessed many people find that peace over the past few months, and have been able to pray with more than 6,000 others. "We want to give people hope that had no hope and a smile when they didn't have a smile because of the love of God," Kilgore said.
This hope is the same message that Billy Graham shared for decades, and Kilgore has encountered several people in Paradise still affected by the evangelist's ministry.
Among them was a 90-year-old pastor and his wife who watched their neighbors die in the fire. Their own home, with a library full of books, also burned. "One of [the pastor's] most prized possessions was a Bible signed by Billy Graham," Kilgore said. "It broke my heart."
The coordinator also came across a firefighter and asked how he was holding up. The serviceman replied he was doing well and shared that when he was 13 years old, he went to a Billy Graham Crusade in Anaheim and dedicated his life to the Lord.
And just earlier this week, a lady rededicated her life to Christ after first surrendering to Him at a California Crusade. She's one of two dozen people who've chosen to rededicate their lives during this deployment.
"You hear these stories everywhere you go," Kilgore said, intrigued how one man made a difference in so many people's lives. "In times like this, they still remember what Billy Graham preached, and him saying 'God loves you.' His ministry right here in Paradise is still making a tremendous difference."