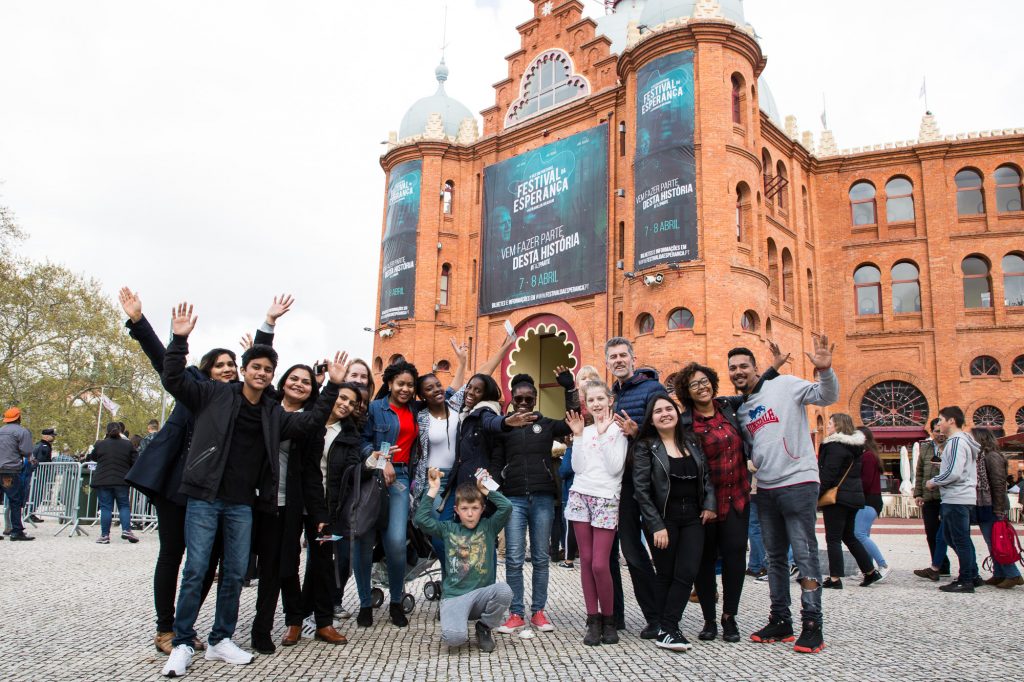 Just 48 hours earlier, a crowd had cheered on the famed matadors at the tourada (Portuguese bullfight) in Lisbon, Portugal.
In the same 19th century arena, many more cheered during Saturday's Festival of Hope for another famous Name—God Almighty.
"He knows your name," Franklin Graham assured those gathered inside Lisbon's Campo Pequeno. "He wants to give you a new life, a new beginning—but you have to trust Him by faith."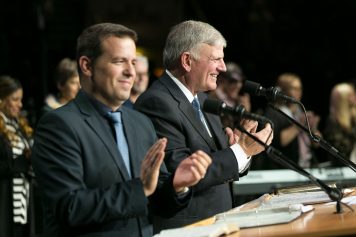 With three stories full of people, the ancient arena was packed for both the afternoon and evening services. The highly-anticipated two-day Festival marked the Billy Graham Evangelistic Association's first Crusade event in Portugal, drawing a combined audience of more than 14,000 people on Saturday.
>> See photos from the first night of the Festival of Hope.
Churches, Trains, Jesus 
Over 400 churches from various denominations were involved in trainings and events leading up to the Festival.
Many brought unsaved friends by train, car and bus—however they could get there—to hear uplifting music, testimonies and a message of hope from Franklin Graham.
Tania Pinto serves in ministry along with her husband in Porto, a riverfront city about four hours north of Lisbon.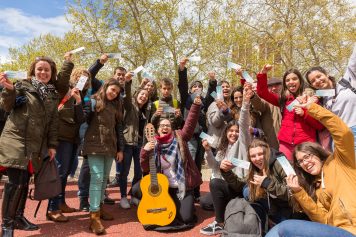 "We came on the train," she said. "Lots of people who don't know Jesus came with us. We are hoping to have lots and lots of people coming to Jesus today."
And lots did.
Before giving the invitation to accept Christ, Franklin Graham explained how God can transform our lives.
"He wants to put together the broken pieces of your life," he urged. "[God] wants to make it something beautiful and pleasing to Him."
A Good, Good Father
Jessica Azevedo, 19, was listening closely. Abandoned by her father nine years ago, she's still heartbroken. Though her father lives right next door, he won't acknowledge her.
But Saturday, Jessica found lasting hope.
The teen grew up in church but had never really heard the Gospel message. Knowing her niece needed something more, Jessica's aunt invited her to the Festival.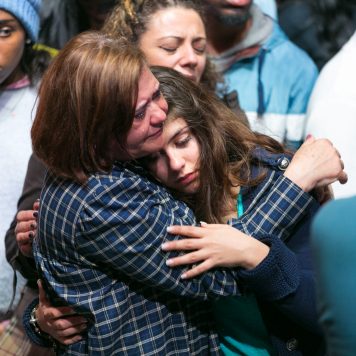 After Jessica heard how much God loved her, she responded to the love of a Father who would never leave her. Tears streaming down her face, she asked God for forgiveness and put her trust in His Son, Jesus Christ.
"I needed to come to open my heart to God," she said. "I wanted to know if God was really with me."
Life-changing decisions like Jessica's are why Christians in Portugal have been so motivated to share His love. Many fasted and prayed for 40 days before the Festival of Hope.
"There is a surge and a definite excitement in the churches and believers to reach out with the powerful message of the cross and the resurrection of Christ," explained Hans Mannegren, BGEA's director of European affairs. "[It's] the reality that people need to hear about and be given an opportunity to respond to."
Preaching On a Red Box
Festival counselor Samuel Pires agrees. As a pastor and street evangelist, talking to people about Christ is his calling.
Part of a street evangelism ministry called Ontheredbox, Samuel preaches atop a vibrant red box in Leiria, a city in central Portugal.
It's quite a turnaround from being shy and bullied in middle school. In the lonely times, Samuel says God was his only friend.
"It changed my way to view the world and the way to love people," he recalled.
But Samuel knows many Portuguese people are closed-minded when it comes to Jesus.
"When you start to talk about Jesus, people say, 'Ah, this is only religion' and want nothing to do with it.
"But for people who are seeking truth—their hearts are open to receive Christ."
That's why he's hopeful and excited that the Festival of Hope can bring revival to Portugal.
"Bringing someone with a testimony, a teaching … is a major opportunity for our country," he said.
Samuel also hopes the Festival will lend credibility to Christian street evangelists who he says are oftentimes dismissed as religious fanatics.
"It's an opportunity to invite people to a place and see that Christians aren't crazy people with strange ideas or beliefs," he explained. Samuel's church, Assembleia de Deus de Leiria, is bringing nearly 100 people this weekend to attend the Festival.
Crazy for Jesus
After Saturday's events were over, the humble street evangelist was exhilarated that more than 280 people indicated decisions for Christ.
"This is a special moment for Lisbon and for Portugal," he said. "I think seeing so many people coming forward is an expression of what God wants to do in this nation."
"We are people that love others because Jesus loves us," Samuel continued. "When others see that, they're going to see that we're different."
As for those who think he's crazy?
"No, I'm not crazy," he laughed. "I mean, crazy in love with Jesus, yes, this is true."
Please pray for all who came to know Christ at Saturday's Festival of Hope with Franklin Graham, as well as for the two remaining events happening Sunday.
Is your heart open to Jesus? Start here.