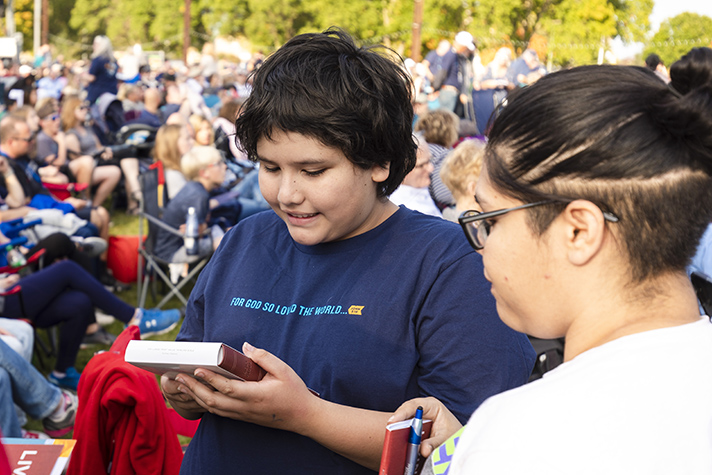 "All Scripture is breathed out by God and profitable for teaching, for reproof, for correction, and for training in righteousness, that the man of God may be competent, equipped for every good work." —2 Timothy 3:16-17
Will you help get Bibles into the hands of new believers?
God's Word has always been at the center of ministry for Billy Graham, Franklin Graham, and the entire Billy Graham Evangelistic Association. Our goal in 2023 is to give a Bible to as many new believers as possible during our outreaches—from in-person evangelistic events to chaplain ministry in the wake of crisis.
This Giving Tuesday, you can join the cause and help provide a Bible with a donation of $7.
"The Scripture is God's revelation to man, and it stands as the absolute, unrivaled authority over every domain of life," Franklin Graham said. "Without the authority and reliability of God's Word, we would all be without hope. His Word alone is ultimate truth and contains the Good News of salvation through His Son, Jesus Christ."
Next year, Franklin Graham will share the Good News at God Loves You Tour events across the United States and at Festivals in Mexico (February), Vietnam (March), and Germany (October).
In the aftermath of man-made and natural disasters, crisis-trained chaplains from the Billy Graham Rapid Response Team deploy at a moment's notice to offer emotional and spiritual care, giving out Bibles to those who choose to surrender their hearts to Christ.
That's how a 78-year-old Navy veteran named Michael* received his first Bible.
After experiencing heartache and devastation in the aftermath of Hurricane Ian, Michael connected with two Billy Graham chaplains who helped lead him to the Lord in Fort Myers, Florida.
While holding on to God's Word, he wept. For the first time, Michael understood what it means to have a relationship with Jesus Christ and could physically see God's plan for himself in the pages of the Bible.
Many of those who accept Christ at our evangelistic events or during deployments have never been to church, and some are just hearing the Gospel for the first time. It's important that those who commit their lives to Christ have access to a Bible to grow in their newfound faith with Him—long after these events are over.
Your gift can help more people like Michael receive the Word of God—the best gift you could offer someone as they learn to walk with Jesus Christ and grow in their faith.
*Name changed to protect privacy