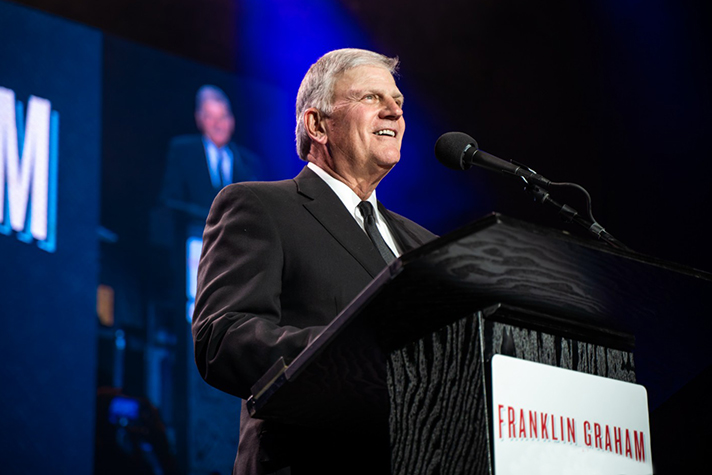 In a few weeks, Franklin Graham will travel across the heart of America to share good news in troubled times.
The six-city God Loves You Tour kicks off September 24 and wraps up October 2. Stops include Allentown and York, Pennsylvania; Youngstown, Ohio; Flint, Michigan; Waukesha, Wisconsin; and Rochester, Minnesota.
Tour Schedule
Sept. 24 – Allentown, PA
Sept. 25 – York, PA
Sept. 27 – Youngstown, OH
Sept. 29 – Flint, MI
Oct. 1 – Waukesha, WI
Oct. 2 – Rochester, MN
At each one-night evangelistic event, Franklin Graham will give a message of lasting hope. The free tour includes live music from Newsboys and Marcos Witt in select cities.
"There is so much confusion and darkness around us," Franklin Graham recently shared. "It's leading people away from their only hope: Jesus Christ.
"It's more important than ever that we pray fervently for our country and that we share the truth: 'Christ Jesus came into the world to save sinners'" (1 Timothy 1:15, ESV).
What Is the God Loves You Tour?
The God Loves You Tour gets the word out that there is hope and a future if people put their trust in Him.
"There has never been more of a time when people need to know that God loves them," explained Steve Rhoads, vice president of church ministry for the Billy Graham Evangelistic Association (BGEA). With such chaotic times in the world, there's a lot of uncertainty and depression.
"It is a rescue mission," he said, "even for people who don't know that they need to be rescued. All of us do.
"Rescued from our circumstances, rescued from ourselves."
Exploring God can be life-changing for those suffering from addiction, physical or mental issues, broken relationships and more.
The power of the Holy Spirit—as well as the music and testimonies from guest artists, and Franklin Graham's message—will encourage people to say yes to a spiritual transformation. "To let them know, 'You can live a different life than the one you've been living,'" said Rhoads.
"A relationship with God makes all the difference in the world."
Christians are encouraged to attend but to step out of their comfort zone and invite friends, neighbors and co-workers to come along.
Plus, said Rhoads, the outdoor events are free. "They're a lot of fun. It's a family atmosphere. Everybody's welcome."
What's the Benefit for Churches?
The tour is much more than the actual one-night gathering. As part of the preparation, BGEA offers free Christian Life and Witness training, encouraging those involved to boldly share their faith. Many who participate serve as prayer volunteers on the tour.
As did Lori, from Joliet, Illinois. She heard about training before last year's eight-city Route 66 God Loves You Tour and signed right up.
Then God moved her heart.
"I decided at the first training, I'm going to go on the whole tour," she said. Eager to help others know the Lord, she vowed "to get off the sideline and into the game."
Evangelism training and preparation is important so "we're comfortable and bold and full of faith," said Rhoads. "And able to step out when the conversation presents itself.
"The last thing any of us want to do is to be awkward or shy about something that's this important."
McKenna, Lori's 20-year-old daughter, decided to volunteer with her mom at all eight stops last year. Lori called their experience a "once-in-a-lifetime opportunity." And something "priceless" to do with her daughter.
Please Pray for the Upcoming Tour
"America is in desperate need of our prayers," shared Franklin Graham. "Open hostility toward the truth of God's Word seems to grow stronger all the time in every area of society.
"I want to share a straightforward Gospel message with people. Please begin lifting up these evangelistic events to the Lord."