The landscape of law enforcement right now is complicated. Challenging, to say the very least.
Recruiting and officer retention are a struggle. Line of duty deaths are up 91 percent this year thanks largely to COVID-19. And public confidence has dropped significantly. A recent Gallup Poll conducted this summer in the wake of George Floyd's death found a record low number of people trust the police.
This oft-publicized dismal reality doesn't cloud David Rutledge's view. He sees opportunity, particularly for the chaplains serving in the trenches with law enforcement, to share the hope of Jesus Christ.
Rutledge, manager of law enforcement relations for the Billy Graham Rapid Response Team (RRT), shared this message in late September during RRT's Law Enforcement Chaplain Training Program in Chino, California. Two dozen from Arizona, California, Nevada and Washington attended the 40-hour program, the first in-person training for RRT since spring when COVID-19 became a household name. The course is open to active law enforcement chaplains and retired or active duty officers who want to serve as chaplains.
"The chaplain training is so critical because those chaplains with a ministry of presence, with the things they can do to encourage their officers, they're a lifeline," Rutledge said.
Rutledge and fellow instructor Bob Gamble spent a combined 60 years working in law enforcement before moving into chaplain roles. They know what it's like, and they're not afraid to dig deep into the police mindset. Their unique curriculum keeps Christ central as they talk about all aspects—family, work and even the darker realities like substance abuse and suicide.
>>Register for an upcoming Law Enforcement Chaplain Training Program.
It's real talk, and the constant message to every trainee is simply this: Be there.
Think about the passage in Mark 2, Rutledge said. Remember when Jesus called Matthew the tax collector to follow Him?
"Matthew follows Him and throws a dinner party for Jesus with all His friends in low places. Jesus is right there in the middle of them," Rutledge said.
"You've gotta get in the cops world. And the best way to do that is to be there consistently," Rutledge added. "You can't just walk in and start preaching Jesus to [officers]. I know because I was one for 30 years. When I started in 1980, I was one of the few that was willing to be open about my faith."
But that's changing, said Rutledge, who served 30 years with the Asheville (North Carolina) Police Department.
"There's a quiet revival going on among law enforcement and a lot of people don't see it," Rutledge said. "When I talk to some of the chaplains, they agree. Officers are a lot more open about their faith; it's not just about going to church anymore on Sunday for them."
>>Register today: National Law Enforcement Retreat
So many factors are driving that level of authenticity. The unseen danger of COVID-19 has been cited in 117 line of duty deaths out of 212 this year as of October 2, according to Officer Down Memorial Page. But the unpredictability of life isn't the biggest issue for officers right now, Rutledge shared. It's the lack of public support.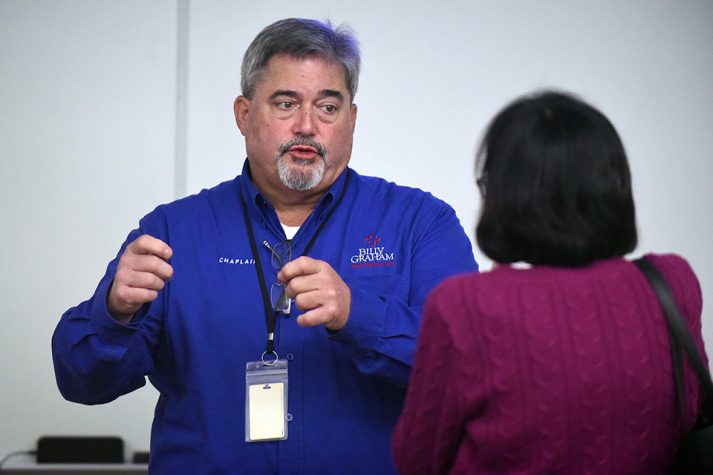 "COVID is not an issue for officers right now as much as the anti-law enforcement thing," Rutledge said. "A lot of guys wanted to quit and get out. You recognize stuff like COVID, danger on the street, that kind of thing. You recognize that, and you expect that going in.
"What I've never seen is the level of anger and professional despair among officers like I'm seeing today."
That's where a well-trained law enforcement chaplain can be a gamechanger, simply by connecting with and encouraging officers.
"We try to say, 'Look. You've gotta encourage the guys in the face of COVID, in the face of this [anti-police sentiment] that [their work] is a calling from God,'" Rutledge said.
"Equip your officer to keep going in the face of this," Rutledge continued. "That's one of the neat things about this [current landscape] is officers are more open to the Gospel now, especially when they hear it from chaplains who have built relationships with them."