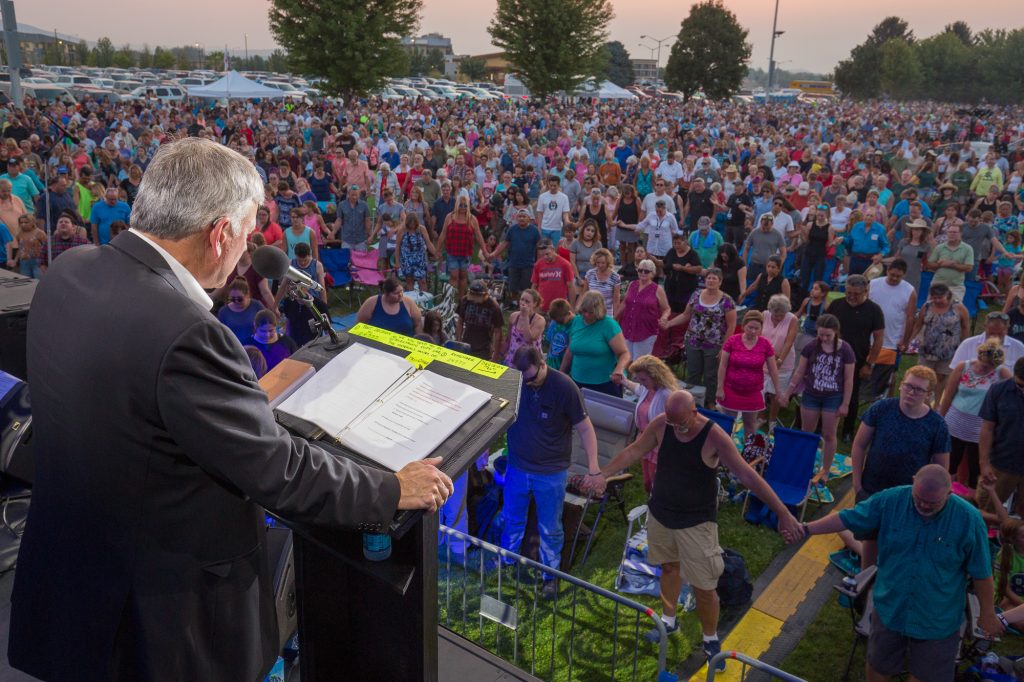 There's a lot of water in southern Washington's Tri-Cities. Three rivers in fact: the Mighty Columbia, Snake and Yakima.
With water you need bridges, and the area has all kinds—retro-style steel, modern cable and concrete.
But on a hazy Tuesday night on the banks of the Columbia River, Franklin Graham told a crowd of more than 13,000 people about a different kind of bridging—how Jesus bridged the gap between mankind and God.
>> See photos from the Pacific Northwest Tour prayer event in Tri-Cities.
"You can be set free tonight," Franklin told the crowd, his voice echoing from Columbia Point Marina Park.
"I'm going to tell you how to escape God's judgment," he said. "Jesus Christ came from Heaven to earth on a rescue mission. He took our sins to the cross. He died in our place."
Tri-Cities was Franklin Graham's fourth stop on the Decision America Pacific Northwest Tour that just crossed Oregon and will end after three more stops in Washington.
The evangelist has been on a mission to share the Gospel along the West Coast, wrapping up the 10-city Decision America California Tour this past spring.
The church faces a huge challenge in Washington, where nearly 20 percent of individuals identify as atheist or agnostic.
In cities like this across America, how do you bridge the gap between secularism and liberalism—and Jesus?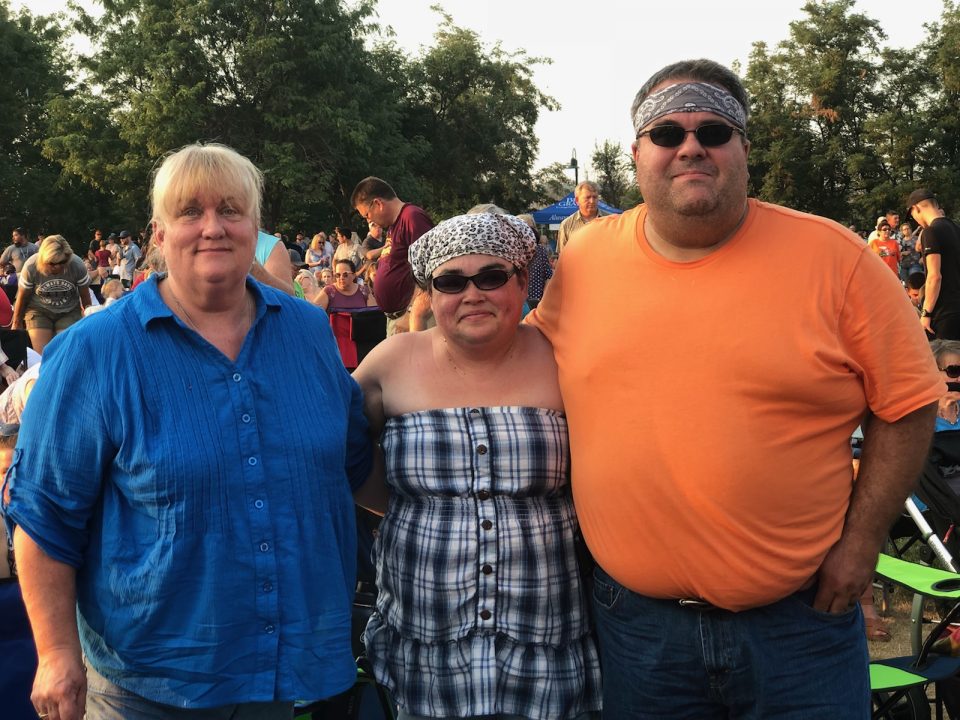 Cecelia Hickel traveled from nearby Benton City to attend Tuesday's Decision America event. She said she has a lot of liberal friends, and it's hard to convince a closed-minded person that God is real.
"They put God down. They dismiss Him," she said. "If unbelievers could grasp that it's God who sacrificed Himself on the cross, then it would change everything. It's personal, very personal.
"The heart is growing cold in this world right now."
Nevertheless, God calls us to talk to skeptics about a Heavenly Father who loves and cares for them, through good times and bad.
"We've got to flood social media with testimonies," Cecelia said. "They don't know what to do about bad circumstances."
Franklin Graham talked about another man whose sin put him in some bad circumstances. Calling him "one of the most wicked men in history," Franklin said Manassah, King of Judea, "got a high out of getting others to sin."
Eventually, Manassah humbled himself before God his Father, and the Lord was moved by his prayers.
"God forgave him. He restored him," Franklin said.
"We're going to have to stand before God and give an account [of our sins]," he said, urging everyone in the crowd to respond to the message of the Gospel.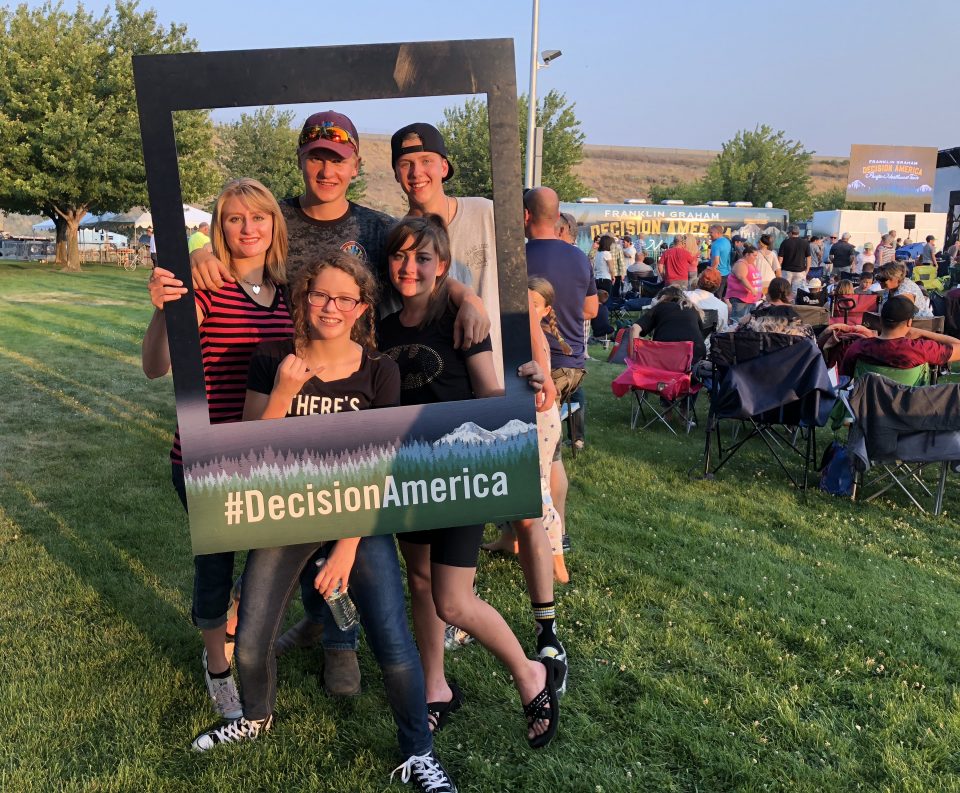 Eighteen-year-old Mercedes Smith is ready for that day to come. Well-spoken and spiritually mature beyond her years, she said she knows many of her co-workers and friends need Jesus. He's the One who can bridge the gap between their sin and God.
"I try to enter into their world," she explained. "I don't lower my standards but accept them for who they are. I don't force change on them but invite them into my world.
"Jesus accepts them as they are. They don't have to clean up their act or look a certain way," she said. "You don't have to be born into a Christian family to follow Christ."
Many young adults are influenced by liberal ideologies and the media, Cecelia said. "They think God is an opinion."
Franklin Graham will try to change that opinion as the Decision America Pacific Northwest Tour moves on to Spokane, Tacoma and Monroe, Washington.
Please continue praying for the remainder of the Pacific Northwest Tour. You can watch the next event live from Spokane on Thursday at 7 p.m. PT/10 p.m. ET.
Ready for a change of heart? Start here.