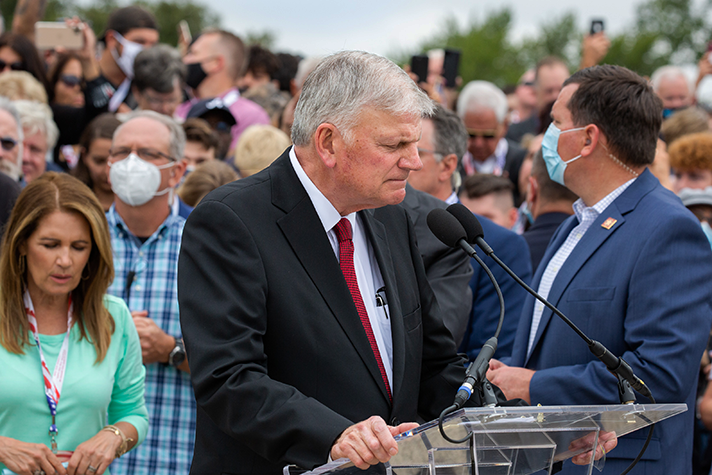 "I've never seen the wind. I see the effects of the wind, but I've never seen the wind. There's a mystery to it." —Billy Graham
There is a feeling.
Sometimes, you can tell by just a look. Or a nod. Or the shifting of the winds.
But it's an unmistakable feeling that the Holy Spirit is up to something big in this country.
How can you really know? Just ask anyone who spent at least a few minutes in and around the National Mall on September 26 and they'll tell you, God is at work. When two Christians gather together to pray, something happens.
So what happens when tens of thousands gather?
It's a feeling, yes, but as true believers in Christ will tell you, it's much more than that. It's knowing, without a shadow of a doubt, that prayer changes things.
And the thing that needs the most prayer right now is a hurting country that seems endlessly divided by political mire.
But then Saturday happened. Washington Prayer March 2020 started as a small idea that caught wildfire and turned into a nationwide movement.
People flying in from all over the country. By themselves from Dayton, Ohio. With their 1-year-old from San Diego, California. With their 10-year-old from Atlanta, Georgia. Down from Massachusetts. Up from Florida. Cross-country from Washington state.
And when it all was over, a welcome breeze cooled off the thousands still in awe at what God had done. Or was it something else?
"There's been a shift in the atmosphere," said Debra from Winter Haven, Florida. "This is history making today."
Debra had the look. And the nod. But she wasn't the only one who felt an undeniable move of the Holy Spirit in Washington, D.C.
10 other prayer marchers who know prayer works:
Lolimar from Polk County, Florida (originally from Puerto Rico):"It's amazing. I felt goosebumps every time we prayed."
Troy from Alexandria, Virginia: "There's a movement that's being awakened. It's counter-cancel culture. And it gives you hope."
Misty from Dayton, Ohio: "My husband is deployed right now and I'm very concerned about this country, and so is he."
A.J. from San Diego (with wife, Maddie, and 1-year-old): "We just came to pray. We feel like it's an important time and we wanted to be a part of God's hand on this country."
Debra from Boston: "This is my dream come true."
Jon from Piketon, Ohio: "The only way to turn our country around is for God to do it through prayer."
Shannon from Alexandria, Virginia: "I knew there would be a lot of people, but I didn't expect this. I had a lot of my Facebook friends from Florida who came."
Oleysa from Erie, Pennsylvania (originally from Uzbekistan): "This is a hard time for our country. And it's a good time to pray. We know God can change everything."
Nadia from Harrisburg, Virginia (originally from Ukraine): "We're worried about our country, but we're not going anywhere. This is our country."
Bobbie from Van Alstyne, Texas: "We need God more now than ever before. Our country is at a crossroads. As my mother used to say, 'You will look up when you're on your knees.'"