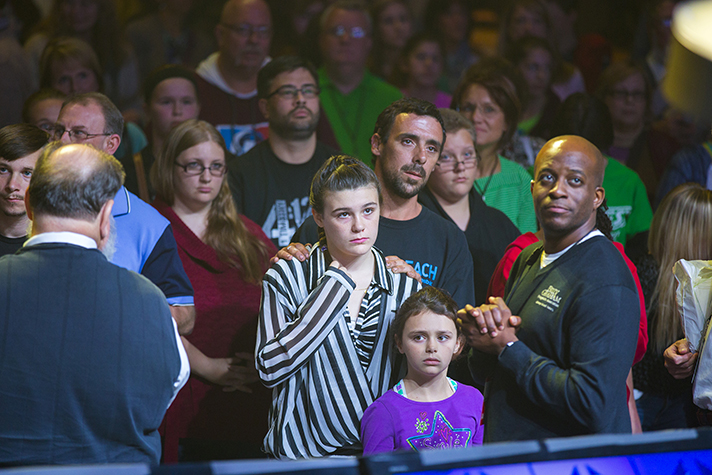 "You'll never fulfill your purpose in life until you lay your life into your Master's hand."
That's what Will Graham said to those who filled the seats inside the Big Sandy Superstore Arena during the second night of the Tri-State Celebration in Huntington, West Virginia.
But Will wasn't the only one who talked about purpose. God seemed to have used the words spoken by the musical guests to prepare the audience for what He would do on Saturday night.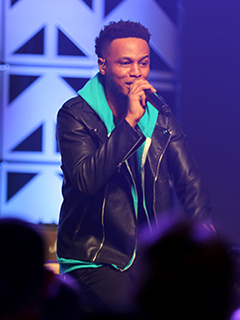 "I hope you open your eyes, ears and hearts to the message you'll hear tonight," hip-hop artist Dae-Lee, who opened the evening's event, said between songs.
And before Will took the stage to bring the Gospel message, Lacey Sturm made eye contact with several teens standing in front of the stage during her set and said, "You're a miracle. You're alive for a reason. … You have a purpose."
Saturday may have been dubbed "student night," but Del, who came to the arena with two of his six children, finally began to understand his purpose after decades of drug and alcohol abuse.
His neighbor, Juanita Frye, is serving as an event counselor this weekend and knew he needed to find healing—and purpose. So, she invited him to come.
"I'm tired of hurting my family—the people who love me the most," Del said after speaking with a counselor. "I still struggle, and I can't get clean by myself. I've tried treatment centers and everything else. The only thing I haven't tried is surrendering my life to Jesus, just like Will Graham talked about."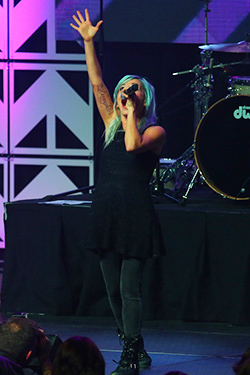 Del, who started doing drugs and drinking when he was 12, said he has been entrenched in addiction for so many years it seems to have a choke-hold on his life.
He went on to explain that his addictions have spurred other challenges: He lost custody of all six of his children and suffers from hepatitis due to drug use.
"Everything that's wrong in my life is because of drugs and alcohol, and that haunts me. I'm ready to move on and get my kids back and finish my life on a good note," he said with a hopeful tone.
His daughters who came with him are hopeful for his future, too.
Diana, age 12, who lives with Del's brother, explained that she was taken from Del by social services—due to his addictions—when she was 7. But she said with a sparkle in her eye, "My uncle said that if Dad gets clean and stays that way for a year, I'll be allowed to go back and live with him. And I really feel like tonight is a good start."
Carolann, age 9, is confident that God is going to work a miracle for her dad and for their family. As she hugged him tightly, she said, "I think God has a plan for his life."
Del agrees: "I am a work in progress, and I even think—as bad as it is—my drug and alcohol addiction has had a purpose in my life. I hope that starting tonight, God can get my life back in order and use what I have been through to help somebody else."
God has a purpose for your life, and only He can help you find it.