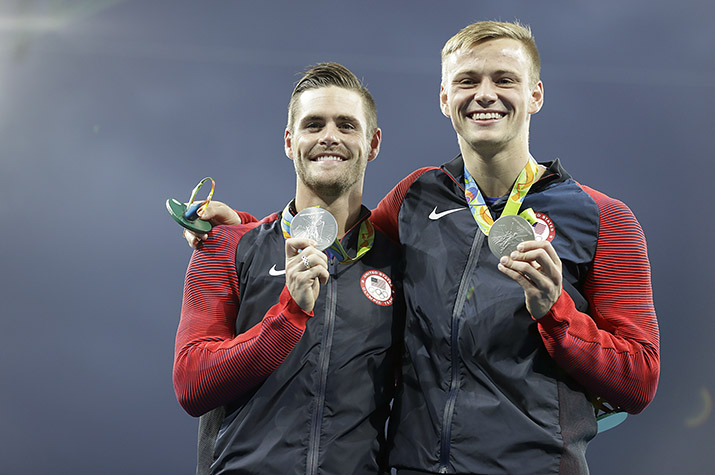 Steele Johnson has always looked at the world from a different perspective.
"He was one of those kids who preferred to be upside down instead of right-side up," Steele's mother Jill said, remembering how her husband Bill would flip baby Steele as some dads are apt to do.
"I remember my husband would turn him upside down and he would giggle, and I would say, 'Turn him right-side up! The blood's rushing to his head!'"
As an Olympic diver, Steele still sees the world upside down at times, flipping from the platform. But the Purdue junior is unapologetic about another view even as it loses popularity with his peers, many of whom refuse religion.
AUDIO: Listen to Steele share more of his story with Billy Graham Radio
Steele, as durable and tough as his given name implies, leans not on a concept of faith, but an actual relationship with his Savior Jesus Christ. And he wants to glorify Him in whatever he's doing.
Growing Up
Steele wasn't quite a year old when his parents first had him in the neighborhood pool. He preferred the freedom of water wings to the captivity of the inflatable baby raft. By his second birthday, he was jumping comfortably off the diving board with his parents nearby yelling, "Kick your feet" so the tiny tot would get to safety.
"He started doing backflips [off the diving board by age 3-4], and then he started doing inwards and reverses, and I thought he was going to kill himself," Jill said. "He was kind of a daredevil and had no fear."
"I would always be rugged and rowdy and jumping around the house and doing flips on stuff I shouldn't flip off of, and I was one to always just jump off high things, hurt myself and get back up and do it again because I thought it was fun," Steele confirmed in a recent telephone interview with the Billy Graham Evangelistic Association. "So my mom was always trying to slow me down and put me in lessons so I would be safe about it, but I was pretty rowdy as a kid."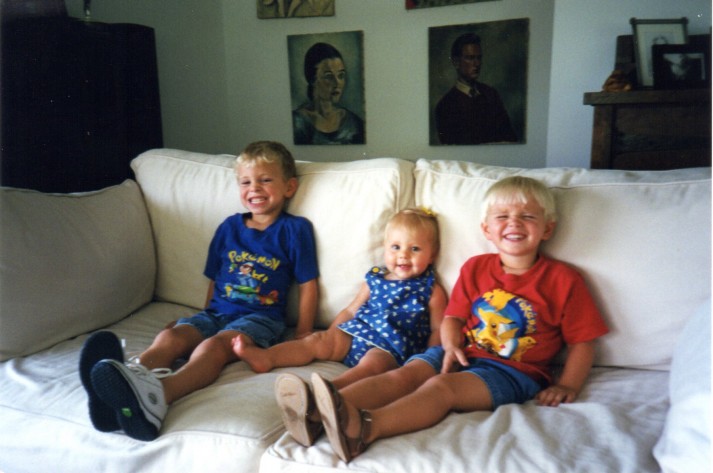 One day toward the end of second grade, 7-year-old Steele brought home a flier from school announcing diving lessons. His parents signed him up. Initially, they wanted to keep him safe, give him a high school sport and, OK, maybe help him impress the girls along the way.
"[He] never did dive in high school because he didn't attend a regular high school," Jill said. "Yes, he does impress the girls, and he is diving as safely as he can, but then he almost killed himself doing it, too, so you really can't plan."
The Accident
It was Jan. 21, 2009. Twelve-year-old Steele was in his third season at the National Training Center under head coach John Wingfield, who had just also been the 2008 U.S. Olympic head coach The youngster was training alongside Olympians Thomas Finchum and Mary Beth Dunnichay.
On that day, Steele was practicing a relatively new dive in his lineup, the reverse 3 ½ somersault tuck. He climbed the stairs roughly three stories to the top of the 10-meter platform, which from that vantage point appears almost 5 stories high when you consider the pool below holds 17 feet of water. He took a deep breath like he's trained to do and launched out.
Steele completed about one and a half somersaults when his head scraped the edge of the platform.  He completed another rotation before traveling headfirst into the water. Divers descend from the 10 meter platform at roughly 33 mph, and the impact was enough to fully open the cut on his scalp. Unaware of the extent of his injury, Steele popped out of the water and listened as then-coach John Wingfield calmly guided him over to the side of the pool. Steele made his way to Wingfield, who was waiting fully clothed on the stairs of the pool. He held the skin of his young diver's head together, keeping the blood in and the chlorine out. They stayed there until the paramedics arrived.
Thirty-three staples and a plastic drainage tube later, Steele was discharged from the hospital. The doctors didn't need to keep him overnight for observation because all he had was a cut and a minor concussion.
"We are fortunate," Jill said. "John Wingfield saved Steele's life. We will say that until our dying day."
Remembering the incident during a phone call recently, Wingfield paused to collect himself upon learning what Jill said. Wingfield doesn't like to talk about the accident. In fact, he has declined interviews about it up until this point. That moment almost changed the trajectory of his life as well as the life of his young diver.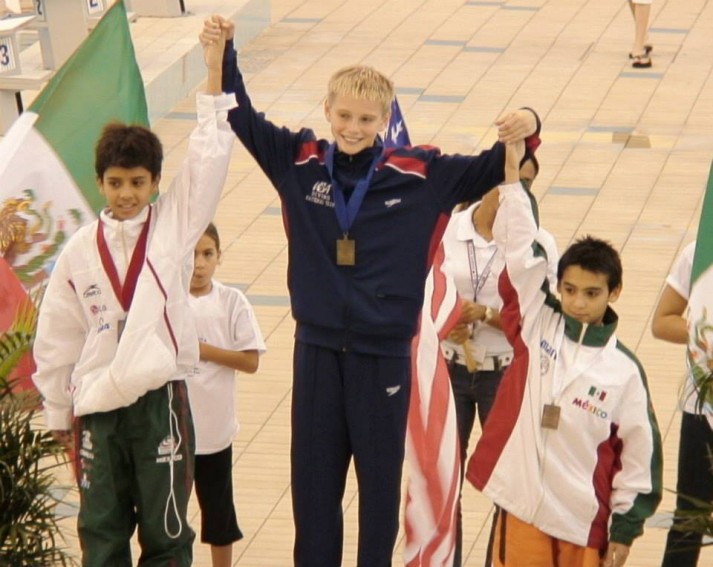 "There's certainly a flood of emotion that goes through me," said Wingfield, a professing believer who strives for a Christ-centered environment for his athletes. "It almost ended my career, too. I had to think about what happened and had we done everything right and was this a skill he should or shouldn't have been doing?"
Steele's skill level wasn't the issue. Wingfield immediately reviewed the tape from that day and confirmed it was just a fluke. Something else important to point out is divers don't start their careers on the 10-meter platform. They have to work up to it, and their degree of dive difficulty also increases as they demonstrate competency. Twelve-year-old Steele, with a host of medals to his name and a strong, stubborn work ethic, had shown that he was ready for the reverse 3 ½. In fact, he had completed it successfully a day or so before the incident.
"So it wasn't a situation beyond his ability or his progression," Wingfield said. "It was truly an accident."
The Aftermath
Once Wingfield established that Steele's accident was just that—an accident—he deleted the tape. Steele's parents haven't seen the footage and don't want to. They're grateful for the decision Wingfield made. The story is a part of Steele's life that God is using, but reliving the moment by video wouldn't help anybody.
Still, it was decision time in the Johnson household given their middle child's brush with death. They knew going in that he could get hurt even with proper training. Things happen. After all, Jill noted, accidents happen in everyday life, too.
They sat down Steele, his head full of staples, and said simply, "You don't have to do this."
"But when he said he wanted to go on, that's when we had to look at each other and say, 'OK, we said if our kid is going to get severely injured or possibly die we'd rather it happen while doing something he loves rather than live a life of regret, because anything can happen," Jill said. "When it's your time, it's your time. I firmly believe God's going to call you home when He's ready to call you home. And it was forcing us to say, did we really mean this?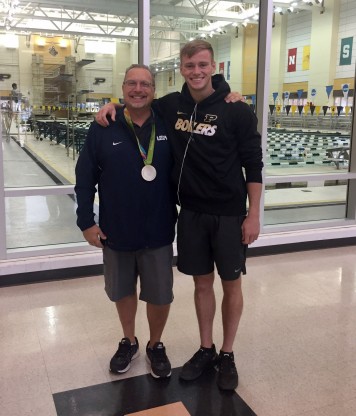 "And that's when we said, 'Yeah we did.'"
That accident is ever-present with the Johnsons, who sometimes jokingly call Steele's reverse 3 ½ the headbanger dive.
"That's our way of coping with the stress," Jill said. "Diving coaches probably don't want to hear us call it the headbanger dive, but that is the dive that he banged his head on. But we will also tell you that he was very fortunate. He had a cut and a minor concussion. Now, granted the cut was from ear-to-ear and down to his skull, but we say it was a cut because he didn't fracture his skull. There was no traumatic brain injury, no spinal injury. He didn't break his neck.
"All of the things that could have happened, he walked away with a cut and a minor concussion. We consider him very fortunate, very blessed, and we had to sit on him to keep him off the diving board for a couple months."
A Glorious Moment
It was a year, many dryland training sessions (think gymnastics with a diving twist) and lots of dives later before Steele attempted the reverse 3 ½ again. He had successfully completed the progressions and even collected some more medals at the 2009 Junior Pan American Games.
"We kind of looked at each other and I said, 'You're ready,'" Wingfield recalled. "Honestly, he didn't even hesitate."
He took a deep breath like he was trained to do. He launched out. He tucked and somersaulted in reverse three-and-a-half times, unfolding to pierce the water just in time. Success.
"It was a glorious moment for all of us, and all of the other athletes that watched it were clapping," Wingfield said, his tone growing excited even seven years later. "It was a great moment so to speak and his confidence, you could see it immediately."
Such a comeback story, a tale of God's protection and timing. Yet Steele said he would cringe every time a reporter brought it up. He hated talking about it. He even grew out his hair so he wouldn't have to explain his ear-to-ear scar. This event wasn't a story for him; it was real life. Earlier this year, the aspiring communications major shared his perspective for the first time on his video blog.
The accident didn't really change his life, though, until recently, he told BGEA. He has gained perspective as he has deepened his walk with God.
"It's the classic Romans 8:28: 'God works for the good of those who trust in Him,'" Steele said. "Everything happens for the good of those who love Him, so if I sit back and I look at that situation, yes, that is something I don't want anyone to ever go through and I hope no one ever has to experience something like that in their life. But when stuff like that does occur, it is for the good of His people in some way or another.
"I never really struggled with 'Why me? Why did this happen to me?' That's just never been my attitude towards it, but now I realize that is a story that can help people just because a lot of bad things happen to people in life, and a lot of people are like, 'Why me? Why, God, why did this happen?' so I can use that story to share with them. Seven years ago, I was on my death bed, and now seven years later I'm an Olympic medalist. It's not always gonna be that drastic of a change, but just know God's got a plan and His plan is for us to be conformed to the image of His Son daily."
Perspective Shift
Steele grew up in church, which is to say if he wasn't diving or studying schoolwork at home, he probably was attending youth group. He was baptized when he was 6 and surrounded by Christian influences almost everywhere he went—from training sessions with Wingfield to being at home. Faith is important to his former coach and his parents. His coach has studied the work of Tony Dungy and Billy Graham. Steele's parents attended a Billy Graham Crusade in Indianapolis, and Jill's parents even volunteered for one in Amsterdam.
But something for Steele, personally, was missing. He didn't figure it out until he got to college. A year before Steele came to terms with his accident, the Purdue freshman also had a spiritual realization.
"I was just still trying to get everything for me, and saying I was doing it for Jesus, but I really didn't know who Jesus was. I was too caught up and wanted my own way. I kind of got to the realization of like, 'This isn't going to get me anywhere in life. I'm not happy. I have no joy, and I know that is really going to come from Jesus. I just need to figure out what that looks like.'"
Steele leaned on Purdue diving coach Adam Soldati and teammate David Boudia, who had his own come-to-Jesus moment in 2009 after not medaling in the 2008 Beijing Olympics.
"I reached out to them, and they just poured so much of their time, energy, heart and soul into me," said Steele, who won two NCAA championships his freshman year at Purdue. "It was super cool to see them just be so passionate to someone who just really needed Jesus."
Soldati challenged Steele to engage fully in God's Word and get involved in his local church.
Steele sat out his sophomore diving season at Purdue so he could retain collegiate eligibility while training for Rio, but he still trained at the Boilermakers facility. At one point during the year, Soldati said Steele apologized to his teammates for being inconsiderate of their NCAA needs as he chased Rio.
"That's the struggle with the Olympic journey," Soldati said. "It becomes so strong and so captivating."
Soldati, who once told his church that he's a follower of Christ who happens to be a diving coach, commends Steele for staying engaged in spiritual discipline, especially under the bright lights of athletic stardom.
"It's not an easy fight, and my thing to Steele all the time is don't ever think you've got this thing under control. It's a roaring lion ready to devour you at any moment," Soldati said.
"The fact that he's in the fight—that's why I would say he's doing well."
Boudia, a longtime friend who shared in Bible study with Soldati and Steele throughout the Olympics, said he really noticed a change in his "little brother" about a year ago.
"I grew up taking Steele to practice when he was 10 years old," said Boudia, who added the divers reconnected at Purdue under the leadership of Soldati. "[Steele] started to see that the road that he was going on was not satisfying.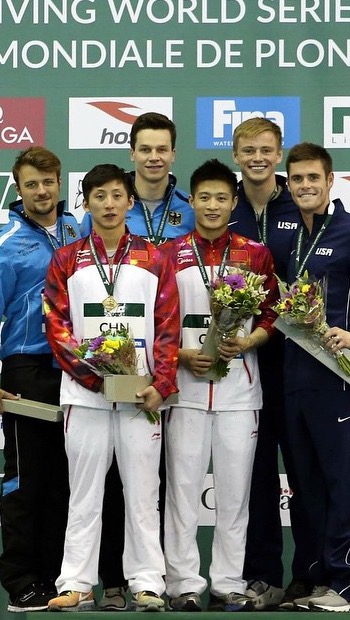 "The amount of growth that that kid has had in the past six months has been just so cool to see God wanting to change his desires in what he wants to worship, and it's been really neat to be able to be on this journey with him."
To Rio and Beyond
The most recent stop on their journey was Rio, where Boudia and Steele claimed a silver medal in the synchronized diving event. Steele is 6'1″ and Boudia is 5'9″, but they parallel well because their foundation was rooted once upon a time under Wingfield's direction. They trained together. They know each other. And now serving as brothers in Christ, they don't have to worry about the superficial stuff, Soldati says. They're free to be completely honest with one another, which is liberating because standing atop a platform 33 feet in the air in nothing but a speedo can be mind game enough.
Prayer is central for Boudia, Steele and Soldati, and Rio was no different as they huddled before and sometimes after a competition. Sure they'd like to win, but it isn't all about that.
"More importantly, when we do pray, Adam Soldati, our coach, really leads it but we want to be able to go into this competition and just be a vehicle for God's glory," Boudia said.
"Our job is to be able to go in there and do what it takes to give Him glory, so whether that's us accomplishing a silver medal or getting sixth place, we have an opportunity to be able to proclaim Him."
Leading into their silver-winning dive, a back 2 ½ somersault 2 ½ twists—Boudia and Steele gave each other a fist bump and got into position on the platform. The dive took only seconds to complete and soon enough, the Boilermakers were toweling off, watching their 95.04 score appear. They hugged and Steele teared up as he hugged Soldati, who had been watching nearby.
Then, the moment to glorify God on an international stage arrived: the post-dive interview. Both divers stressed their identity isn't wrapped up in winning a medal.
"The fact that I was going into this event knowing that my identity is rooted in Christ and not what the result of this competition is just gave me peace," Steele told NBC reporter Kelli Stavast after competing in his first Olympic event. "It gave me ease, and it let me enjoy the contest. If something went great, I was happy. If something didn't go great, I could still find joy because I'm at the Olympics competing with the best person, the best mentor, just one of the best people to be around."
The Johnsons watched Steele from the stands in Rio and celebrated wildly over his performance. Jill was encouraged by the way her son took a stand for his faith–and not just a faith in God, but one in Jesus.
"For me, having my child make this choice and also being willing to proclaim not just to his friends and family but also on national TV, that's really encouraging, and actually, it's kind of a good reminder to me about what it's like to step out on faith," Jill said.
She was equally proud when Steele scored 13th individually.
"It's easier to profess your faith when things are going your way, but it's a lot more difficult when things are not turning out the way you want them to," Jill said. "I even think Steele getting 13th (individually) was totally God because it's the, 'OK, are you still going to say God got me here? And You put me here and it's OK?'
"How did he handle it? He came out and had a smile even though we knew he wasn't thrilled."
This year, Steele returns as a captain of the Purdue men's swimming and diving team. He brings with him a focus and an eye cast toward Tokyo 2020. And Josh Bonhotal, assistant director of sports performance at Purdue, anticipates Steele will be just as intense this year as in years past.
"Steele will be one of those guys, he'll always be doing extra workouts on his own," Bonhotal said. "He's incredibly focused. There's always a definite purpose about himself with what it is he's going to do."
Looking back on Steele's life and his progression through the sport, Wingfield can't help but be struck by Steele's resolve.
"He had a pretty bad accident, and from that, to continue on a path to the Olympic games was amazing," said Wingfield, now head coach of RipFest Diving in Indiana. "Many people would have quit right then, and Steele had a greater meaning and a greater purpose for what he wanted to accomplish. He overcame those fears that were there, and the end result so far has been an Olympic silver medal.
"Who knows what's still in store?"
Senior Radio Producer Phil Fleischman contributed to this story.