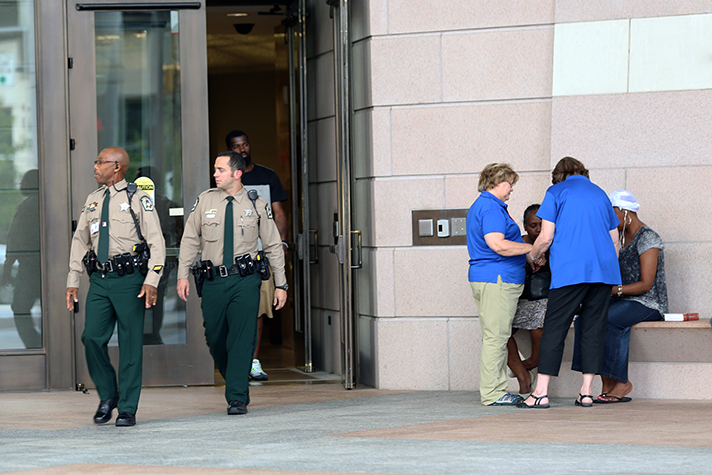 A mistrial was declared on August 21, 2015 in the case of Randall Kerrick, who was charged with voluntary manslaughter in the shooting death of Jonathan Ferrell. This article was first published on August 20, 2015, before the jury announced it could not reach a verdict.
---
Be angry and do not sin. —Ephesians 4:26 (NKJV)
It's one of many paradoxical lessons from the Bible that can often be difficult to understand—let alone put into practice. But in a world that's dealing with increasingly divisive issues and racial tension, it's a necessary moral.
"One of the things you don't want to do is tell people they don't have the right to be angry. Because they do have the right to be angry," Pastor Larry Jackson of Bethel Outreach International Church in Charlotte said. "There have been some bad things that have happened.
"But many in America are going to get sick and tired of the hatred and division. The enemy always overplays his hand."
Rather than unproductive bitterness and unrest, pastors like Jackson have been urging compassion and harmony.
"We are called to be unified," he said. "When we find that place of unity at the foot of the cross, [we can] depend on God to be who He says He can be to our lives and our community."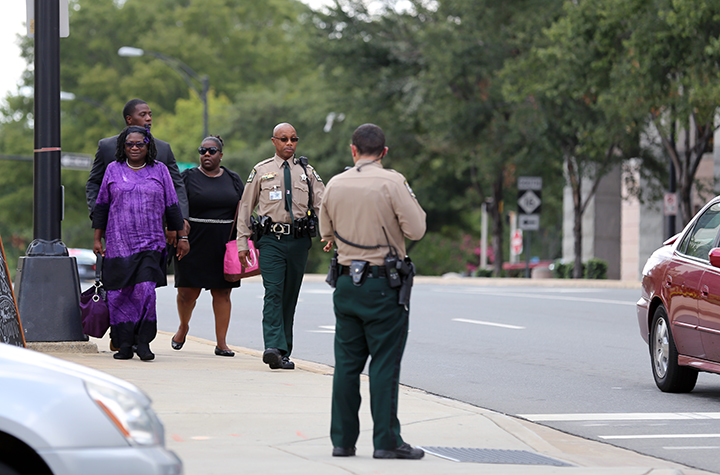 That sentiment is prevalent today in Charlotte, as a jury deliberates on the voluntary manslaughter trial of Randall Kerrick. The North Carolina police officer, who's white, shot and killed 24-year-old Jonathan Ferrell, who was black, after a car accident in 2013.
The case has been added to the ranks of controversial police encounters involving different races.
Yet, there's been no sign of riot gear in the Queen City. No tear gas. No curfew. No violent protests.
Instead, every day since about a week before the trial, First Baptist Charlotte has held noon prayer gatherings and Sunday morning prayer walks down streets leading to the courthouse, with stops at a nearby park, the courthouse plaza and the courthouse entrance.
"[Well before the trial] we've been asking for the spirit and presence of God to reign," said First Baptist Pastor Mark Harris. "This place has been bathed in prayer."
Countering Civil Unrest
The Billy Graham Rapid Response Team (RRT) has also been part of the solution in Charlotte and other cities where race relations have come into question, deploying chaplains to Baltimore, Ferguson and Madison after civil unrest.
Harris offered the RRT a place to park their Mobile Ministry Center on his church's property, just a few blocks away from the courthouse where Kerrick's trial is taking place.
Though there have been no incidents, the Rapid Response Team has maintained a "ministry of presence" in the area for the past three weeks to let residents, law enforcement and both families know people are praying for them.
"It's the ministry of His presence, just being with you [and] the ministry of your presence, just being with others in the midst of their trials and tribulations," Harris said.
Setting up shop near the courthouse means interacting with anyone from those connected to the case to locals on lunch to people facing probation.
But no matter the story, chaplains have seen a common theme: people are hurting.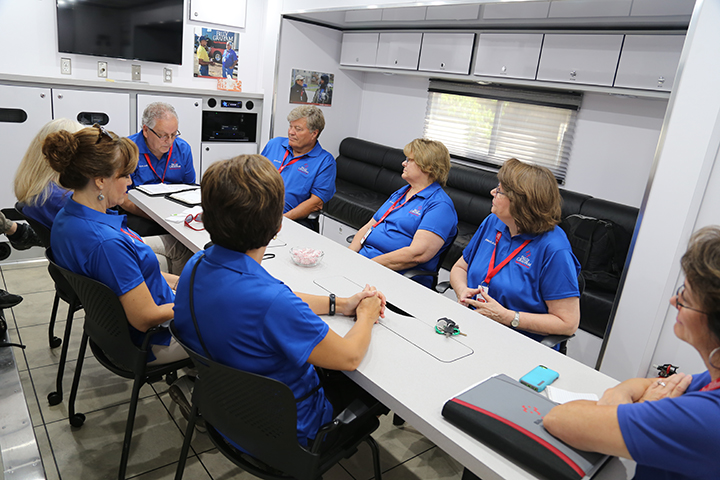 "We've seen people who are living in the world striving to find peace and hope outside of Christ," Rapid Response Team chaplain Marilyn Sides said. "But when they see the blue shirt, [the name] Billy Graham, the chaplain name, it resonates with what God is already doing in their heart."
Sides recalled one young woman who literally ran to the Rapid Response Team truck. With tears in her eyes, she opened up about once being drugged and raped.
"She was heartbroken," Sides said. "God had her ready to receive Christ."
"This is the church. We're out here every day, but it's not in the building," Sides added. "If we don't get out to the hurting people where they are, how can the church be effective?"
Some 35 RRT chaplains have been in downtown Charlotte since the trial began. In recent months, the Rapid Response Team also started the Strategic Chaplain Ministry to send uniquely qualified chaplains to situations where tensions turn violent.
"We noticed that there are certain chaplains with certain backgrounds that function better in areas of civil unrest," said Jeff Naber, manager of chaplain development and ministry. He added that these are typically chaplains with a law enforcement or first responder background.
Naber was in the first deployment of the Strategic Chaplain Ministry to Baltimore, after the Freddie Gray shooting.
"You could cut the spiritual tension with a knife. It was so obvious," he said. "Even though the sun was shining and the sky was blue, that heaviness was there."
And this is the battle Naber, Harris and Jackson want others to understand.
"We've got to remember the enemy is the enemy. Other people are not the enemy," Harris said. "Satan is the enemy. He is the one who will divide. He is the one who will produce the counterfeit.
"That's what we've got to guard against in every way."
As the trial in Charlotte comes to an end, similar cases are still pending across the nation. With that, there's a clarion call to pray.
"We've got to fight with the weaponry that we've been given: the Word and prayer by way of the Word," Jackson explained. "The community needs to see a visible presence of Christ."