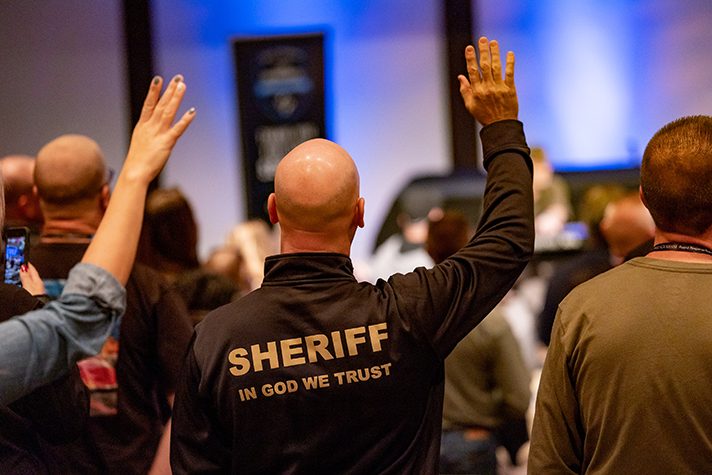 Law enforcement is not just a career—it's a calling.
To thank the men and women who've responded to that call, the Billy Graham Rapid Response Team offers Law Enforcement Appreciation Events around the country. At dinners, retreats and trainings, these officers and their spouses get away from the daily stresses of life and receive Biblical encouragement to continue serving the communities where God's placed them.
>>Get a glimpse of how God's working through these events:
"Appreciation is what the event is for and that's what officers crave—to feel appreciated, for once, to feel encouraged." —Officer (December 2020 dinner in Charlotte, North Carolina)
"The enemy wants you isolated and this exposes. It's good to make these relationships and build these relationships so when you are in a time of need you can say this is where we're at. But being able to expose different battles everybody else is going through—it's important to understand we're not here alone." —Officer (April 2019 retreat in Horseshoe Bay, Texas)
"It was just like a tidal wave of love met us when we got off those planes and it has not stopped rolling all over us all week, and I am just blessed beyond words." —Spouse (June 2021 retreat in Port Alsworth, Alaska)
"[The retreat was] like a recharge. … We go to church every Sunday, but it's not every day you get to go in a room full of people that do the same thing you do and get to experience and see how they interact and how it affects other people's lives." —Officer (April 2019 retreat in Horseshoe Bay, Texas)
"It was instant freedom from hearing the Word and worship. What God did inside of me was only something He can do. I can't even remember why I was so angry. Every session, I could feel His presence stronger and stronger. I just couldn't get enough." —Officer (October 2021 retreat in Asheville, North Carolina)
>>Read how God used this retreat to help save one officer's marriage.
"I knew before we came here this was going to be a spiritual, life-changing moment. … We needed time to get away and talk about the fact that we both got shot at by a guy who tried to kill us. … This has been such a weight off our shoulders." —Officer (June 2021 retreat in Port Alsworth, Alaska)
"[My husband and I] came because we felt the tug of the Lord on our hearts. … [This week] has served its purpose in our hearts and our lives and we are forever thankful for that." —Spouse (June 2021 retreat in Port Alsworth, Alaska)
"This retreat and this place is the only place in the past two years where I have felt safe—physically, emotionally or spiritually safe. … This conference is absolutely 100 percent worth coming for to be in that community and to feel, for a moment, a respite." —Spouse (November 2019 retreat in Asheville, North Carolina)
"Our profession is hurting. When I say hurting, I mean they're upset. They're disappointed. They're frustrated. And they need a message of hope. When I saw the Billy Graham Evangelistic Association was involved in law enforcement, and when we're in an era where you hear so much about defunding the police, how cool is it to have an organization like this that's out there defending police?" —Officer (December 2020 dinner in Charlotte, North Carolina)