It really does live up to the hype. Well, maybe not hype, but travel hyperbole can paint a picture that doesn't quite match the reality of everyday life.
Such is not the case in Budapest, Hungary.
Having read countless guidebooks and The Lonely Planet website in preparation for this trip, I cobbled together something like this in my first article: "Straddling the romantic Danube River, with the Buda Hills to the west and the start of the Great Plain to the east, Budapest is acclaimed as one of the most beautiful cities in Europe. Its streets are lined with baroque, neoclassical and art nouveau architectural gems."
And it's true.
Having spent a day on the ground, I've learned the true beauty of Budapest shines from the hearts of its people. The characters of the two men in this blog each reflect their Maker's glory.
Most importantly, they demonstrate the importance of the event that brought us to Budapest in the first place: The Franklin Graham Festival of Hope, June 1-3.
"We are here to proclaim God's Gospel," said Franklin Graham during a press conference this morning. (We'll report more on that event in a separate article.)
"This Festival will contribute to the united efforts of the local churches," said Festival Director Viktor Hamm. "We are re-proclaiming the Gospel to a generation that is basically living in hopelessness."
Photos courtesy of Ron Nickel, © 2012, BGEA (Budapest city) and Berci Feher, Fish and Chips Magazine (Festival dedication).
Thursday, May 31
Noon: True Friendship
Merényi Zoltán knows just how important sharing Christ with a friend can be. If one of his friends had not told him about the saving grace of Jesus, he might still be struggling to emerge from a dark depression.
"That is why I am involved with the Festival as the chairman of the Bring a Friend committee," Merenyi explained this afternoon. "A friend saved my life."
Having grown up in a secular home, Merenyi searched for meaning wherever he could find it. First he explored Buddhism then sought out spiritual fortune tellers. "I had a group of friends who got into some dark practices."
But just as his depression reached a new low, Merenyi ran into an acquaintance who had just accepted Christ. That friend told Mereny about Jesus who, in turn, went on to tell his friends. A divine domino effect quickly unfolded.
"Since that day in 1993, my main desire has been to share the Gospel," said the enthusiastic pastor.
Members of his Angyalfoldi Baptista Gyulebezet have been praying for months for the people on their "Bring a Friend" list.
"I never expected there would be so much interest in the congregation," said Merenyi. "And I have never seen such unity among all the churches here."
Bubbling with excitement for this weekend's Franklin Graham Festival, Merenyi shared his heartfelt prayer for Hungary: "This nation needs renewal; a revival. The people are carrying so much hurt. In addition to bringing new people to Christ, I hope this Festival will be a wake-up call for Christians to share the Gospel with their friends."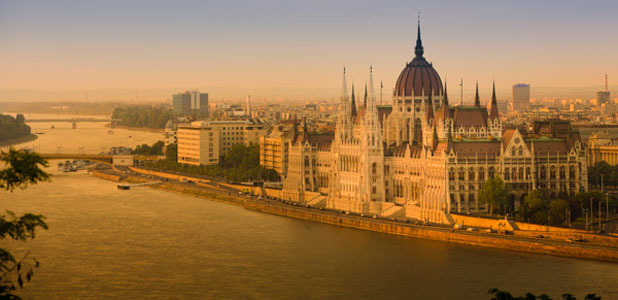 Thursday, May 31
9:30 a.m. — Learning about the Budapest Bubble Effect
According to Phillip Metzger, pastor of Golgota Church in Budapest, the bubble has burst.
"What bubble?" you might be asking. It's the bubble that grew shiny and big after the fall of communism in Hungary—the one that promised unprecedented prosperity, happiness and opportunity.
And while most in this beautiful city straddling the Danube River confirm that freedom trumps oppression, they realize there is still something missing in their lives, a hole that wealth alone won't fill.
Franklin Graham is here this weekend to show the people of Budapest that only Christ can bring joy and contentment, that only Jesus can fill their aching hearts.
"We've had a 26-year experiment with democracy," said Metzger. "Now even that hope has failed."
The problem is that secularism and apathy replaced communism. Suicide, alcoholism, abortion and depression are far too rampant.
And although the skyline is dotted with elaborate crosses and gorgeous steeples, the pews in many Budapest churches too often remain empty.
"Even though some of the people go to church, they don't have a personal relationship with Jesus," explained Metzger.
The June 1-3 Festival of Hope has already breathed new life into the churches of Budapest, said Metzger. "Denominations have been working together for the sake of the Gospel, which is something that even non-Christians can appreciate. They are seeing we can put aside our differences."
Having witnessed the outcome of the 1992 Billy Graham Crusade in Russia while he was a missionary in the former Soviet Union, Metzger said he appreciates "the shotgun approach" to sharing the Gospel. "Many, many seeds can be planted this weekend. Even Christians can benefit from hearing again the basic truth of the Gospel."
His own church—which is affiliated with Calvary Chapel—attracts many who have never previously attended church. "We are all about sharing the Gospel," said Metzger. "Some 85 percent of those who attend were unbelievers who got saved."
Now more than 200 from his congregation are involved with counseling—talking and praying with people who come forward in response to the invitation—or with music. "The Festival provides an opportunity for outreach and ministry to our young people. Because so many recently came from the world, they still have unsaved friends they can invite and just love and just love.
"We want to leave a footprint like Jesus did," said Metzger. "Everywhere He went, He did good."
Partner With Us
We need people like you to support us in prayer and giving each time we proclaim the Gospel. Please donate online today and play a part in reaching hurting people around the world with the love of Christ.