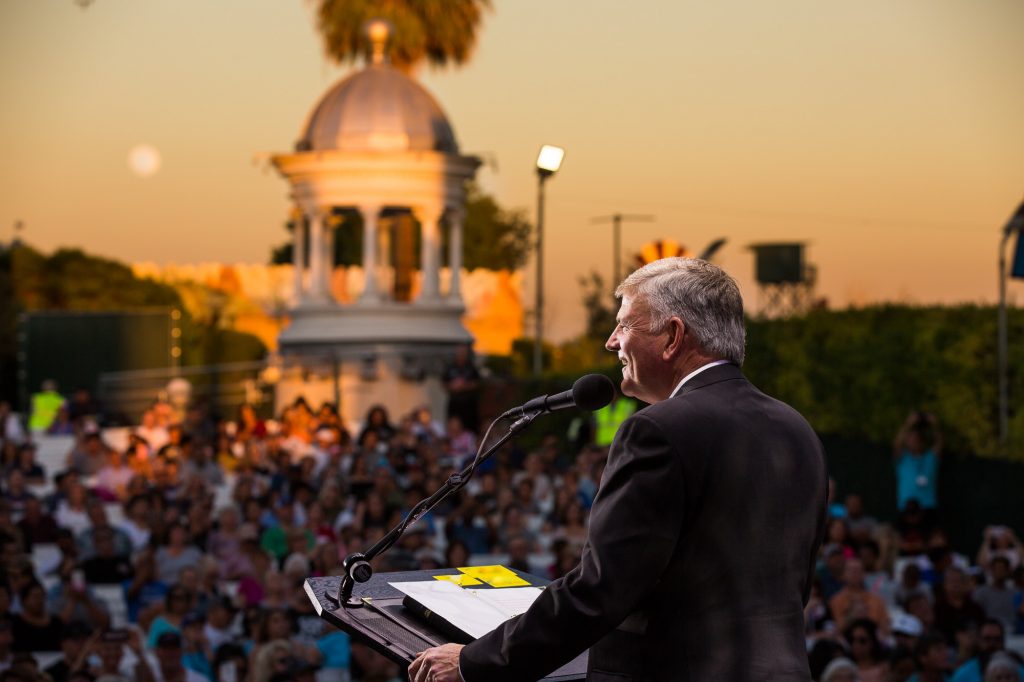 Dear Friend,
I've heard people say "California is going to Hell in a handbasket." The state has the most liberal courts along with the most progressive anti-God socialist agenda in our country. And it's not just California. Two out of three people who live on the West Coast say they don't live by the authority of God's Word. And so many don't even believe in God at all.
That's tragic. Many people feel there is no hope. Well, I've got news for them—there is hope.
I'm in the process of going to 17 cities up the West Coast to share the hope of the Gospel. We have just completed the California portion of the tour, and later in the summer we'll resume working our way north through Oregon and Washington to the Canadian border.
>> Learn more about the Pacific Northwest Tour through Oregon and Washington.
I want to pierce the "blue wall" with the Gospel. The media uses the term "blue wall" to refer to politics, but I'm using it to refer to secularism. I'm preaching a Gospel message in each city—that Jesus Christ is the Son of God who came to earth to take our sins, died on a cross, who was buried, and whom God raised again to life on the third day so that we could have forgiveness of sin and eternal life. We praise God that already on this tour, as He opens people's hearts, we are seeing hundreds saved—literally saved from the flames of Hell.
>> See photos and read stories from the Decision California Tour, which wrapped up June 5.
I am also encouraging Christians in all three states to get involved and let their voices be heard and to stand together in prayer for their communities, our nation, and the lost. Christians can make a real difference in the midterm elections coming up by making sure to pray and vote. Christians can also make a difference by running for office—we need Christians on local school boards and in county and city government who will stand for Biblical principles.
Most importantly, the Gospel can make a difference in any community and any life because it is the power of God to change a person's heart.
Pray for us as we continue this tour, that God would give me strength and wisdom, and that He would anoint me with His Holy Spirit-filled power to preach His Gospel. If you live on the West Coast, please come stand with us in prayer and bring your lost friends with you. If you have family or friends there, make a point to encourage them to come.
We rely on your gifts to help us carry out the work God has given us, and we count on your prayers—we need prayer warriors around the country praying. We want the people of California, Washington, and Oregon to know that there's a God who loves them.
May God richly bless you,
Franklin Graham
President
"Pray also for me … to make known with boldness the mystery of the gospel."
—Ephesians 6:19, HCSB
You Can Make a Difference
God works through people like you to change the world by the power of the Gospel.
Decision America Tour: Secularism has grown deep roots in California and the Pacific Northwest. Like all of America, the West Coast desperately needs spiritual transformation. Your prayers and gifts are an active investment in changed hearts as Franklin Graham continues a three-state West Coast tour, leading prayer and evangelistic rallies in 17 cities.
Crusades: In today's world, many spiritually hungry people who might never visit a church are willing to come and listen to the Gospel at a public stadium or park. Your gift will help proclaim the life-changing truth about Jesus Christ at upcoming region-wide Crusades in places like Scotland, India, Mexico, Thailand, England, and Canada.
Our gift to you: Billy Graham's final book searches the Bible from Genesis to Revelation for all that God's Word reveals about life after death and eternity. Where I Am: Heaven, Eternity, and Our Life Beyond offers an extensive and honest Biblical look at both Heaven and Hell, along with what the Bible says about making certain of our own destination. The book is available this month with our prayer that it will be a blessing to you.