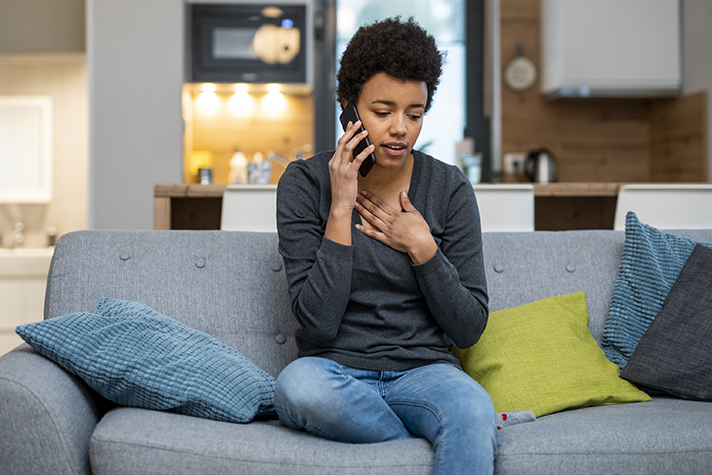 From every walk of life, people across America are reaching out to the Billy Graham Evangelistic Association (BGEA) Prayer Line. They're searching for hope and looking for God in this COVID-19 outbreak.
As hundreds or thousands call any given day, lives are being transformed through decisions for Jesus Christ. The following are inspiring stories showing how God is using trained team members to share hope and the Gospel of Jesus Christ.
>> Do you need encouragement or prayer, too? Call the 24-hour BGEA Prayer Line free at 888-388-2683.
A Concerned Daughter
Adrian* was in tears as she shared that her mother, a diabetic, was recently hospitalized with COVID-19. She was afraid for her health but said that her mother believed in Jesus. Adrian said that she, herself, was a good person and hoped she had a relationship with Jesus Christ, but had made too many bad decisions in her life. The team member explained it was possible for her to find peace and new life with Christ. Adrian said she wanted that, and prayed to receive Christ as her Lord and Savior. They also prayed for her mother's health and walk with Christ.
An Angry Caller
Dave* called to unleash a barrage of insults and profanity. The team member remained calm through it all, and then shared a little about himself and his hope in Christ. Dave's demeanor began to change and his tone softened—and he opened up about his life. At 71 years old, he'd been in and out of prison, and an alcoholic and addict for years.
After slowly building trust, the team member explained the need for a Savior—and that it was never too late to turn his life over to Christ. He led Dave through the Steps to Peace with God, and then Dave asked questions. The Holy Spirit did an amazing work as Dave cried while repeating the prayer to accept Jesus as his Lord and Savior. Afterward, Dave laughed as he recounted over and over how he saw Franklin Graham's message on a TV ad and called the prayer line only to cuss out whoever picked up the phone. "Now look what has happened," he laughed. "Who would have thought?"
A Suicidal Special Education Teacher
Sally*, a special education teacher in the Northeast, called the BGEA Prayer Line wanting a relationship with God but didn't know how to have one. She was lonely, having lost her husband 13 years ago and had contemplated suicide. She prayed with the team member to ask forgiveness for her sins and receive Christ by faith. Before ending the call, Sally said she wanted to try and pray for the first time. She lifted up a prayer of gratitude and blessing for the team member and the BGEA. She's excited to receive discipleship materials from the ministry. This was "the best phone call of my entire life," Sally said.
A Busy Truck Driver
Roger* called to say he was watching Franklin Graham's TV ad and prayed to receive Jesus. He's a truck driver and was headed to Los Angeles, California, with 20,000 pounds of toilet paper!
An Atheist Turns to Christ
A woman who's been an atheist all her life heard Franklin Graham's TV message about salvation and prayed to receive Christ as her Savior. Calling the prayer line, she told a team member that she struggles with physical challenges and has been overwhelmed by the coronavirus scare. The new believer also asked for a Bible and discipleship materials for herself and a friend she's been trying to encourage.
An Overwhelmed Store Employee
The caller ID showed a liquor store. After seeing Franklin Graham's message on TV several times, Carlos* called to ask for prayer. He felt overwhelmed by all the bad news about the coronavirus. He and a team member talked for a bit before the team member asked if he'd like to hear some good news for a change. Carlos said yes and put the call on speakerphone so that his father-in-law could also hear. The team member shared the Good News of Jesus Christ and Carlos wanted to pray to receive Him. The team member heard other people in the background as he prayed out loud in the store and was amazed at Carlos' boldness.
*Names have been changed for privacy