The Billy Graham Library is celebrating its 10th anniversary this month. More than 1 million visitors from around the world have visited since the Library's opening in 2007. Admission to the Library and its Journey of Faith tour are free.
 Wayne Atcheson has always been a collector. But not of things.
"I'm a man of facts, figures, quotes and stories."
As regional manager for the Billy Graham Library, he has considerable knowledge of the evangelist's life and calling.
In fact, stories just spill out of him.
"God gives me a good memory and a great love for history," Wayne explained.
He's shared those unique stories of Billy Graham's calling to spread the Gospel with 1,000 groups over the last decade.
Wayne was hired as the Billy Graham Library's first director in 2006 and has guided at least 10,000 people through The Journey of Faith tour. Normally self-guided, the tour chronicles the evangelist's life and ministry through interactive displays, exhibits and memorabilia.  
As his 1,000th tour loomed, Wayne pondered who to take. God brought family to mind, specifically his four grandsons Jack, Luke, Cam and Christian.
"The boys have all loved Billy Graham," he said.
When they had to dress up for "Famous American Day" at school, they decided on Billy Graham. "They'd have their hair all slicked back, suits on, and went to school with a little Bible in hand," Wayne said. "They'd say, 'Hello, I'm Billy Graham. God bless you.'"
On the last Saturday of May, the collector took his little crew for doughnuts and headed to the Library—to pass down stories.
Eleven-year-old Jack loved learning how Billy Graham served as a mentor to numerous U.S. presidents and famous athletes. "They took what they learned from [Billy Graham] and used it to make decisions and influence others," he said.
His cousin, 5-year-old Christian, liked Bessie the Cow and the "big laser crosses" that people walk through near the end of the tour.
Before leaving, they all held hands in the prayer room and Grandpa Wayne asked God to raise up his boys to be mighty men of God—like Billy Graham.
"It was just real special," he shared.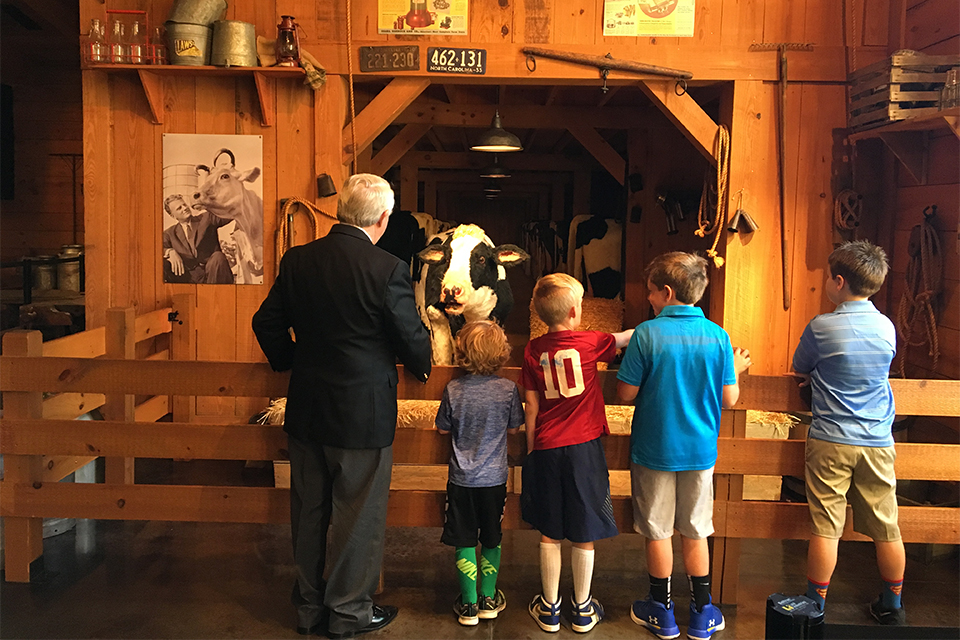 Bobby Bowden, Ricky Skaggs and Hot Dogs?
Wayne has been giving tours a long time, considering he worked for 28 years in college football as a sports information director and fundraiser.
One tour he'll never forget was when he took his former boss—coaching legend Bobby Bowden—through the Library tour. Later that night as Bowden spoke to about 1,000 Christian athletes, Wayne could hardly believe he was listening to a football coach and not a preacher.
"I'm telling you the truth. [Bobby] was on fire after he went through this tour," he said. "I knew he had been so inspired by coming through here."
There was also the time Wayne gave a tour to well-known pastors Dr. Erwin Lutzer of The Moody Church in Chicago; Dr. Jack Graham of Prestonwood Baptist Church in Plano, Texas; and Dr. Ed Young of Second Baptist Church in Houston.
He chuckled, "These great preachers had to listen to me for an hour and a half."
They probably felt right at home. Wayne was heavily influenced by his father—a street preacher and tent revivalist.
When he shares Mr. Graham's life and calling, he prays he'll plant something powerful in people's hearts.
"I feel like I'm really delivering a sermon. And it is a ministry because you have so many places in there where you do talk about salvation and the Lord and how Billy projected the Gospel."
Two hundred facts, figures and stories along the way. He counted.
An author of seven Christian books, he's also an avid note taker and loves documenting life's interesting and humorous moments.
His tidbits and treasures about the evangelist and the ministry come from reading Billy Graham books and listening to him preach on Billy Graham Classics.
Another source are Graham family members who go through the tour with him. "They'll say things that I pick up."
Once, when Wayne was giving country singer Ricky Skaggs a personal tour, he told him that Billy Graham liked to eat hot dogs. Skaggs then told Wayne his own story about a time he was fasting and was at the evangelist's home.
Billy Graham asked, "Ricky, would you like to have a hot dog with me?"
Skaggs laughed, telling Wayne, "How could I turn down a hot dog with Mr. Graham? It was the best hot dog I ever ate and I ended my fasting right there."
'Nothing Greater'
When he's not giving tours, Wayne serves in donor ministry for the Library and hosts special guests.
Does he ever tire of sharing stories?
Hardly.
"I've worked for some great football coaches. I've worked for Bobby Bowden, Bear Bryant, and I've been around some great coaches and great athletes with the Fellowship of Christian Athletes."
Still, he says, "There's nothing greater than telling about the life of a man who preached the Gospel more than any man since the days of Christ. You can't beat that.
"It's all my honor," he continued. "I'm just thankful for the great privilege to do this. I don't need one accolade. I don't need one applaud."
Smiling at all the memories over the last decade, Wayne summed up his job: "I call it the dessert of my career."
Nearly 29,000 of more than 1 million people who have heard the Gospel through The Journey of Faith tour have made spiritual decisions. Some have rededicated their lives to Christ, others have sought assurance of their salvation, and many have accepted Christ for the first time.