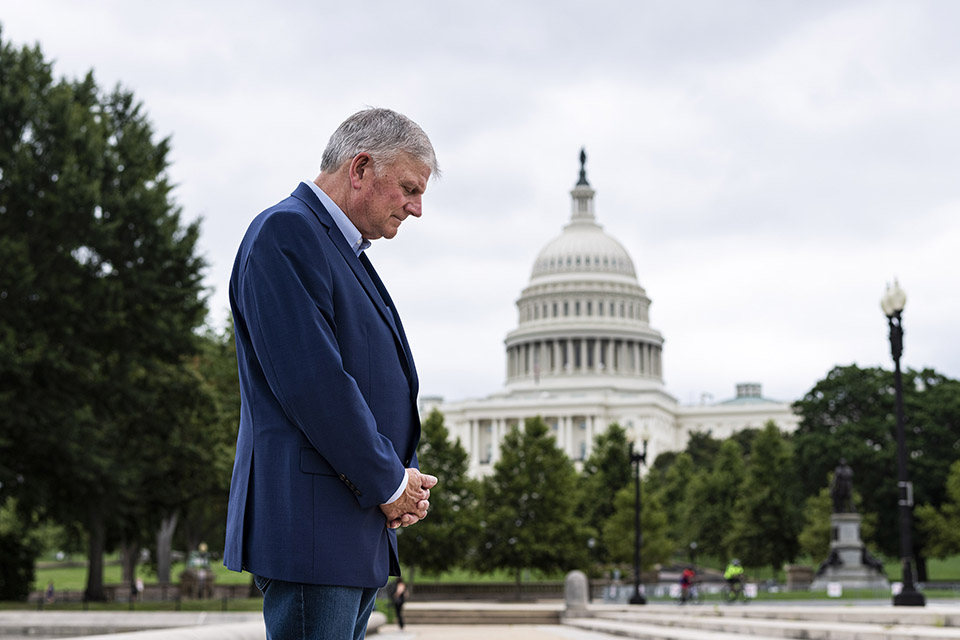 On September 26, the National Mall in Washington, D.C., will be flooded with thousands asking God to restore America during the Washington Prayer March 2020 with Franklin Graham.
"God is our only hope, and I know the power of prayer," Franklin Graham shared on his Facebook page. The walk starts at the Lincoln Memorial and ends nearly two miles away at the U.S. Capitol.
People around the world have committed to pray that day specifically for America.
As for the U.S., people have RSVP'd from all 50 states and several territories. Many will convene on the nation's capital by busload, car or van.
Others, including more than 50 members from City Church in Rockford, Michigan, are flying in. Pastor Doug Bergsma says the multi-campus church follows Christ's example to both live out and stand up for faith. And the Prayer March aligns perfectly with their calling to be a church that's "inside out."
"I think it's time to be very proactive and take it to the streets in a Godly way," he said. "Not just pray [as a church], but actually put some legs on it and show in force [our] determination."
>>Pledge to pray for America wherever you are and get a free, 30-day prayer guide in your inbox.
Forty days ahead of the September 26 march, hundreds of City Church members began praying and fasting around the clock. They're asking God to provide a tremendous spiritual outpouring on the U.S. that will "change the heart of this nation," Bergsma said. And that thousands of souls will come into God's Kingdom.
"We're taking it very seriously because it's dead serious what is going on in this country," he explained. "If God doesn't help us, we're going to move past the tipping point in the wrong direction."
In addition to civil unrest and police shootings, the pastor referenced laws favoring abortion and same-sex marriage.
"When you start to legalize what is an abomination to God, it's when you start to incur judgment," Bergsma shared.
Marching in red, white and blue ball caps, they'll ask God to forgive those trying to redefine our nation, and push back, too.
"It's time for people to stand up and say, 'No, this is what this nation is all about. In God we trust and it's one nation under God and God gets the credit for it. He's the only one who can help us right now.
"We are literally standing in public," he said. "I think there's tremendous power in that.
"Off the couch and into the game. That's why we're doing it."