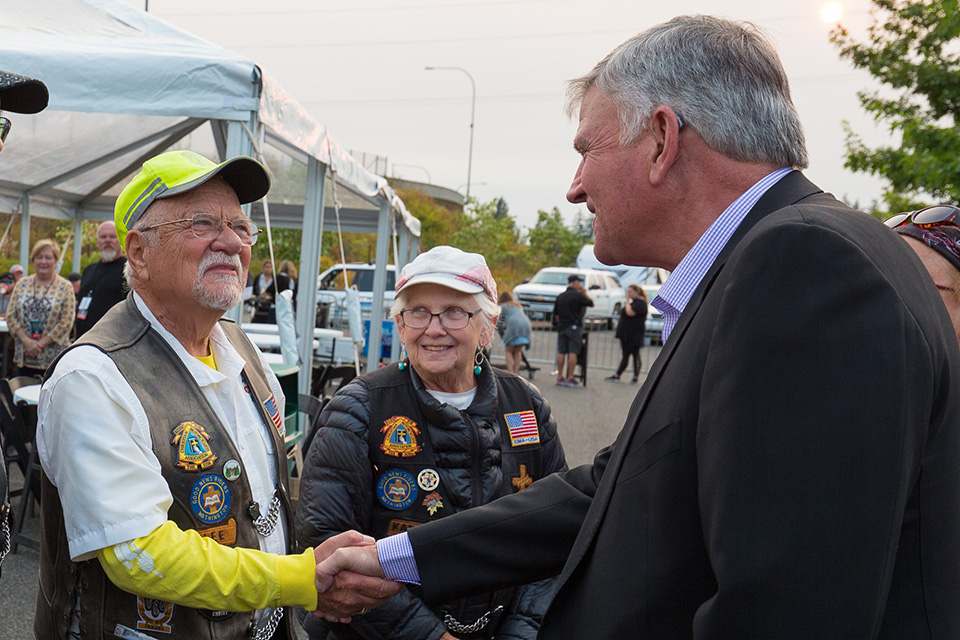 Lee and Karen Scholes couldn't help but smile as they watched the crowd worship God along with Jeremy Camp during Sunday's Decision America Pacific Northwest Tour stop in Tacoma, Washington.
They were grateful to see so many people—an estimated 7,800—fill the area just outside of Cheney Stadium for a prayer event with Franklin Graham.
"It makes us happy to see that not all hope is lost," Lee said, his eyes shining.
Married for 60 years, the lovebirds sat atop their motorcycle to watch Franklin Graham share a message of God's love. The heated seats were a nice touch on a night when temperatures dipped into the low-60s. Some donned sweatshirts, others wrapped in blankets, but the crowd collectively hushed when Franklin Graham took the stage.
"The state of Washington needs to hear the voice of the Church," Franklin Graham said, urging Christians to not only vote but to prayerfully consider running for office.
"I believe God can use His people, and I believe in prayer. God can turn anything around. It's not too late."
It's a truth that sisters in Christ Debbie Minchew and Elizabeth Holscher believe with all their hearts. They both knew Jesus earlier in their lives but didn't actually begin a relationship with Him until much later in 2015. The two volunteered for Sunday's event as well as the 2016 Decision America Tour stop in Washington's state capital of Olympia. They made sure to set up their chairs on the very front row on Sunday.
"This is my chance to give back to God and to serve Him and to get the word out," Debbie said.
"I want everybody to know Jesus because I want them all to come to heaven with us and meet God and to have the peace that I have in my life. Ever since I turned my life over to Jesus and had a relationship, I've had immense peace and so much has changed for me and my family."
For Elizabeth, the changes in her life aren't only for her but for her 9-year-old son Alex.
"He's learning from his mom who's learned the past three years I cannot get through this life without Jesus Christ," Elizabeth said. "Every moment of every day, every waking second and every decision that we make because His ways are the right ways. And when I make the decisions, when I don't seek Him first, then it usually ends up not going too well."
It's a lesson, Franklin Graham shared, that the Prodigal Son learned. He returned home humbly, seeking his father's forgiveness. The father didn't just take him back, though. He ran to greet him, covered the stains of his past with a robe and joyously restored him to the family.
"Our Father in heaven, He's watching you right now," Franklin Graham said, adding that God yearns for all to come back to Him.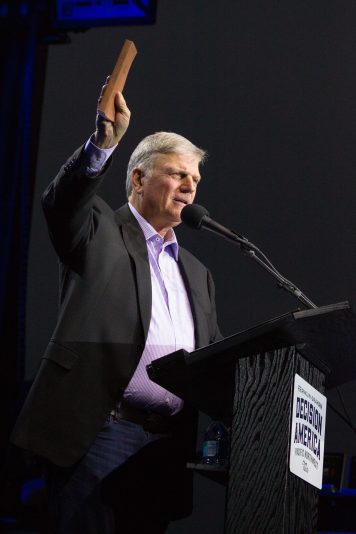 "God is watching for you right now to turn your heart back to Him. God has compassion for you. He wants to welcome you home."
The message resonated with 53-year-old Dale, who identified with that runaway son during Sunday's message. He stood and prayed along with Franklin Graham to accept Jesus Christ as his Lord and Savior.
"I came here with a bunch of guys, and all of us got filled with the Holy Spirit," Dale said, pointing toward members of his group who also held Bibles they received at the event after making decisions for Christ. He shifted his weight back and forth in time with the closing worship songs.
The music moved many—some swayed, some raised their hands and some flat-out boogied. Four-year-old Joseph Hall danced with reckless abandon as Dennis Agajanian picked his guitar to lead the crowd. His tiny arms waved and his feet pounded the pavement, seemingly bringing life to the verse his older brother shared.
Nine-year-old Joshua Hall said he loves Jesus and leans on Him in troubled times. John 3:16 is a Bible verse he holds dear.
"It says, 'For God so loved the world that He gave His only begotten Son,'" Joshua explained. "He saved us."
"Praise God," his mother Bee-Cee Hall seated nearby said quietly. "That means he's listening."
Bee-Cee and her husband Rick, who served as a prayer volunteer, thought it was important for their children to attend Sunday's prayer event. Bee-Cee doesn't know what the future holds, but she prays that her children will become strong Christian men to withstand what's next.
"I pray for godly wisdom for them to be gentlemen who revere the Lord and in all that they do they will put Him first and not back down from what is true," Bee-Cee said. "It's going to get harder and we have to be the light."
It's a generational responsibility, shared new dad Jaren Pilling who rocked his 3-month-old son in a front-facing baby carrier. He grew up watching Billy Graham on TV with his parents, and now his son has seen Franklin Graham.
"Being able to raise [my son] the way he should go means a lot to me and my wife, our family. Gotta start 'em young, you know?" Jaren asked with a smile before seriously reflecting on the need for Tacoma and really everybody in the world to hear the Good News.
"We're all fallen. Our world needs Jesus. That's the only way to put it."