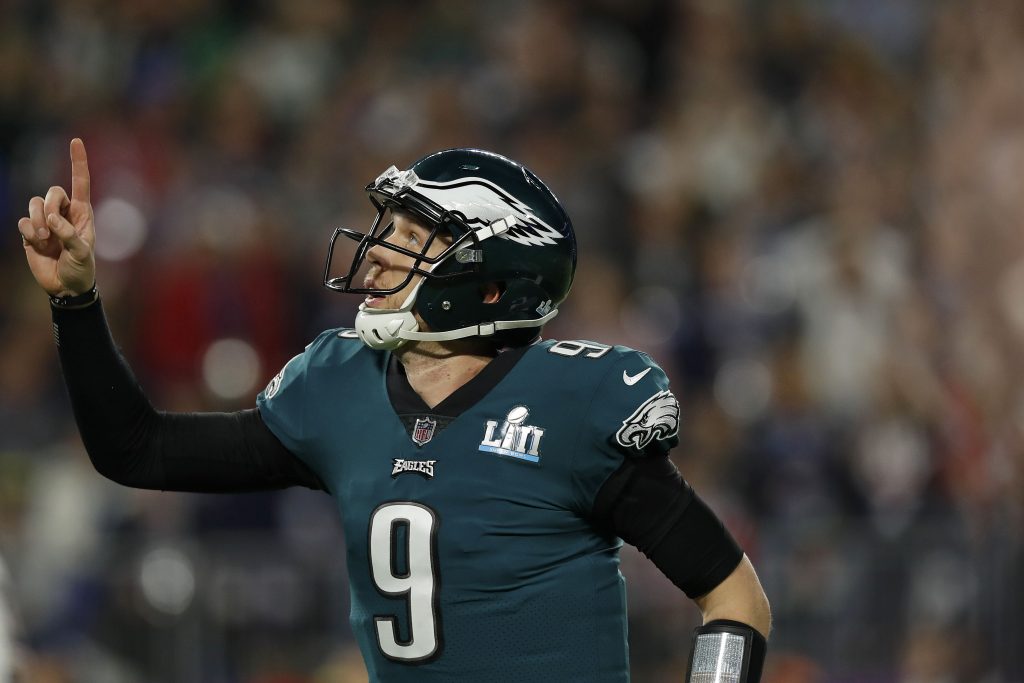 As green and white confetti rained down from the ceiling of U.S. Bank Stadium in Minneapolis last night, all eyes were on Nick Foles, the backup quarterback-turned-Super Bowl MVP.
Less than five seconds into his post-game interview, Foles acknowledged God as he held his baby girl and took in the victorious moment the city of Philadelphia has been waiting for since 1933.
"Unbelievable. All glory to God," Foles said.
"I wouldn't be out here without God, without Jesus in my life. I can tell you that first and foremost," he shared later, during his post-game press conference. "I don't have the strength to come out here and play this game like that. And that's an everyday walk. We have struggles as people, and that's just been my rock. And my family."
The Eagles' head coach, Doug Pederson, was also quick to shift the glory away from himself, saying, "I can only give the praise to my Lord and Savior Jesus Christ for giving me this opportunity."
Similar thoughts were expressed by one team member after another throughout the year, as the Eagles defied major setbacks and a steady stream of voices insisting they wouldn't beat a team as strong as the New England Patriots. But then they did. And instead of allowing themselves to be hailed as gods by a green-blooded fan base in Philly, the Eagles' top performers are pointing to the God they worship on and off the field, win or lose.
The interesting thing I think that people don't realize, especially with the Philadelphia Eagles—there has been a Christian culture, strong, I would say, since the days of Reggie White.It's not unusual for an individual player or coach to credit God for a win, but there seems to be something extraordinary about this championship team and the tumultuous season that led them to the Super Bowl.
Team chaplain Ted Winsley spoke with the Billy Graham Evangelistic Association six days before the Super Bowl; he helped shine a light on what has made this particular team such a unified, faithful force. And he says it started long before this season.
"The interesting thing I think that people don't realize, especially with the Philadelphia Eagles, there has been a Christian culture—strong, I would say—since the days of Reggie White."
White played eight seasons with the Eagles, starting in 1985, and was voted by ESPN SportsNation as the greatest player in the franchise's history. Behind the scenes, he led a team Bible study and shared the love of Christ with his teammates.
Winsley says Troy Vincent picked up the baton after White left. Then Brian Dawkins. As the team evolved over the years, the leadership role passed through the hands of a host of players, including Nick Foles, who first came to the team in 2012. Winsley credits Foles with helping transform the Bible study into a more diverse, unified group. When the Eagles traded Foles in 2015, the group stayed strong as other players stepped up to lead, including this season's starting quarterback, Carson Wentz.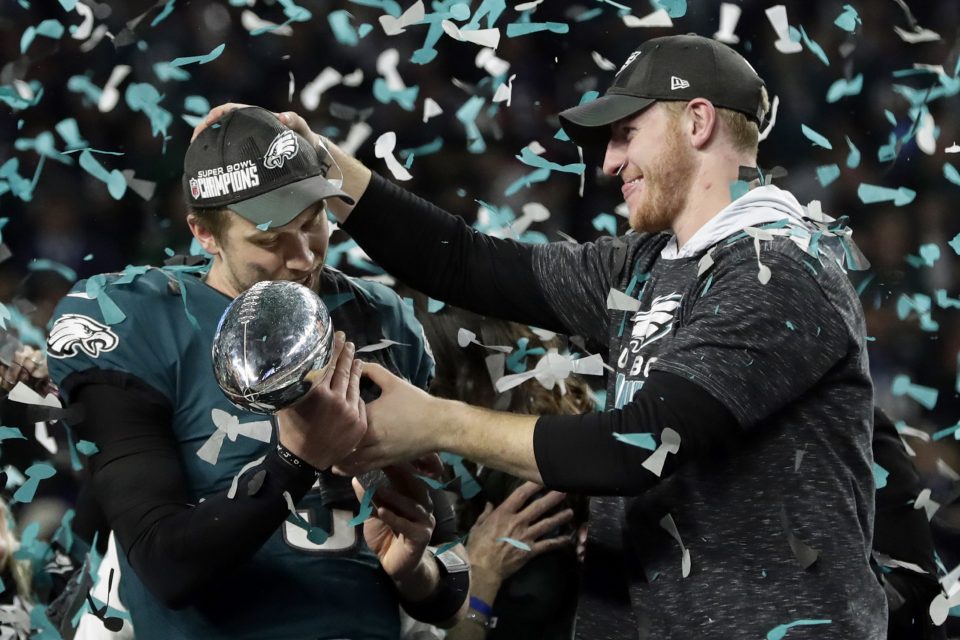 "And then, of course, as you know, Nick Foles comes back," Winsley said. "I just thought it was amazing, and I felt like there was just some unfinished business. I was like, 'Man, who better to kind of walk with [Carson Wentz] than Nick?"
As the quarterback and the back-up quarterback joined forces at the beginning of the 2017 season—flanked by a faithful head coach and many other believers on the team—Winsley says the culture of the Eagles soared to new heights. Players who weren't living for God watched the lives of those who were. They observed men who weren't perfect but who lived out their faith. And they wanted to be part of what they saw.
Sunday chapel services filled up. Weeknight Bible studies swelled to 30+ people. Baptisms were held in cold tubs and even a hotel pool in Charlotte, N.C.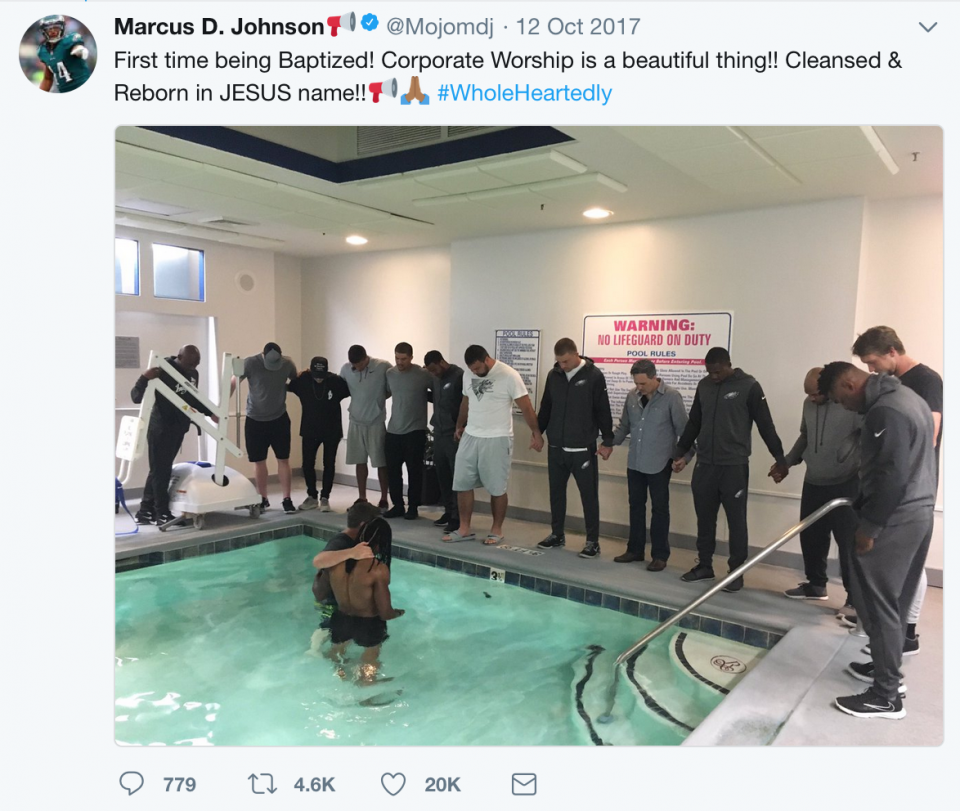 "The guys have been learning about being a part of the Kingdom [of Jesus Christ] and realizing that praying and going to church and Bible study—this isn't religion, it's a relationship," Winsley said. "And it becomes a lifestyle. And that is the major difference that has really, really taken place on this team.
"And so it's amazing because, you know, does the whole team believe? Is the whole team Christian? No, but the entire team is being impacted by a Kingdom culture, and it's causing them to become unified and to be a family."
That sense of faith and unity off the field seems to have spilled over into game time.
Foles says it helped him keep his cool as he stepped onto the Super Bowl field for the first time—a back-up quarterback facing a seasoned champion. And Pederson certainly showed awe-inspiring composure as he called for "the Philly Special," an audacious play the team secretly practiced for the past month, even going over it in the hotel ballroom before the game.
For Eagles fans across eastern Pennsylvania and around the country, the 2017-18 football season will go down in history as the best one ever. And for the players who have found unity through their faith in Christ, the victory is extra sweet. Because long after the last pieces of green and white confetti are swept up and thrown away, the Eagles brotherhood will stand. And, who knows? It just might spark a new kind of fire in the City of Brotherly Love.
Want to know more about the faith that fuels many of the Eagles? Start here.