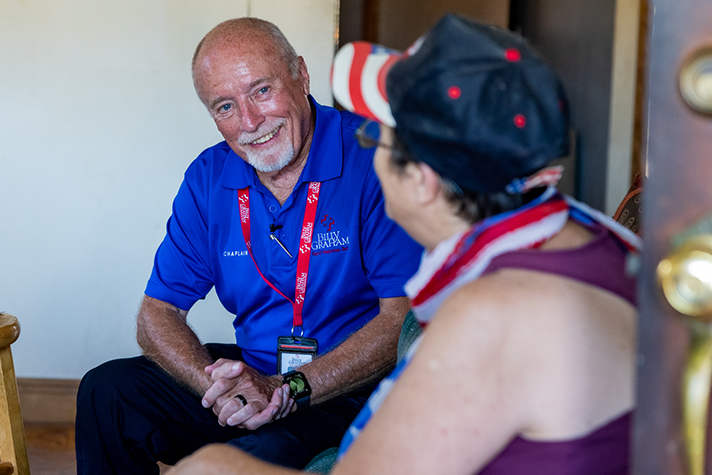 The Rapid Response Team has several chaplains in place at each of three sites across Louisiana reeling from Hurricane Ida. 
More than 60 hurricane-related deaths have been reported across the South and Northeast, including at least 12 in Louisiana. 
What would normally be an 11-hour drive took 16 as David Hicks drove his pickup truck from Charlotte, North Carolina, to New Orleans, Louisiana.
He wasn't there in 2005 after Hurricane Katrina ravaged this same area, leaving unbelievable damage in its wake and leading to years of rebuilding, but he remembers seeing it all on the news. Now, 16 years later, he's in the midst of it, serving as a chaplain coordinator for the Billy Graham Rapid Response Team (BG-RRT) after Ida landed on Louisiana's shores as a Category 4 hurricane.
>>Help bring hope to Louisiana
"The biggest thing that stood out in my mind was the lines at the gas stations, probably an hour and a half from New Orleans," Hicks said a day after the long haul down south.
With widespread power outages, traffic is a nightmare. Hicks estimates he drove over 70 miles at 35 mph—a test of patience, even for a trained chaplain.
And that's not the only thing testing people's patience across hard-hit areas of Louisiana.
When Hicks arrived, it was 96 degrees with over 90 percent humidity. And at 4 a.m. the next morning, the air was already thick and hot.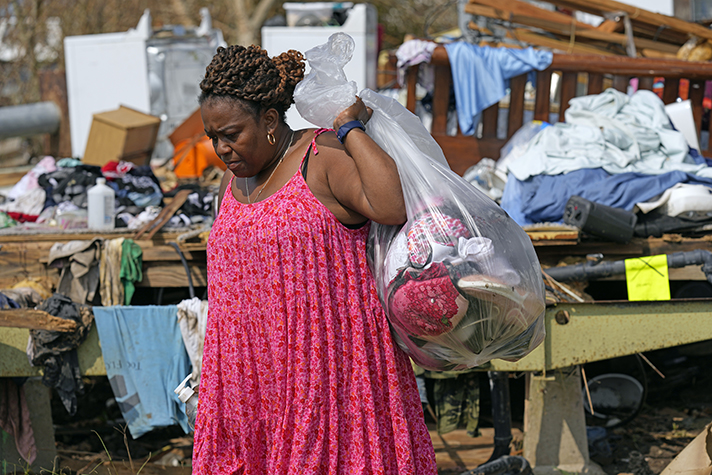 Standing across the street from a gas station, he could see cars lined up for at least a mile, waiting in the heat. And tempers are getting hotter.
"People's tempers are really short," he said Friday. "Last night, there was a fight over there, and there were probably 20 police cars."
The night before, he heard of a shooting.
Tens of thousands are without power and clean water. Businesses and schools are closed. People are hot, hungry and stressed.
"There are power poles for miles that are laying on the ground," Hicks said. "Utility workers are everywhere."
Thursday, the day he arrived, Hicks stood in a parking lot and prayed with 15 to 20 people, including a young woman in search of ice to keep her food from spoiling. She couldn't find ice anywhere and was overwhelmed by the damage to her home.
"She was really upset, crying," he said.
Hicks prayed for comfort and peace, and connected her with sister ministry Samaritan's Purse for roof repairs.
"You come here looking for ice, but you're going to get help," Hicks told her.
Chaplains in New Orleans are also ministering to law enforcement from Jefferson Parish Sheriff's Office. These officers are working 12- to 14-hour shifts, dealing with the same stressors as everyone else while also trying to mitigate flared tempers.
"Then when they get off of work, they get home to no air conditioning," Hicks explained.
While Hicks could have escaped all of this by staying home, that's not what God called him to do.
"I love serving the Lord and spreading the Gospel of our Lord and Savior. We as chaplains are here to provide emotional and spiritual care. The people in this community need a shining light in all the darkness …
"I can't help these people [by] sitting at home. These people need someone to listen and talk with them. This community is hurting, and I pray that sharing the Gospel with them will comfort them."
The BG-RRT's Mobile Ministry Center is set up at Celebration Church in Metairie, where faith-based ministry Mercy Chefs is serving food to the community. Hundreds of cars are lined up there, and Hicks figures many of the people in them could use prayer.
Chaplains will be there in case any of them would like to pray.
Please keep all states affected by Hurricane Ida in your prayers.