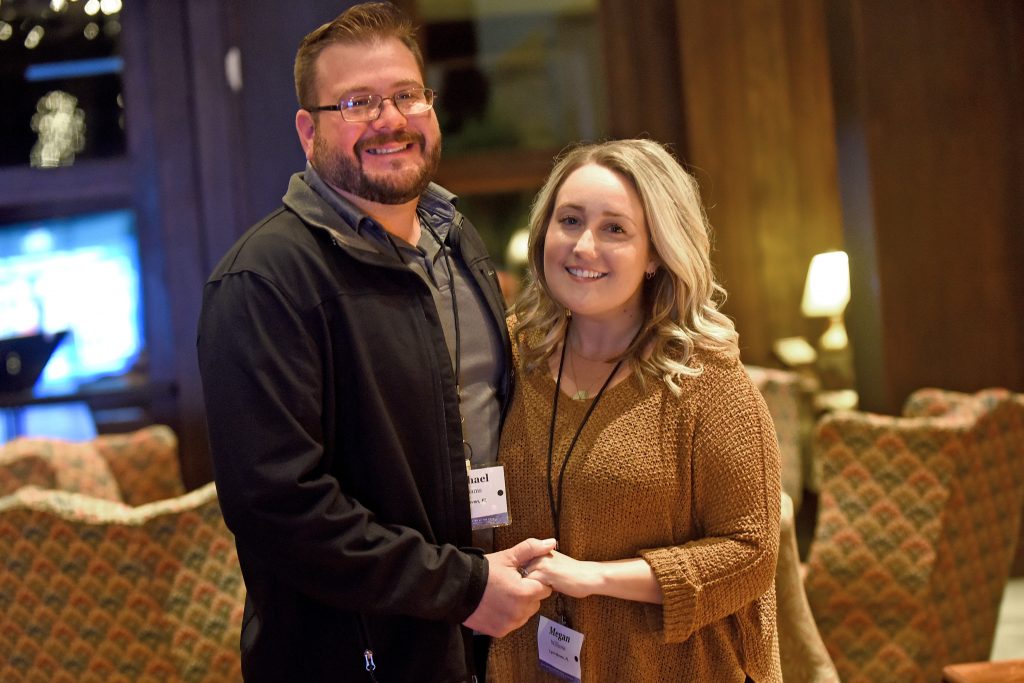 "Trust in the Lord with all your heart; lean not on your own understanding."
—Proverbs 3:5-6
A year ago this month, Michael and Megan Williams and their three children were taking shelter from Hurricane Michael at the Lynn Haven (Florida) Police Department. It was a horrifying moment, and sitting at the National Law Enforcement Retreat (NLER) this week—500 miles from home—they paused to recount the experience in exact detail. Rain started going sideways and "turned into milk" before the Category 5 storm hatefully sent the surrounding Gulf Coast area back to the Stone Ages.
But the Williams also can remember moments when God moved. Their heavenly Father didn't stop the storm, but He delivered peace in the midst of it. They found strength watching their thankfully unaware children, especially the oldest, Cayden, who was super thrilled to wear his own police uniform like Dad. And a moment of ultimate calm came for Megan when a familiar voice piped up from beneath the conference table in a room where 30 people crammed together for survival.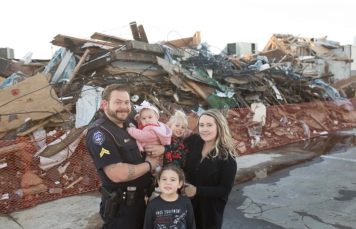 The popping, cracking and pressure from the storm couldn't drown out the voice. Megan heard her mother, Cayden's Nana—an incredible woman of faith who passed six years ago after her battle with cancer.
"In that moment, I could remember my mom telling me this is all OK," Megan said. "(Cayden) played that [voicemail on my phone], and I literally realized it was all OK. God was still carrying us. I had this moment in my heart where I knew this wasn't it. This was not the end and something was going to come of this."
The vicious storm seemingly damaged everything it touched, but it also opened the way for Megan and Michael to meet crisis-trained chaplains from the Billy Graham Rapid Response Team. Those chaplains invited the Williams to this year's National Law Enforcement Retreat at the Billy Graham Training Center at The Cove.
"Through the people, the Rapid Response Team and just seeing the goodness come from people helped reinforce my faith," said Michael, a corporal and accreditation manager with the Lynn Haven Police Department. "For me, I'm still growing. I'm one of those standing guard outside the door. I'm going to fix this. There's nothing I can do, but in my head it makes sense."
At the retreat, Michael met like-minded people, fellow officers serving through unimaginable trials of their own. He particularly was struck by Pastor Chris Amos, a former Norfolk (Virginia) police officer, who spoke candidly Tuesday night about how his faith developed through four particular storms: his near-suicide, his wife's illness, his fatal on-the-job shooting, and—a year ago—his own son's death.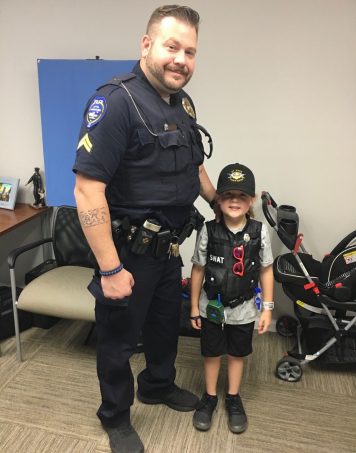 "I would have never seen Jesus Christ the ways that I've seen Him if I hadn't been through what I've been through, and I tell you, He was there," Amos said as attendees dried their eyes and wiped their noses throughout his message. "God doesn't deliver us from our trials. He does something more loving. He steps into our trials with us. That's love."
It's unfathomable, and it's a faith-based strength Michael yearns for. The Williams joined Amos and pretty much the rest of the NLER attendees for the altar call. There, the couple took a moment to thank God for His protection through Hurricane Michael and ask Him for strength.
Hard doesn't seem like an adequate descriptor when you think back on the last 12 months. Exhausting might be better. Michael and his fellow officers worked out of a tent in a field for months before the department ultimately got what amounts to a mobile unit. Megan was holding down the fort two hours away in a rental their families worked to secure. A lack of driveable roads made the commute even harder, but the seemingly most impossible days were ones when the Williams learned of close friends who chose to die by suicide in the aftermath of the hurricane.
"I had to answer these calls of all these people I know so it's been like an elephant on our chest a little bit," Michael said. "It's been good to be able to talk them out with people here. I think talking has been the biggest stress reliever."
Connecting with others and listening to speakers who have walked hard, exhausting roads has been a game-changer for the Williams, particularly Michael, who said one day he'd like to follow the chaplain path.
"You don't see this at the precinct," said Michael, who serves as his department's peer counselor. "I have to pull teeth to get someone to sit down and tell me they're OK. So just to see cops get up here in front of all these guys they don't know and be able to share, it's amazing. This is monumental for me."
And the Williams are already gearing up for 2020. During a walk around The Cove, which is nestled in the beautiful Asheville, North Carolina, mountains, Michael and Megan talked about bringing someone from his police department to the NLER every year.
"That's going to be our goal," Megan said, "Because this is life-changing."
Do you turn to God during hard, exhausting events? Trust Him today.