Shoplifter. Addict. Drunk.
Those are some of the words that used to describe Reymon Enalisan, a young Filipino man who tried just about everything to fill the void in his life.
Then, five years ago, Reymon hesitantly accepted an ongoing invitation from a Christian friend to try out a Bible study.
It was a last resort.
"I don't know why, but I said yes," Reymon recalled. "I really wanted to change my life. I said to myself, I'm not content with everything I have."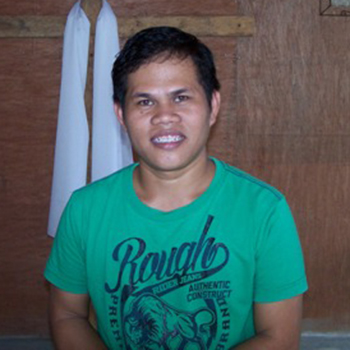 Reymon accepted Jesus that day, and a passion for God's Word lit up in his heart, transforming him from the inside out.
Old habits and desires dried up. The party guy became a pastor.
Fast-forward to November 2013. Reymon was leading a small church on the island of Samar, in central Philippines. A husband and father to two little girls—one just a baby, the other not quite one-and-a-half years old—Reymon's faith was about to be tested in an almost unimaginable way.
"On Nov. 8 at 1 a.m., we woke up because we felt the strong wind and heavy rains," Reymon said.
As Typhoon Haiyan, known locally as Typhoon Yolanda, spun furiously toward the Philippines, Reymon and his extended family hunkered down at the safest place they could find—his parents' home in Tacloban City.
By 4 a.m., as the category 5-equivalent cyclone made landfall with sustained winds of 195 mph, the house was just barely holding together.
By 6 a.m., the doors, windows and half the roof were gone. Water was rushing in, up to knee level.
"I said to Papa, 'Papa, let's go out of this house,'" Reymon said. "He said, 'It's the same if we go outside. We're going to die.'"
Reymon looked around at his family—his wife, daughters, mother, father, sister, brother and sister-in-law. He prayed for help, but also for God's will to be done.
"The waters came in more than eight feet inside our house," Reymon said. "My wife and my family and my own parents, they are on top of the refrigerator. I did not cry, but my sister and daughters started crying, and the wife of my youngest brother."
Reymon was scared. But he praised God in the middle of the storm.
"I said to God, 'Lord, let your will be done,'" Reymon said. "The water was above our chins. We couldn't breathe."
As the flood consumed what was left of the house, Reymon spilled out into what had become a sea of water, bodies and debris. At one point, a piece of debris slammed into his head.
"I was drowning, and I drank contaminated water. I could not breathe," Reymon said.
"I thought it was my last day."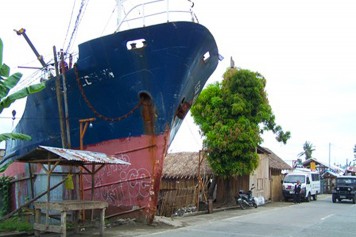 Still, he praised God. He knew the decision he had made at the Bible study years earlier meant he didn't have to fear death.
"I always prayed, prayed, prayed and worshiped, and worshiped again," Reymon said, "praising God and thanking Him."
Wounded and expecting to drown, he sensed a still, small voice carrying the words of Psalm 46:10: Be still, and know that I am God.
Miraculously, Reymon survived the storm.
Sometime around mid-afternoon, about 12 hours after the terror had begun, he began the search for his family members. Only his brother and one of his nephews survived.
One by one, he found the bodies of his parents, sister, sister-in-law and his older daughter.
He never found the bodies of his wife or baby girl.
One year later, as he spoke about his precious family, he stopped and wept for a long time before he could continue.
"I know they are in good hands," he cried. "They are in the hands of God. Yes, the Bible says my lovely daughters—they're in the hands of God."
Reymon still battles grief that washes over him in waves.
"It comes to my mind—my wife and my youngest daughter—Satan tries to attack me through my emotions," Reymon said. "But I praise God because He has a purpose. And someday we will meet again."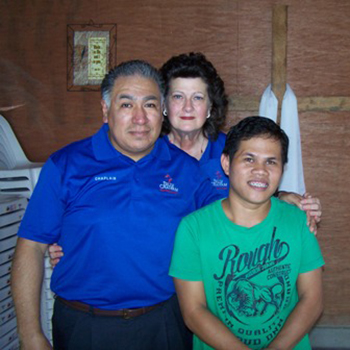 Reymon has leaned on a support system of fellow believers, including Billy Graham Rapid Response Team chaplains Carolin and Desi Perez, an American couple from Oklahoma.
Carolin and Desi traveled to the Philippines as part of a seven-month deployment, at the invitation of some Filipino churches. Their goal is to offer spiritual and emotional care to people who are hurting, while sister ministry Samaritan's Purse continues to help residents rebuild.
They sought out Reymon after another pastor suggested they pay him a visit.
"Pastor Reymon shared his story with us, and we all wept," Carolin said.
"Carolin and Desi arrived, and God just sent people to give me encouragement," Reymon said. "They're truly servants of God who have compassion to do their job and do the will of God. I'm truly thankful."
The chaplains have been amazed by the deep faith they've witnessed in Reymon and so many other Filipino believers—people who have lost everything, but are still thankful.
Reymon continues to lead his congregation at Basey Full Gospel Assembly, and he's preparing to be a counselor at the upcoming Will Graham Celebration in March. When asked what he would say to someone who has suffered a loss, Reymon paused before sharing the answer he has lived out since the typhoon.
"Do not stop," he said. "Every trial that comes on you, every trouble that comes, have faith.
"If you love God and you seek God, everything will follow."