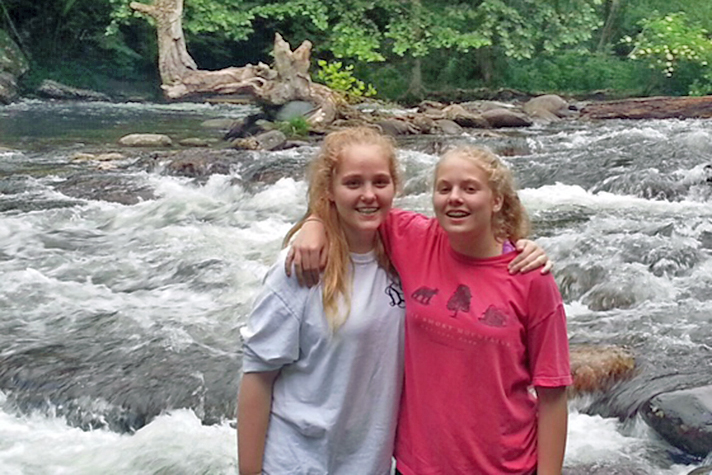 It was around this time last year when the Langan family moved from Philadelphia to White House, Tennessee, population around 11,000.
Alicia Langan has wrestled with that decision ever since, wondering if she did the right thing uprooting her family. Her two youngest children, twin 13-year-old daughters, have taken it especially hard, adapting to a new school, new friends and getting used to small town living.
After attending the May 18 Decision America Tour with Franklin Graham, Alicia says she'll never doubt her decision again.
"We were just looking for something to do," she said, explaining how she ended up at Franklin's second stop in Liberty Park that night.
As a longtime BGEA supporter, Alicia had heard about Franklin's four tour stops across Tennessee, and saw that he would be stopping in Clarksville, about an hour from White House. She also saw there would be fireworks and thought it could be fun for her twin daughters, Deborah and Sarah.
With her husband working that night, Alicia made the drive with her girls.
"When they went that night, I really wasn't expecting them to even be paying attention," she admitted.
Oh, but they were.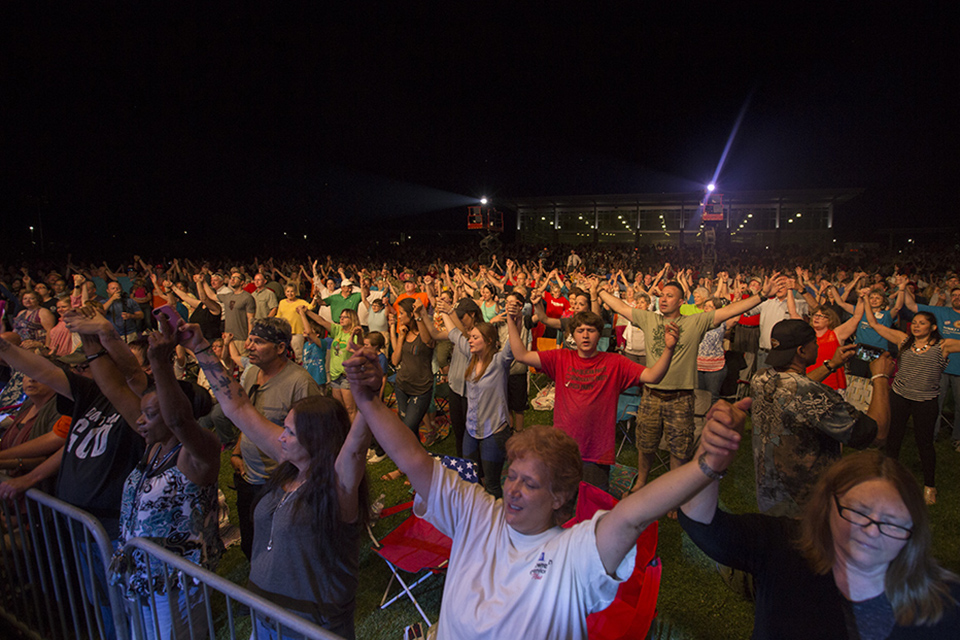 As Franklin Graham spoke, it brought back memories for Alicia—and held her daughters' interest.
"It was just a simple message," she said. "It's the same message that his dad had years ago in Vanderbilt. It was awesome."
Alicia saw Billy Graham preach in Nashville back in 1979. She was around the same age her twin daughters are now, and that night, she and a friend decided to follow Jesus.
Almost 40 years later, she was back in Tennessee where her daughters were hearing the Gospel from Billy Graham's son—and making the same decision their mom did years ago.
At the end of Franklin's message, he invited people to stand if they wanted to ask Jesus into their lives. One of Alicia's daughters turned around to look at her and was saying something to her mom, but Alicia couldn't understand. She shushed her daughter while Franklin was speaking.
"I felt so bad," Alicia said later. It wasn't until they got back in the car after the event that she realized what her girls were trying to communicate.
"My girls told me that they both said the prayer [to accept Christ]. I was wondering why they kept asking for my phone."
Alicia thought her daughters wanted to play games on her phone because they were bored, but she found out afterwards that they wanted to text their decisions for Christ to BGEA—as Franklin suggested—so they could get follow-up messages about growing in their faith.
"Elated" by her daughters' decision, Alicia said having the girls hear the Gospel somewhere other than church was helpful. A different venue, a different format, lots of people their age around—it all helped the message get through, she said. Her girls haven't been fans of Sunday school in the past, she added, because they say it's too cliquish.
Even so, Alicia knows the importance of church and said she's committed to finding one where they can mature as Christians. In the meantime, she kept the fliers from the Decision America Tour as a reminder of that night's surprising outcome.
She's also become more certain of the move from Philadelphia to small-town Tennessee.
"After their decision, I will never doubt again," she said. "This is part of God's plan."