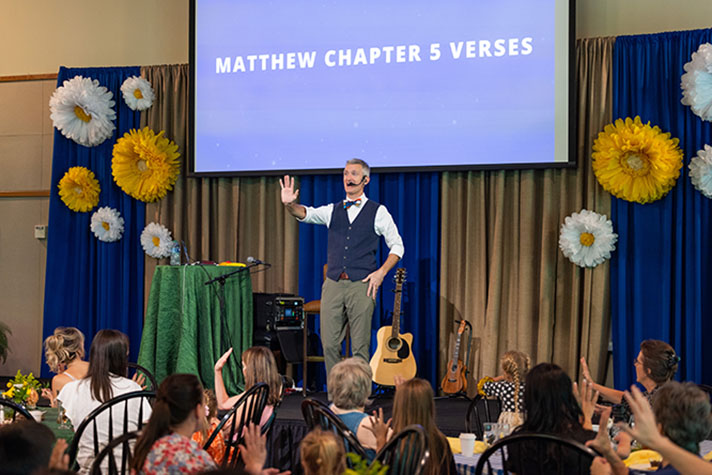 Wearing a trademark bow tie and navy blue vest, Randall Goodgame was at the top of his game on Saturday afternoon at the Billy Graham Evangelistic Association (BGEA) headquarters.
The unassuming headliner for the Teddy Bear Tea was commanding a room full of children—no small feat—by seamlessly combining two things that many would say couldn't be done.
Silliness and Scripture.
"You can't take yourself so seriously when you're being silly," Goodgame told a packed BGEA dining hall transformed into a kids concert hall.
"What the Lord wants from us as disciples is to forget about ourselves completely. And silliness is one way of doing that."
Welcome to Slugs & Bugs, Goodgame's Biblically based musical brainchild, that sows God's Word into children's hearts through catchy, creative soundtracks.
"This is what kids need to hear—all of it was Scripture," said Stephanie Miller of Matthews, who was there with her 4-year-old granddaughter, Rebekah. "It's putting Scripture in their heart and the kids were listening. … Next year I'm bringing the whole family."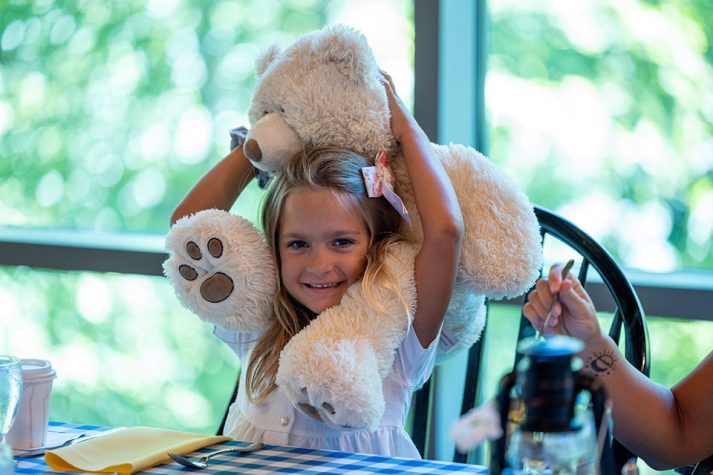 After a creative lunch of crustless mini turkey and cheese sandwiches, fruit skewers (including watermelon stars), and dirt-and-worms chocolate pudding, Goodgame kicked off the concert with the first two tracks from Sing the Bible Vol. 2.
"Do You Not Know" (Isaiah 40:28) and "Let Your Light Shine" (Matthew 5:14,16), were brought to life with hand motions that Goodgame playfully taught the crowd. Parents and kids alike were engaged.
"The songs are catchy and I loved the messaging. It makes it easy for kids to understand and it makes the Bible easy to remember," said Laura Christman of Mooresville, who came with daughters Maddy, 7, and Milly, 3. "I loved it all. We had a great time. "
Laura's mom, Ellen Auten, invited her after hearing about the Teddy Bear Tea through an email from the Billy Graham Library, which hosted the event at BGEA headquarters. This marks the 15th year for the tea, one of the most popular events each year for kids and their parents. A ladybug teddy bear giveaway tied in nicely to the Slugs & Bugs theme.
"What I really liked was that it was for both young and older kids, too," Auten said. "It's just a great way to learn the Scriptures. I'm thinking of doing this for our children's choir."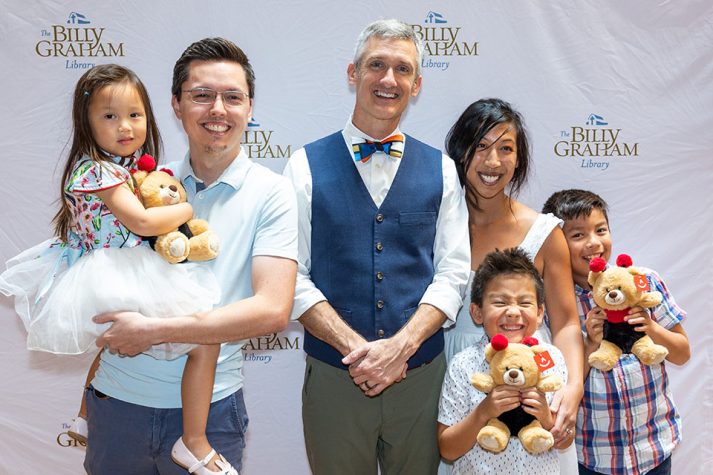 Goodgame told a story about a struggling parent coming to him, asking him to come up with a catchy tune to help her kids learn the fruits of the Spirit.
He then penned a song from Galatians 5:22-23. On Saturday, he added some fun and quirky hand gestures, including sign language, which helped the message stick.
"The fruit of the Spirit is not a banana. The fruit of the Spirit is love, joy, peace, patience, kindness, goodness, faithfulness, gentleness and self-control. Against such thing there is no law."
In an environment where Bible-believing parents are always looking for uplifting TV programming, Goodgame has created 25 streaming episodes of "The Slugs & Bugs Show," featuring his wife, Amy, and guest appearances from Andrew Peterson and Ellie Holcomb.
In total, there are nine Slugs & Bugs CDs, including Christmas, lullaby and silly song albums, with titles like "Mexican Rhapsody," "There's a Hole in My Sock" and "I'm Adopted."
But it's the Scripture-heavy songs from the four Sing the Bible CDs that parents talk about most. The penultimate song of Saturday's event, "Above Yourself," is a practical way for kids to remember to put others first, as Philippians 2:3 commands.
And it's a helpful reminder for grown-ups, too.
"One of the great troubles of being an adult is that we just take ourselves so seriously," Goodgame said. "Silliness, or playfulness, is a great way to help not take ourselves so seriously.
"Because in the end, in a very deep way, that's what the Lord wants from us—to forget about ourselves and look to Him."
>>Find out about future events at the Billy Graham Library, reopening this fall.