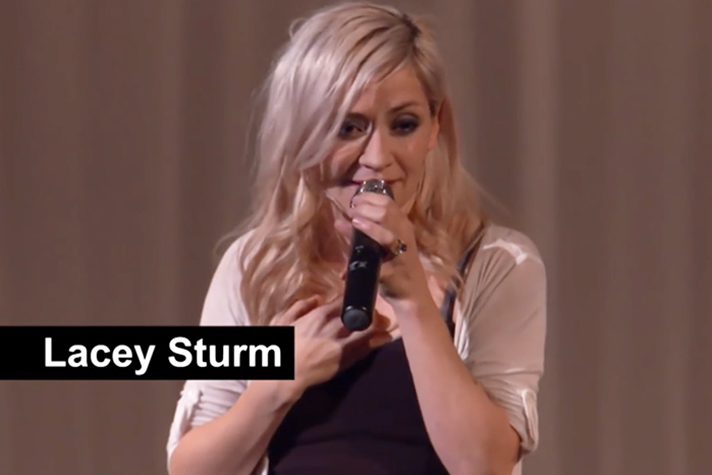 All across America and beyond, churches are using My Hope with Billy Graham to share the Gospel with friends, family and neighbors.
My Hope 2014 is the latest evangelistic outreach from the Billy Graham Evangelistic Association, and it's meant to encourage believers to share their faith, with the help of powerful half-hour videos that include real-life salvation stories and a new message from Billy Graham.
The free videos can be ordered or streamed online. Whether they're given as Christmas gifts or shared in the New Year, they can help change lives forever by showing people what it means to have a relationship with Jesus Christ.
Here are a few of the recent ways churches and families have used My Hope to share the love of Jesus.
Bellefontaine, Ohio – On Nov. 14, Shine FM Radio held a My Hope event at the Holland Theater featuring music artist Lacey Sturm. Lacey shared her amazing story of salvation in the 2013 My Hope videos The Cross and Defining Moments. About 300 people attended the Shine FM event and watched the new My Hope video, Heaven. Afterward, 12 people came forward asking for prayer and two of them made first-time decisions for Christ. More than three dozen church and home groups took My Hope materials home with them for potential evangelistic events in the future.
Henderson, Nevada – A home-based church showed Heaven during a worship service attended by 20 people. Two guests made first-time decisions for Christ. The church has also been handing out My Hope DVDs as part of its street ministry on the Las Vegas strip on Friday nights.
Wichita, Kansas – Living Waters Outreach is a ministry for homeless and impoverished people in the inner city. On Nov. 20, the ministry expected to serve dinner to about 150 people. They ended up with 278, including both English and Spanish speakers. The My Hope video Heaven was shown to the guests, as well as the Spanish version, El Cielo, and 34 people made first-time decisions for Christ. A volunteer named Steve said, "Feeding 278 people is great, but 34 is the bigger number!"
DeLand, Florida – On Nov. 16, a My Hope event was held at The Sweet Spot ice cream shop, where the owners invited guests to enjoy free homemade cookies and ice cream and watch the Heaven video. Two of the 18 guests made first-time decisions for Christ, including a man who had been invited by his daughter. The daughter said she didn't even expect her dad to show up, and she's excited to rebuild a damaged relationship with him as he begins a new walk with God.
Aumsville, Oregon – An elder at a northwest Oregon church organized a My Hope event on a Sunday night, resulting in five decisions for Christ. There was dessert, a time of worship and a chance for people to ask questions after the video. The pastor of the church called the event a win-win, saying it "brought our church together around the Great Commission, and it brought people into God's Kingdom." The church plans to hold a similar event this winter and is looking forward to a new video next fall.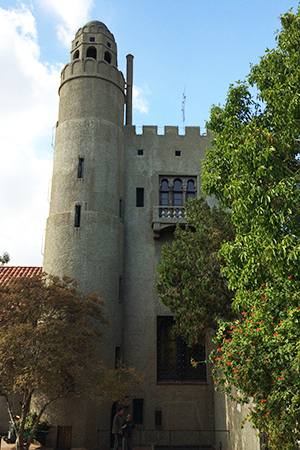 Southern California – Nine Teen Challenge Centers participated in My Hope 2014 on the same day, with 550 total guests. Teen Challenge is a Christ-centered program that helps people overcome addictions and other life-controlling issues. Its Southern California headquarters is located at the historic Benedict Castle, which also houses more than 100 adults who are taking part in a residential recovery program. One of the nine My Hope events on Nov. 15 was held at the castle. "Families were reunited, and great discussion took place over lunch in the courtyard of the castle," said My Hope ministry representative Vernon Greene, who attended the event. Altogether, 97 people indicated decisions for Christ. "This was a powerful day in the Lord as God moved all across Southern California," Vernon said. "Praise God!"
White Plains, Maryland – A church showed the My Hope video Heaven during its Sunday service on Nov. 30. Several visitors were present, and there were 10 decisions for Christ. Some of the people in attendance asked for My Hope DVDs to share with loved ones as Christmas gifts.
Chicago, Illinois – New Life Community Church – Rogers Park showed Heaven during its Sunday morning service on Nov. 9. There were 205 people at the service, which usually averages about 120. Two people made first-time decisions for Christ and six others rededicated their lives to Jesus. Back in September, five small groups from the church shared the My Hope video Defining Moments, resulting in two decisions for Christ and one rededication.
Tampa, Florida – Iglesia De Dios Pentecostal Church showed Heaven to 74 youth and El Cielo to a group of adults. They saw 11 first-time decisions for Jesus from the youth and five decisions from the adults.
Milwaukee, Wisconsin – A My Hope event was held at a YMCA and included food and a time of worship for 65 people. When the invitation was given at the end of the Heaven video, 12 people raised their hands indicating they wanted to make a decision for Christ. As the event continued, two more people came forward to indicate decisions.
Share the love of Christ with someone through My Hope.